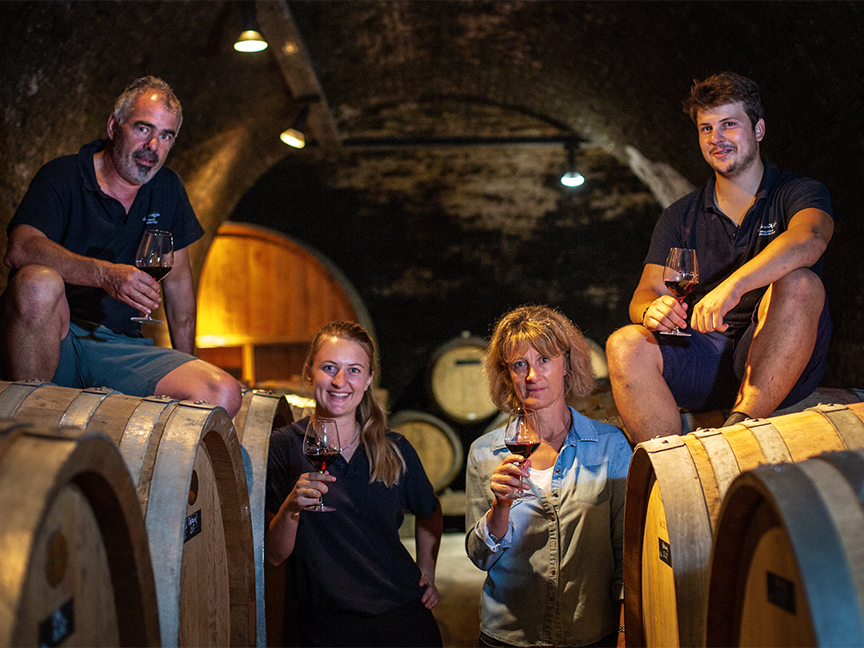 Easter Wines: The perfect pairing for lamb and much more.
Happy holidays, everyone! Here are four wines in stock that we recommend for this weekend's festivities.
Whether celebrating Easter or Passover, many of you will be serving lamb. This week's offering includes the Clos du Caillou Châteauneuf-du-Pape "Le Tradition" 2018 ($52.98) by the Vacheron family (above), a canonical pairing for lamb. Made from Grenache (60%) and Syrah (40%), the rich flavor but lithe character of this wine make it a favorite for nearly any type of roast meat.
No holiday get-together is complete without bubbles. The Solo Uva Brut Franciacorta NV ($45.98), a 100-percent Chardonnay classic method sparkler from Italy, is made using reserved grape must (not cane or beet sugar) to provoke its second fermentation. Andrea Rudelli, Giovanni Arcari, and Nico Danesi — the Franciacorta dudes who make this superbly gastronomic wine — call their method "Solo Uva" or "Just Grapes" because nothing else is added but… grapes!
The Abbazia di Novacella Kerner, Alto Adige 2020 ($24.98) is made by friars in South Tyrol (German-speaking Italy) who have taken vows of poverty and chastity. It's as clean and fresh as the Alpine landscape where it is grown. The Kerner grape, an aromatic variety, was created in the 1920s by crossing Schiava, a red grape, with Riesling, a white. Between its floral and fruit notes on the nose and its rich fruit and texture on the palate, it makes for a highly nimble food wine, perfect for the Easter feast.
And last but not least, what would Easter be without some pink? The Château La Nerthe 'Les Cassagnes' Rosé, Rhône Valley 2020 ($14.99) is a Grenache-dominated blend by another one of our favorite Rhône producers. This organically farmed rosé is one of those great wines that will go with nearly anything on the holiday feast table, from roast white and red meats to the gorgeous spring vegetables that we will be serving this season. If you were only going to serve one wine for your holiday, this would be the one to go with.
Click here for all four of our holiday weekend recommended wines!
Wishing you and your families a happy gathering and time together, we thank you for your continued support at Boulder Wine Merchant! We wouldn't be here without you! Happy Easter! Happy Passover!