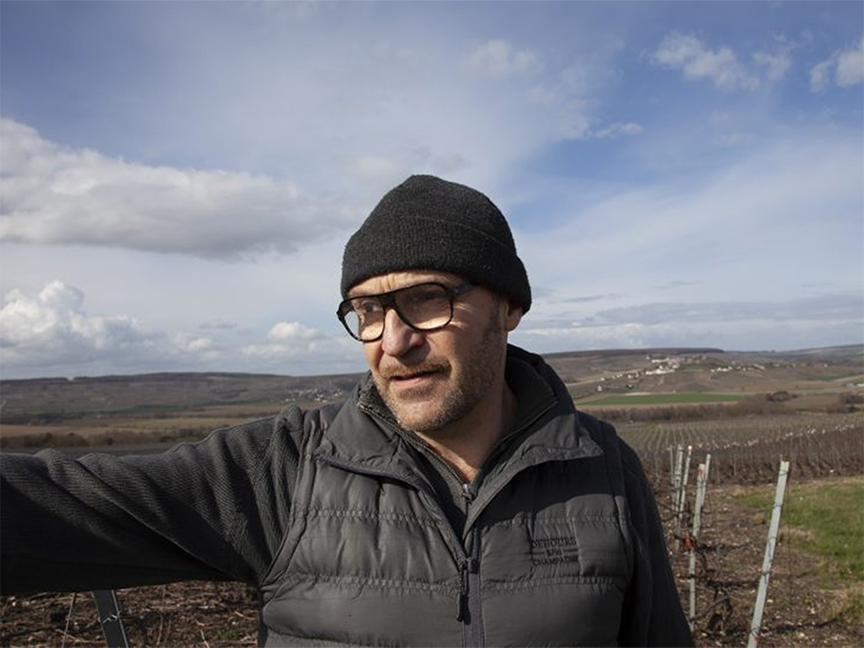 Brut, Extra Brut, Brut Nature? Champagne Sampler!
DON'T MISS our Wine Wednesday in-store tasting June 15, 6-8 p.m., where we'll be pouring four of this month's featured wines!
"Jérôme Dehours (above) farms 42 different vineyards in three distinct villages on the southern side of the Marne River. Jérôme's 14.5 hectares are split between the villages of Mareuil-la-Port, Oeuilly, Cerseuil and Troissy, in this quiet corner of the Marne. This area is just south of the Marne river at Châtillon-sur-Marne and Cuisles, where Cédric Moussé produces his exquisite wines."
(From the importer's website.)
In this week's newsletter, we're featuring four of Brett's favorite Champagnes, including the Dehours Brut Nature Champagne NV by Jérôme Dehours. And whenever we start talking Champagne or bubbles of any kind, it's only natural that one of our clients will say, "hey, what does Brut, Brut Nature, and Extra Brut mean, anyhow?"
This week's line up has one of each category. They are designations that refer to the amount of residual sugar in the wine.
The European Union rules for the labeling of sparkling wines are as follows:
Brut Nature: 0-3 grams per liter
Extra Brut: 0-6 grams per liter
Brut: 0-12 grams per liter
There are other, much more sweeter styles ("off dry"). But most of the sparkling wine we drink today falls in the Brut, Extra Brut, Brut camp.
For generations, Brut has been Champagne's classic style. But in more recent years, younger producers have begun making wines that are slightly drier.
The magic of Champagne is all about the balance of aromas, flavors, alcohol, bubbles, acidity, and sweetness. Depending on the acidity levels of the grapes at harvest, the producer may choose to craft a subtly sweeter or drier wine to achieve the desired texture and harmony. It's like a painter with a pallet of colors.
Click here to view our featured Champagnes, each selected personally by Brett.