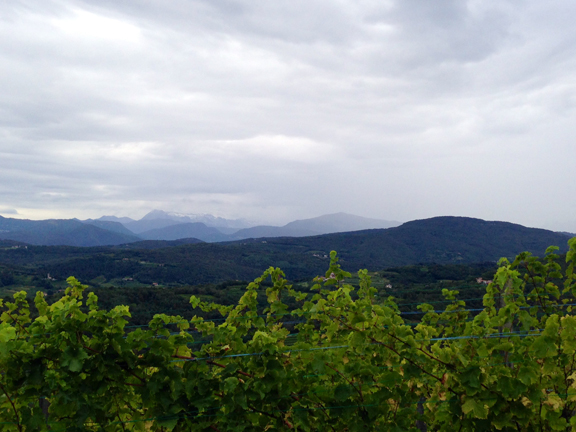 Why a bad vintage is good
"There are no bad vintages," once said the famous Tuscan winemaker Piero Talenti. "There are just vintages in which we make less wine."
I've never been able to track down a print attribution for the quote. But the aphorism came to mind earlier this week when I wrote about Italy's "black harvest 2014."
I'm not the one who called it "black." It was Luciano Ferraro, wine writer for one Italy's leading daily newspapers, the Corriere della Sera, who used the expression. He was referring to a forecast published last week by the Italian association of enologists and eno-technicians, Assoenologi. The authors of the report estimate that some regions of Italy will see a decrease of up to 30 percent in this year's wine grape harvest.
The incessant rains of July and the unusually cool weather of August has created extreme challenges for grape growers and winemakers there. Excessive humidity in the vineyards can lead to fungal disease and other problems. And the low average temperatures last month caused ripening issues because vines need the end-of-summer warmth to achieve the right balance of sugar and acidity levels.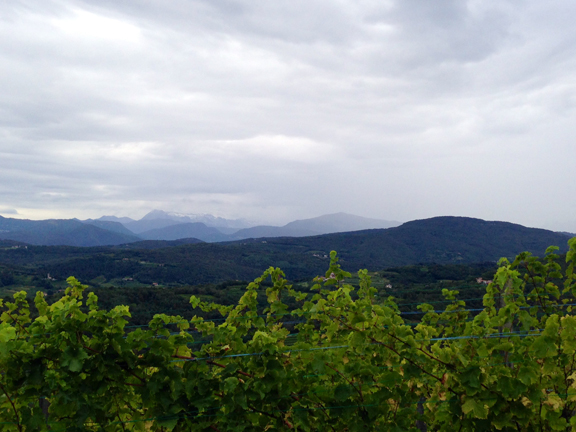 Above: My friend, winemaker Giampaolo Venica in Friuli, sent me this photo a few weeks ago. August was unusually cool in northeastern Italy where he grows grapes. Click here to read what he had to say about the vintage.
One of my readers, a winemaker in Sicily, lamented that my Italian colleague was being overly dramatic.
"It is true that many vintners and winemakers from the northern regions of Italy are experiencing difficult times due to bad weather," she wrote, "but is also true that the situation in the southern regions is not bad at all. Quality is from good to very good here, with many peaks of exceptional quality. Peaks of quality that will be also present in the North among the most careful producers."
She's 100 percent right: even in the most challenging vintages, grape growers with the best growing sites can still deliver excellent wines.
I know of only one Barolo producer who released a reserve wine from the scorching-hot 2003 vintage, Giuseppe (Mauro) Mascarello. And man, his Monprivato Cà d'Morissio is one of the greatest wines I've ever tasted.
It's important to keep in mind that reports like the Assoenologi forecast address and assess production levels for all of the country's wine producers, from the small family-owned and operated winery in Sicily to big-business producers like Riunite in Emilia-Romagna in the north.
There's no getting around it: "big" wine is going to see a huge hit in production levels this year, including Sicilian producers, who have had to deal with one of the rainiest vintages in our lifetime. When you make that much wine, you simply can't compensate for unusually bad weather. Mother Nature punishes everyone alike — big and small.
But as the 2003 Monprivato Cà d'Morissio demonstrates, great wines can come from challenging vintages. Just because 2014 is going to see a drastic drop in production doesn't mean that all the wines from the vintage will be bad.
In fact, a bad vintage is good for you and me (and I'm assuming that if you're reading this, you're like me, i.e., middle class, and spend an average of $20-25 per bottle for the wines you drink).
In the 2014 vintage, many smaller-scale wineries will re-classify their wines. In other words, if they produce Brunello, for example, they may repurpose some of their top grapes for their Rosso di Montalcino. That's exactly what happened with the Poggio di Sotto 2002 Rosso di Montalcino. Legendary winemaker Piero Palmucci didn't release a Brunello that rainy year. And as a result, his Rosso was phenomenal. Honestly, I can't afford top-tier Poggio di Sotto (yes, I'm middle class). But what a thrill to get to taste his fruit in the 2002 Rosso!
But there's something even more important that I'd like to share here.
In a world where wines are "rated," "scored," and "reviewed," we are constantly being told that we need to have the "highest rated," "90+ points" wines. I love and greatly admire Antonio Galloni's writing, but, man, I can't afford to drink like him. Yes, Barolo is going to have a really tough year (after hail decimated the vineyards in early summer). But that's not going to have an overarching effect on the lower-tier wines that will still emerge from the appellation. In fact, many Langhe Nebbiolo bottlings will be re-classified Barolo.
More importantly, we need to remember that there wouldn't be great vintages if there weren't mediocre ones. And it's also important to remember that we shouldn't shun our favorite wineries just because they experience a challenging vintage.
I can't image that Produttori del Barbaresco is going to release its single-vineyard bottlings for the 2014 vintage. But that doesn't mean that I won't put a case of the classic blended Barbaresco 2014 — to some a "lesser" wine, but not to me — in my cellar.
The Assoenologi survey was authored with the big guys in mind — not the little guys like me or Produttori del Barbaresco. And my Sicilian reader is right to point out hat there will still be exceptional wines from the 2014 vintage. And there will also be some exceptional values.
As Piero Talenti supposedly once said, there are no bad vintages…
Thanks for reading.
Jeremy Parzen
follow Jeremy @DoBianchi