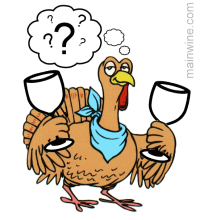 What is Master Sommelier Brett Zimmerman drinking for Thanksgiving Dinner?
Thanksgiving is one of my favorite holidays of the year. As a sommelier what better opportunity to showcase my work than a holiday that is focused on people getting together to eat and drink? I love helping customers with food and beverage pairing while finding a few minutes to catch up about life and friendship. Plus, I get the chance to see all of my favorite customers who visit the store on the days leading up the big meal. I am honored to help inspire and guide people to find great beverages that will enhance their meal and time with friends and family.
If you are curious to know what I will be drinking this Thursday I have decided to share my list of wines to be used as inspiration. I selected the following wines based on their characteristics and stylistic match for the combination of foods on a traditional Thanksgiving table. Of course, there are plenty of wines from around the world that are not included in this list, which gives us the opportunity to make recommendations and adjustments to fit your personal preferences.
Come visit our staff at the Boulder Wine Merchant this week! We would be happy to offer assistance with helping you find the right beverage for any type of meal or celebration. If you like the styles of these wines but need to stick to a budget we can certainly help find alternative selections with similar characteristics.
I hope you find some inspiration from a few of my favorite seasonal wine selections.
Happy Thanksgiving!
Cheers,
Brett Zimmerman, MS
NV Champagne Caravelle 'Cuvée Niña' Brut $39.98
This is a fantastic blend of Chardonnay, Pinot Noir, and Pinot Meunier with balance and richness. Stylistically traditional, with exotic fruit, toasty brioche, and spice.
2015 Domaine Huet Le Haut-Lieu Sec Vouvray $45.98
One of the great wines of France, Domaine Huet is king of Vouvray. This dry Chenin Blanc offers power, intensity and racy fresh apricot fruit to compliment the wide array of bold Thanksgiving food flavors.
2015 Müller Catoir Mangelgarten Riesling Spätlese, Pfalz $52.98
So underappreciated, these delicious German wines shine during this time of year with their acidic tension, fresh peach and apple fruit, and a touch of sugar richness to balance the most challenging of Thanksgiving dishes.
2013 Nikolaihof Grüner Veltliner Smaragd, Wachau $68.98
From one of the oldest biodynamic estates in Austria, this GV is a treat. The power and intensity of the 2013 vintage is beautifully exhibited with the detail and focus of this luscious white wine. Pears, fresh cut lettuce, white pepper, and brilliant concentration.
2014 François Mikulski Meursault Charmes 1er Cru, Burgundy $179.00
This is a noble Chardonnay wine with many layers and a suburb finish scented with earth and mineral. The weight of this clay-rich Premier Cru site is balanced beautifully by the vibrancy and power of the 2014 vintage.
2013 Ar. Pe. Pe. Rosso di Valtellina, Lombardy $42.98
This is a little undiscovered treat for the Nebbiolo drinkers out there, and at a fraction of the cost of great Piedmont Nebbiolo from Barolo or Barbaresco. Chiavennasca, as it is called in the Valtellina, is a softer, more delicate example. Dried cherries, sage, and spice linger on the finish – a delicious Thanksgiving match.
2008 Chateau Musar, Lebanon $56.98
These amazing wines from the Bekaa Valley in Lebanon are a rare treat and find a style that sits somewhere between power and finesse. The blend of Cabernet Sauvignon, Cinsault, and Carignan takes on amazing complexity. This is one of the great wines of the world and a lovely addition to the Turkey Day meal.
2013 Montevertine, Tuscany $74.98
Sangiovese at its finest. Montevertine is harder and harder to get these days. This traditionally styled producer makes some of the most pure and exciting wines from Tuscany. The wine is precise, focused, and full of brilliant cherry fruit, herbs, and mineral.
2014 Simon Bize Savigny-Les-Beaune Aux Guettes 1er $103.00
Bize offers a stunning example of the beauty of the 2014 vintage in Burgundy. This producer is known for whole bunch fermentation and captures soft, floral, and lifted aromas in this Pinot Noir from Aux Guettes. Delicate, yet has so much going on, it is a fabulous wine from a great vintage.
2013 Chateau de Beaucastel, Chateauneuf-du-Pape $128.00
One of the best wines produced in Chateauneuf and credited with being one of the few producers to use all 13 allowable varieties in their wines. The 2013 will continue a solid string of outstanding wines from this producer. Amazingly clean and bright, loaded with dried strawberry fruits, dust, and, game.
2009 Royal Tokaji Aszu '5 Puttonyos', Hungary $58.99 (500ml)
A royal treat to finish the big meal. This sweet Hungarian elixir will be sure to dazzle any guest with its golden raisin richness, wood spice, and concentration of sweet joy. Pumpkin spice please…