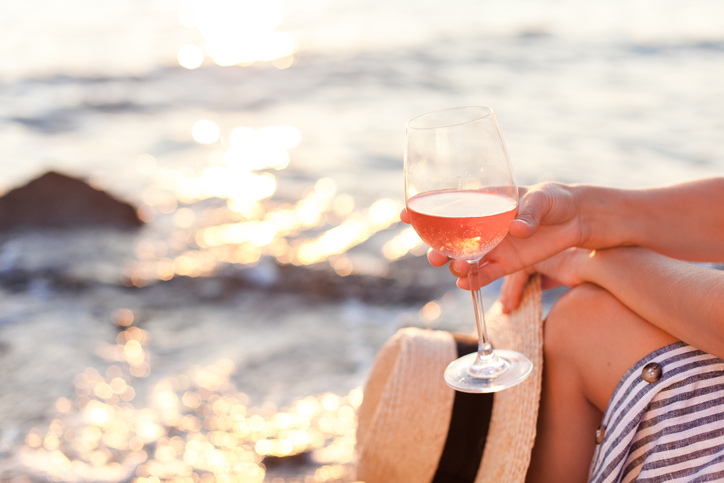 What Are The Best Wines To Drink In Summer?
Summertime is here, and that means it's time for summertime wines.
With the arrival of warmer temperatures and a shift to outdoor dining, it's time to pivot to fresher-style and lighter wines that pair well with seasonal foods and dishes. There's nothing more refreshing than a crisp glass of sparkling, white, and rosé wine on a hot summer day — especially since we tend to indulge in spicier foods during summer months.
The exciting news is that we have more wines available to us — both white, red, and sparkling — than ever before. That means you have plenty of options when it comes to your poolside or garden outing.
The following wines are just a few of the many options to cool off with while kicking your summertime dining up a notch. Let's start with sparkling.
Best Sparkling Wines for Summer
Prosecco
Prosecco from Venice is without a doubt the "no brainer" wine for summer. It's fresh and boasts tropical and citrus fruit flavors that are great for summer foods. And its bubbles are gentle and light in style, making it a perfect poolside wine on hot summer days and a refreshing before-dinner wine.
Since Prosecco is so low in alcohol, it's also a wonderful wine to serve for brunch. What would summer be without Prosecco cocktails like the Mimosa (with freshly squeezed orange juice) and the Bellini (with freshly squeezed peach juice), the famous recipes developed at Harry's Bar in Venice?
Prosecco is also an essential ingredient in the Aperol Spritz, the aperitif that has taken the U.S. by storm in recent years. And don't forget Moscato d'Asti, Prosecco's sweeter cousin from Piedmont to the northwest.
Finally, the bright, crisp flavor of Prosecco makes it one of the best wines in the world to pair with fresh fruit. So carve up a watermelon or slice up a few peaches, pour yourself a glass, and savor the refreshing tastes of summer.
Champagne
Champagne is another favorite for summertime dining. Although we tend to match it with the classic pairings of caviar and oysters, it's actually one of the world's most versatile wines at the dinner or picnic table.
The key here is the wine's natural freshness and gentle sweetness, making it a great pairing for nearly anything salty. Champagne and potato chips? A decadent but heavenly marriage!
Best White Wines for Summer
Moving beyond the sparkling category, we look to the wide array of white wines from across the world available in the U.S. today, including California.
California White Wines
Although we'd never discourage anyone from drinking their preferred white wine any time of year, we usually wait until we're indulging in the heartier cuisines of fall before reaching for the big, bold style of California Chardonnay.
Fortunately, many Californian grape growers and winemakers are producing Chardonnay in a lighter and more food-friendly style. And many of these bottlings now land with affordable pricing that makes them great for summer gatherings.
If you're a Chardonnay lover, you probably already know that its spiritual home is found in the famed Burgundy region of France. But you may not be aware that in the town of Mâcon in southern Burgundy, a district known as Mâconnais also produces super fresh, food-friendly, and affordable Chardonnay that's perfect for summertime dining.
Spanish White Wines
Another country we look to for great value in white wine is Spain. Once forgotten or overlooked by the international wine scene, grapes like Albariño, Godello, and Verdejo have become mainstays of wine lovers' cellars.
And keep an eye out for the many wonderful bottlings of Macabeo (also known as Viura) that are becoming easier and easier to find these days on the shelves of U.S. wine shops.
Italian White Wines
Italy is another country that has ramped up its production of great white wines in recent years.
Here at the Boulder Wine Merchant, we're particularly fond of whites from the northeastern region of Friuli, where they grow and make delicious wines with minerality and nuance from grapes like Friulano, Sauvignon Blanc, and Ribolla.
It's important to point out that we've only scratched the surface of incredible summer whites you can enjoy from all over the world:
Pinot Gris and Chardonnay from Oregon
Dry and sweet Riesling from Washington State and the Finger Lakes in New York State
Dry Riesling from Austria
Sweet Riesling from Germany
Torrontés from Chile
Chenin Blanc and Sauvignon Blanc from the Loire Valley of France
Aligoté from Burgundy
…The list goes on and on. We'll have an opportunity to feature those grapes and wines as well in future blog posts!
With our top recommended white and sparkling summer wines covered, we can now turn to rosé and red.
Best Summer Rosés
In many ways, rosé is the perfect wine to reach for when sitting down to a summertime meal. Although there are many different ways that rosé wines are produced, most are made by what we call "short or limited maceration times" in the wine world.
All wines get their color from the skins of the grapes. The color is imparted by macerating — or steeping— the skins of the grapes in the juice or the must of the berries.
Did you know that you can make a white wine from red grapes? All it takes is separating the skins and must after pressing. Champagne, made mostly from Pinot Noir, is a great example of "vinification off the skins," as we say in wine-speak.
Because most rosé wine is produced by limiting the time the skins macerate with the must, the wines tend to have gentler tannins than full-blooded red wines (tannins give red wines a tea leaf-like texture). Rosé wines also tend to be a little bit lower in alcohol than their red siblings.
Low tannin, low alcohol, and lower serving temperatures make rosés great for nearly any of the classic foods of summer. Their beautiful pinkish hue also adds flair to any table setting.
Look for rosés especially from the south of France, their spiritual homeland, places like Bandol and Provence, for example. But California and Oregon have also been making excellent rosé wines in recent years.
And of course, we recommend serving your summer rosé wine chilled. Who doesn't crave a cool, crisp glass of rosé to go with their meal during these long dog days of summer?
Next, we'll take a deep dive into some of the best red wines for summer — including wonderful reds that you can serve chilled.
Read about the best red wines for summer, and how to store and serve them during the hottest months of the year >