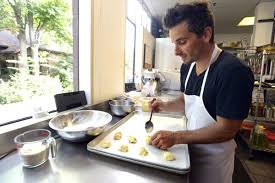 Three great recipes from Chef Sal at PMG with our new Ramon Peña items!
As many of you know we are now offering a fantastic selection of fine foods: organic pasta, European fish, chocolates, tea, olive oil, and more. I have asked a few of our favorite chefs around town to help with creating unique, simple, and delicious recipes that incorporate our new products. Sal Proia, executive chef at PMG has sent us these three outstanding recipes for our customers to try. PMG is one of our favorite places in town and we are thrilled to start with his suggestions.
Crostini with Mussels and Saffron Aioli
Use one tin of mussels strained, reserving the juice. Mix the mussels with some chopped parsley and minced onion, season with salt, lemon and olive oil, and set aside.
Making the Aioli:
Add a pinch of saffron to the Ramon Peña mussel juice and bring it to a gentle simmer, reduce by half, set aside. In a mortar, crush one garlic clove to a paste add one egg yolk and while mixing slowly add olive oil in a steady stream until thick. Cool the saffron mussel juice and add it to the aioli, season with lemon, ground chili, and season with salt.
Plating the dish:
Toast bread and swipe each side with a peeled garlic clove, spread on the aioli, then top with mussel salad.
Wine Pairing:
This dish calls for something fresh, exotic, and aromatic. The 2015 Bisci Verdicchio di Matelica $23.98comes from the Marche in central Italy and offers the perfect weight to compliment the intense flavors of saffron, yet shows exciting minerality and acidity to match with the bright elements of the dish.
Octopus and Chickpeas with Sausage and Yogurt
For the Octopus:
Simmer one cup of chickpeas in a large pot with water, sage, dried porcini, and garlic until tender, keep the chickpeas in the liquid. Use one tin of Ramon Peña octopus, slice into one inch pieces. Grill or roast a sausage link and set aside. In a separate bowl, make a salad of shaved fennel and arugula, dress with fresh lemon and olive oil.
Plating the dish:
Slice the sausage lengthwise and place on top of a smear of Greek style yogurt. Mix the chickpeas and some of their liquid with the sliced octopus and salad, place on top of the sausage, squeeze lemon, drizzle olive oil and use a pinch of coarse sea salt and fresh ground pepper.
Wine Pairing:
The Octopus in this dish calls for something with texture and fresh fruit. If the sausage used is mild I would recommend something from the Languedoc region of France. The 2014 Ermitage du Pic Saint Loup "Cuvée St. Agnès" $31.98 is a blend of Clairette, Roussanne, Marsanne, and Grenache Blanc offers the appropriate depth to match the earth and richness of octopus and sausage. It has a delicate herb note and slight spice that will accent the dish beautifully.
Gentile Organic Bucatini with Tuna, Capers, Anchovy, Mint and Breadcrumbs
In a mortar, mix to a paste, anchovy, garlic, and capers. Have the Ramon Peña Albacore Tuna flaked and sitting in a little olive oil so it won't dry out. Cook the pasta in a large pot of water (no salt). In a large sauté pan add a spoonful of caper paste, some thinly sliced celery, a touch of pasta water, and a little olive oil. Taste and add salt if needed. When the Gentile Bucatini is half way cooked, bring the ingredients in your sauté pan to a boil and add the pasta to finish cooking with all of the salty ingredients. When the pasta is just about done, (the water should have evaporated) add the tuna, fresh chopped mint and toss vigorously while adding a handful of grated Parmesan. Serve in a bowl and top with toasted breadcrumbs.
Wine Pairing:
White wines from the islands come to mind when pairing wine with this dish. Something with a slight briny tone and minerality will compliment the sweet sea flavor of the tuna. The 2015 Abbatucci "Cuvée Faustine," from Corsica is 100% Vermentinu $46.98 planted on granitic soils. It's stunning purity will highlight the richness of the tuna, the salty tone of the anchovy, and will also accent the caper and mint with its fresh herb flavors.