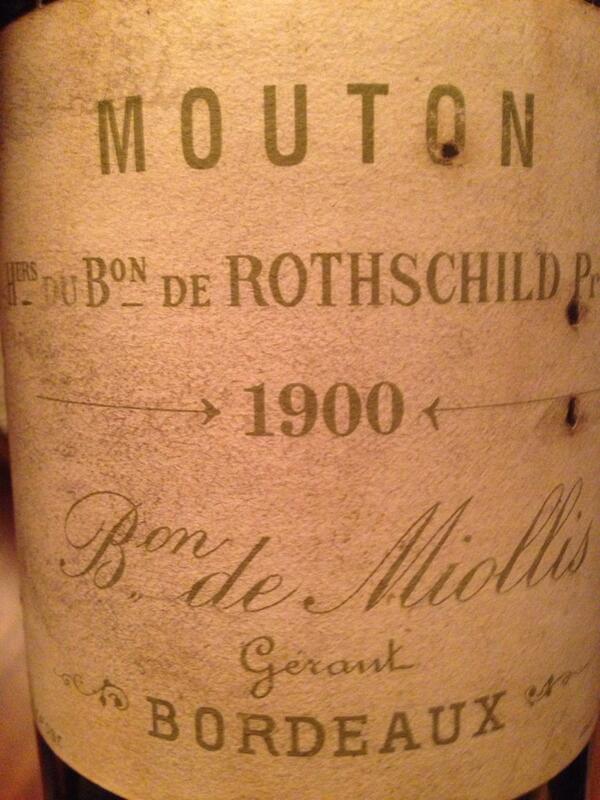 The Tasting of a Lifetime… A Mind-Blowing Collection of Bordeaux and Burgundy
This past Tuesday, I was one of 12 lucky sommeliers who was invited to take a tour through Bordeaux and Burgundy with wines ranging from the 1975 vintage all the way back to 1825.
Our host has been collecting some of the world's greatest and rarest wines for the past 25 years and wanted to move through a few of the bottles in his cellar that he felt were ready to consume.
A select group of sommeliers were dispatched from around the country and assembled in Aspen to assist with the service and enjoyment of these amazing wines.
My tasting notes are listed below and follow a 100 point scale.  I did my best to rate these unbelievable wines as they were opened during the evening.  We did encounter a few bottles that proved to be counterfeit as well as a handful that were either corked, oxidized or simply past their prime.
However, the majority of the selections were some of the finest, rarest, and oldest wines I have had.  The top wines of the tasting represent the greatest wines I have had in my life.  This was an experience that will not soon be forgotten.
A big thank you to Jerry for his generosity in opening his cellar up to our group.
Brett Zimmerman, MS Tasting Notes:
1975 Petrus – Mushroom, truffle, dark soil minerality, polished.  Pure. 92
1962 Ausone – Stunning, high tones of cinnamon, brown spice, cedar, orange peel, ripe and sweet. Super exotic. 94
1961 Latour – Fresh!  Vibrant, gorgeous and loaded with fruit.  Faint cedar, mushroom, and spice.  Very powerful on the palate with layers and layers. Crazy floral aromas, bright, amazing. 96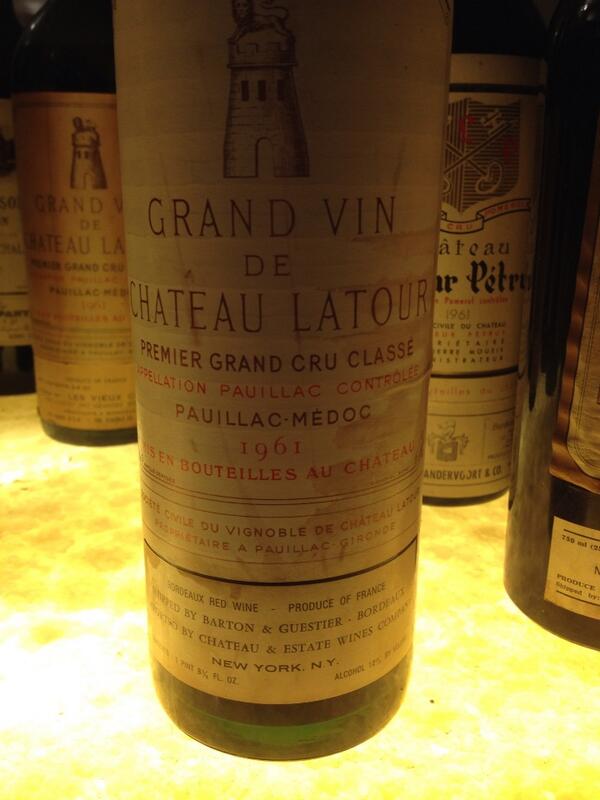 1961 Magdelaine – 1st bottle corked.  Second bottle is spicy and woodsy with a dense core of fruit. Layered and powerful.  90
1961 Cheval Blanc – Most likely counterfeit.  Smells and tastes like Zin. 85
1955 Cheval Blanc – Core of deep red and ruby fruit.  Cassis and plum.  Dried leaves and spice.  Pure and dense.  Awesome! 95
1961 Giscours – Earthy and mushroom driven. Delicate fruit profile, starting to show some age.  Spice and cedar on the finish. 88
1961 La Mission – Stunning! Unbelievable balance of cedar, currant, and clay spice.  Lively and powerful on the palate with loads of complexity.  Crazy good!  97
1961 Lafleur Petrus – Compact, clay, dust, earth, powerful flavors of plum and cassis fruit.  Cocoa and baking spice, potpourri and mint.  Super.  93
1961 Trotanoy – Earthy and spicy with wood spice and dark mineral. Dust, clay, plum – long and lush.  92
1961 Palmer – Amazing wine.  Busting out of the glass with bright red fruit.  Multiple layers on the palate with tons of life left. Alive! 95
1959 Palmer – Still showing youth, detailed nose of Asian spice, tar, roses, and cedar.  Clean, and elegant. 92
1955 Lynch Bages – Precise characteristics of Cabernet fruit with lead, spice, earth, and delicate cedar tones.  Peppercorn, mint and herbs.  Elegant on the palate. 91
1949 Mouton – Exciting and exotic.  Tons of ripe red cherry, plum, kirsch and raspberry.  Cedar, lead, mushroom.  Unreal texture and length. 97
1948 La Mission – Amazingly unique with a spicy, smoked pine needle flavor on the nose.  The palate is loaded with chocolate, dried plum and cherry.  Lush and vibrant. Long and layered. 96
1928 La Mission – Cola, sweet cherry, spice and sassafras.  Tar, roses, floral and lifted. Slightly reduced and suspect according to Raj?? Perhaps re-corked and topped up.  Bright and fresh. 90
1928 Ausone – Fresh and full of red flowers and subtle spice aromas.  Clean earth tones on the palate with red cherry and rhubarb.  Great depth and long length.  93
1900 Petrus – Concentrated plums and sweet dark cherry spice.  So clean… fresh, and loaded with energy.  Amazing wine with so much youth!! 97
1900 Mouton – Maybe the wine of the night!! Totally concentrated, layers of plums, dry cherries, and raspberries.  Chocolate, spearmint, and Pow! 98
2nd 1900 Mouton – Softer, with mint and fresh red fruit. Cola, spice, cedar, and smoke. Slightly less concentrated, but offers amazing exotic and antique aromas and flavors. 94
1947 Cheval Blanc – Super sweet, ripe, rich, loaded with kirsch, cassis and sweet wood.  Tons of richness!  Power and finesse and so different from the rest if the wines tonight.  High ph, chocolate cherries! 95
1945 Mouton – Wow! Tremendous power and detailed complexity.  Over the top with aromatic intensity and concentrated fruit.  So clean, and pure. Big, massive aromas of mint and floral spice!  Looooong!  99-100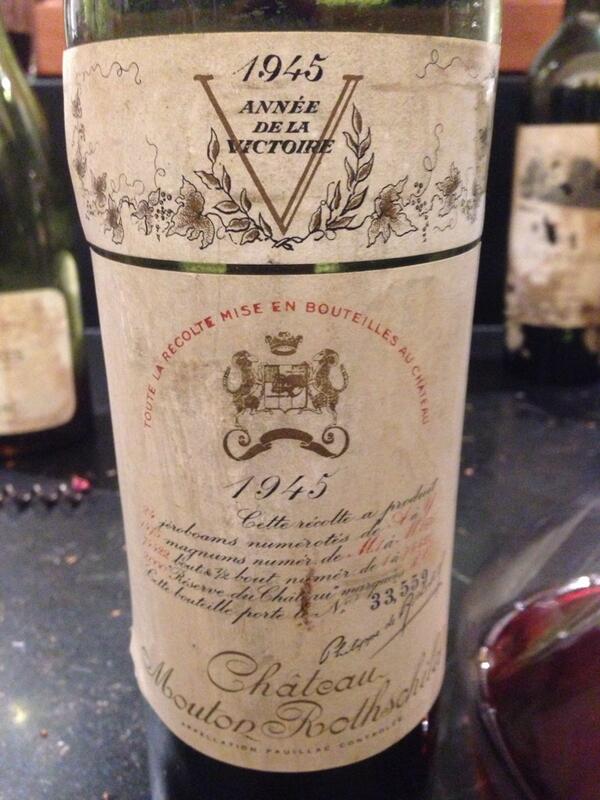 1985 DRC Richebourg – Power, finesse, and spice all wrapped together.  Fragrant and layered!  Beautiful concentration and still very young.  97
1945 Rousseau Chambertin – Tons of Asian spice, powerful ripe, red fruit, bold tannin, and everything you want in a wine.  Unreal impact on the palate with zip and lift.  Wow!  One of the best wines I have ever had. 100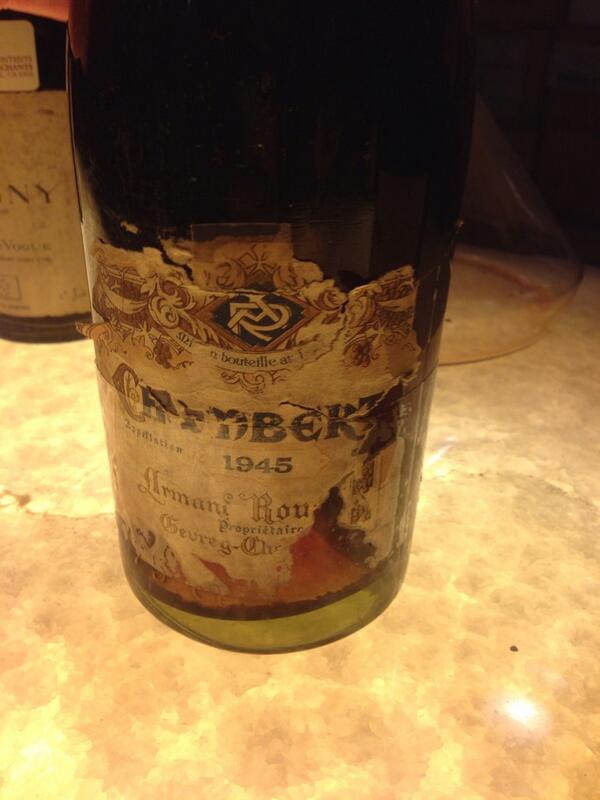 1935 Vogue Musigny – Wild aromas of chocolate, cherries and ripe strawberries. Round and layered with polished texture and long length.  95
1919 Romanee St. Vivant – Unknown producer, but the wine is stunning.  Packed with spicy fruit, earth and mineral.  93
1870 Lafite – Loaded with dried fruit, mushrooms, Asain spice and dried red flowers.  Surprisingly alive with tobacco, forest floor and mineral on the finish.  Bold and exotic.  Long.  93
1825 Lafite – This wine was certainly re-corked and perhaps topped up at the Chateau.  I don't know enough about the history of the wine or whether it could be counterfeit.  We all agreed that it had a distinct Lafite style and there is no doubt that the wine was amazingly rich, concentrated, and full of life for a wine that is 188 years old.  Developed on the palate with sweet, ripe cassis and plum fruits.  Dusty green herbs, and dry floral tones last on the lingering finish.  Not sure what to think about this wine, but it is very good.  94