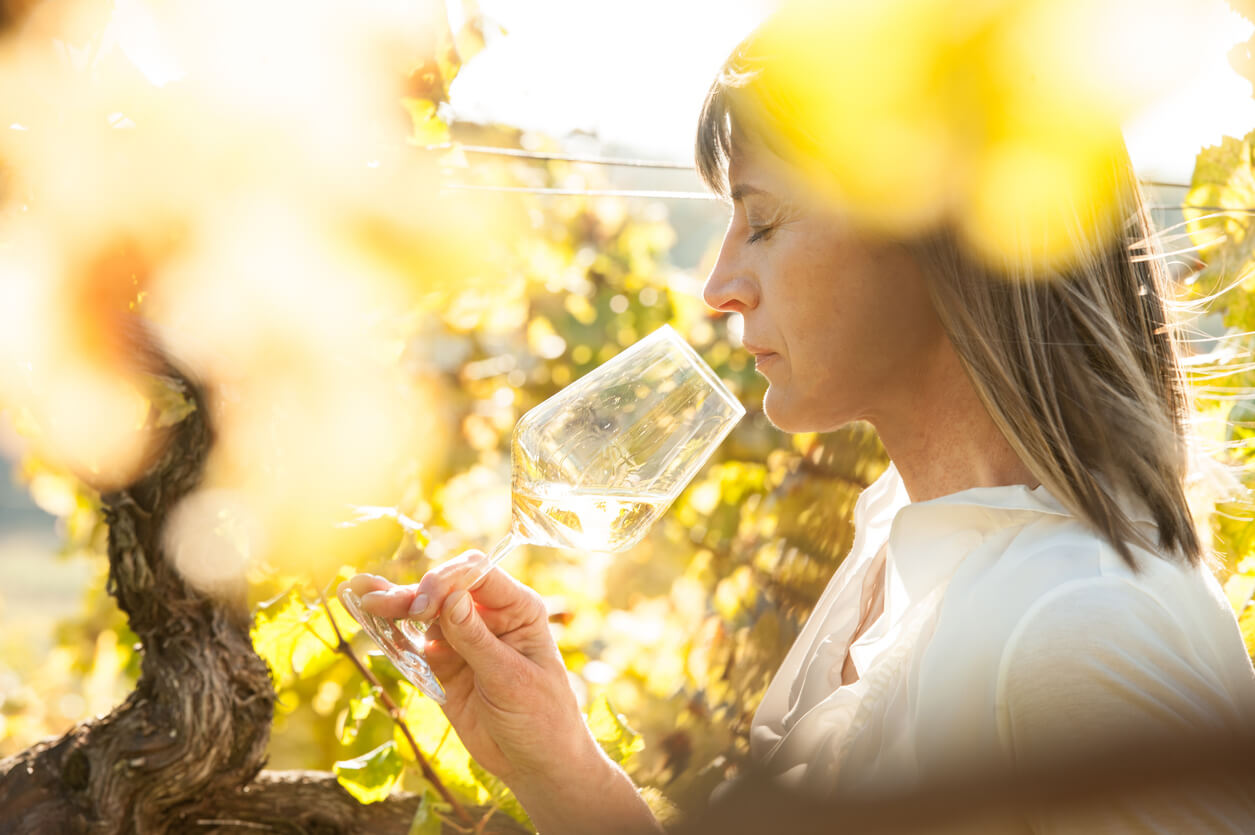 The Best White Wine Blends to Try (From A Wine Critic)
We really loved one of the recent "seminars" hosted by New York Times wine critic Eric Asimov. This seminar was part of Asimov's ongoing virtual Wine School column for the paper.
In case you're not familiar with Asimov, he's one of our favorite American wine writers. He's even been a guest of honor and featured panelist at the Boulder Burgundy Festival.
Asimov is known for his balanced approach to point-free wine writing (our favorite kind!). And his palate is a great guide for finding high-quality, honest wines in a world increasingly cluttered by the reviews of self-appointed experts.
His work is a wonderful resource and he also happens to be a relative of one of America's most famous scientists and science fiction writers —guess which one!
What is the New York Times "Wine School?"
Asimov's Wine School is a monthly column that invites his readers across the U.S. (and the world) to try a flight of wines and share their impressions and questions with him. A "flight" of wines is a selection of certain wines intended to be tasted or enjoyed together.
For example, a flight of Italian Sangiovese might contain a Chianti Classico, a Brunello, and a Sangiovese di Romagna — three different expressions of the same grape variety, Sangiovese.
White vs. Red Wine Blends
For his August column, or should we say "assignment" as his editors call it, he chose to cover blended white wines.
In his introduction of the "lesson," he writes:
"Red blends are popular right now, and I'm not speaking of classical blends like Bordeaux, Châteauneuf-du-Pape or Chianti. When people refer to red blends today, they're generally using a marketing term for a popular category of mass-market red wines, often quite sweet, that happen to blend several red grapes."
As he rightly points out, we're accustomed to drinking red blends. But what about white wine blends?
"Rarely, however," he writes, "do we think of white blends. Possibly that's because the most popular mass-market whites are all varietal wines, including Chardonnay, Pinot Grigio, Sauvignon Blanc and Moscato."
"Monovarietal" vs. Blended Wines
As Asimov notes, nearly all "popular mass-market whites" are made using a single grape variety. This is what we in the wine trade call "monovarietal" wines.
In other words, they're wines made using a single grape like the ones he lists above. "Blended" wines, on the other hand, are made by — you guessed it! — blending different varieties together.
The American Viticultural Area "75%" Rule
What Asimov doesn't discuss, however, is the fact that Americans have become accustomed to think of their wines as monovarietal wines. That's because even when a certain grape is blended with a smaller amount of another grape variety, it can often be classified by referencing only the main grape in the wine blend.
For example, in California, you can blend some Merlot or Cabernet Franc, among other varieties, into a Napa Valley Cabernet Sauvignon — commonly known as "Napa Valley Cab" or "Napa Cab" — and still call it a "Napa Valley Cabernet Sauvignon" even though it's not a monovarietal wine.
That's because of the official U.S. wine appellation rules that allow a winemaker to label their wines as monovarietal wines as long as the wine in question contains at least 75% of the grape variety indicated on the label.
Check out Understanding AVA: 75% Rule as well as this post by the Napa Valley Vintners Association.
It's important to note that that not all U.S. AVAs include the 75% rule. In some cases, that figure can vary and in others, a wine must be made from 100% of the same variety in order for it to report a single grape variety on the label.
Americans Like Monovarietal Labeling
Even when the wine is actually a blended wine, Americans don't seem to care whether or not it contains only the grape variety listed on the label. And there's nothing wrong with that, of course.
It's really more of a convention and tradition driven by marketing and — to be honest — convenience more than anything else.
When you're ordering a glass of wine "by the glass" at your favorite restaurant or wine bar, for example, it's not uncommon to hear the server or persons behind the bar list off the selection of wines not by the winery's name but rather by grape name.
"I'd like to order a red wine by the glass, please," you might say. The server, bartender, or sommelier will probably answer with something like "I have a Cab[ernet Sauvignon], Merlot, or Syrah."
Especially when the restaurant's busy, they're not going to take the time — their time or your time, to be fair — to give you the exact percentages of each grape variety in each wine. It wouldn't be useful or expedient for either party.
Why Do Winemakers Blend Wines?
In some cases, following long-established rules and traditions and in others pursuing and pushing the boundaries of stylistic excellence, winemakers will often blend wines both red and white.
Sometimes this means just adding 5% of a wine made from a given grape variety to a wine made from another grape variety. But it can also mean that a wine is blended from 50% of wine from one grape variety with the remaining 50% being comprised of another.
Regardless of the exact quantities and proportions, the winemaker does this to "balance" the grape varieties in the mix.
It might be that wine from one grape has a lot of acidity while the other has low acidity. So by blending the wines made from the one grape with the other, the acidity is balanced in the final wine.
Or it could be that a wine made from a certain grape has a lot of rich fruit flavors while another wine, made from another grape variety, has a marked savory character to it. By blending the two wines together, the winemaker crafts a wine with balanced fruit flavors and savory character.
This is true for both white and red blends.
But as Eric Asimov points out in his column, we're often or at least sometimes aware that our red wines are blended while many of us don't stop to think that our whites are also blended.
Get Your Own White Wine Blend For Any Occasion
Inspired by Asimov's "lesson," Master Sommelier and owner of the Boulder Wine Merchant Brett Zimmerman has put together the following flight of white wine blends just for you.
You'll find a wine from France, Italy, Spain, California (Napa!), Portugal, and even a wine from Lebanon! Click the links below to learn more about each white wine blend at The Boulder Wine Merchant.
2020 Domaine des Tourelles Bekaa Blanc, Lebanon >
2020 Bodegas Muga Rioja Blanco, Rioja >
2019 Cheval Quancard Cuvée Clémence, Entre-Deux-Mers >
2019 Edi Keber Collio, Friuli >
2019 Massican 'Annia', Napa Valley >