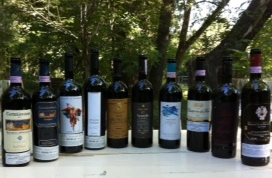 The 1997 Vintage of Brunello di Montalcino: Over the Hill or Fresh as a Rose?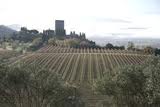 Over the Labor Day weekend, Gili Lockwood (Manager of the Boulder Wine Merchant and Advanced Sommelier) and I were fortunate to work an amazing party that was inspired by a horizontal tasting of the 1997 Brunello di Montalcino wines from Tuscany.
Our host was generous enough to open eleven different bottles of wine. There were nine examples from the 1997 vintage, a 1993 Gaja Rennina, and a dazzling finish with a bottle of 1991 Soldera Casse Basse Riserva.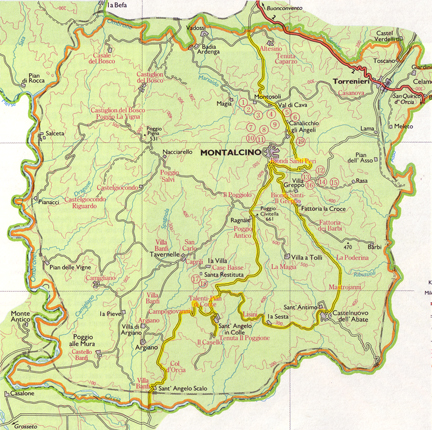 I must admit, our predetermined opinions of this vintage led us to have a potential concern that the 1997 Brunello wines, despite all of the press hype, would show signs of deterioration and advanced character.
Our Wine Tasting Experience: 1997 Vintage
After receiving amazing initial attention from the press and subsequent criticism over the past few years, we found the 1997 vintage has developed very nicely based on our tasting Sunday. In fact, there were only two wines that showed signs of over-ripe fruit flavors and volatile aromas.
The remainder of these 1997 vintage Brunello wines showed freshness, definition, and precision that were perhaps unexpected from this vintage.
As salespeople of fine wines, we normally look for vintages like 1998 to be the answer for customers looking for fresh aromatics, clean fruit flavors, and detailed earth tones.
Our overall impression of the 1997 wines was very good. We felt that the majority of these producers were showing no signs of slowing down, and there were a few that could stand to spend additional time in the cellar. Many of them were drinking beautifully right now and should maintain freshness and vibrancy for a few additional years.
A Surprising Favorite: 1991 Brunello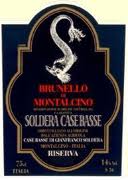 While the 1997 vintage wines were the focus of the evening, the wine that stole the show was a bottle of 1991 Gianfranco Soldera "Casse Basse" Brunello that was opened for a select few at the end of the night. This spectacular expression of Brunello was the perfect reminder that the producer is the most important determination for quality wine in the Montalcino area.
This is true of many regions, but in an area lacking a classification system like Montalcino, it is particularly important to seek the best producers and best vineyards to ensure quality in any vintage.
We have rated and offered our personal opinions and tasting notes on this flight of wines. We used a simple 20-point rating system to try and give a bit of separation in our tasting comments. Again, the vintage was showing very well with a few outstanding wines.
We hope you enjoy our impressions and notes.
-Brett Zimmerman, MS
Reds We Tasted
1997  
Casanuova
di
Neri
"Tenuta
Nuova"
Brunello
di
Montalcino
Sweet wood spices, mushrooms, and organic soil dominate the aromatic profile. Fresh, dark fruit flavors, with very firm tannins. There is a currant leaf tone on the nose, with sour cherry, dark raspberry and a spicy finish. The firm tannic profile perhaps affects the purity of other flavors on the nose and palate. The finish is moderate plus, but the overall quality of this wine is moderate to moderate plus. (16 points)
1997  
Ciacci
Piccolomini
d'Aragona
"Pianrosso"
Brunello
di
Montalcino
Mushroom, spice, cigar box and dry herbs flavor the nose, with cherry liqueur, cassis, and wild red plum intermingled. Fresh and floral, clean and spicy. Pure cherry and spice flavors on the palate with a mouth-filling richness and bold texture. Well balanced and full of flavor. The finish is decorated with spice and a long, sweet aftertaste. Fresh and full of life. (18 points)
1997  
Costanti
Brunello
di
Montalcino
Riserva
Corriander, cumin, and baking spices on the nose with coffee and dates. Dried red flowers, mushroom spice, and organic compost.  Licorice root, ripe dark cherry, and chocolaty flavors are upfront and forward. There are dark soil and iron flavors on the palate with a meaty, full-force structure. Finish is moderate plus with lingering spice and sour cherry flavors. (17 points)
1997  
Poggio
Antico
Brunello
di
Montalcino
Riserva
Overripe dark plum, cassis, cooked cherries on the nose suggest a bit of an overripe character altogether. On the nose, it is clumsy with aromas and elevated with alcohol. Hints of dry herbs accent the sweetness of fruit and bring a bit of aromatic lift. Dense on the palate with sweet, hot, fruit tones. Lacks precision as a result of being so ripe. Flavors persist on the finish, but overall this wine is perhaps a bit too ripe. (14 points)
1997  
Antinori
"Pian
delle
Vigne"
Brunello
di
Montalcino
Full flavored, with very ripe dark cherry and plum aromatics. A volatile acid (think balsamic) lift actually helps highlight some of the aromatic spice and floral tones of the wine. Cooked cherries and plums are accented by intense baking spice flavors. Sweet vanillin on the nose and palate transfer to the palate with fresher flavors than on the nose. Cedar and oak spice suggests a firm structure. The finish is long, fresh, and flavorful. (18 points)
1997  
Marchesi
di
Frescobaldi
"Castelgiocondo"
Brunello
di
Montalcino
Slightly green and herbal on the nose, with spicy, savory, oregano and mushroom aromas as well. Marked by a balsamic tone that suggests higher levels of volatile acidity. Tart cherry and spicy, dried fruits on the palate. Finish is moderate. Lacks body and depth on the mid-palate. (14 points)
1997  
Marchesi
di
Frescobaldi
"Castelgiocondo"
Brunello
di
Montalcino
Riserva
Dirt, earth and forest mushrooms. Dried potpourri, deep cherry, and spiced, stewed strawberry on the nose. Chocolate, vanilla, and cake spices drive the moderate plus tannic finish. Generally well balanced and shows much more style and freshness than the normale. (16 points)
1997  
Valdicava
Brunello
di
Montalcino
Aromas of sage and oregano with plum, fig, and spiced cherries on the nose. Cedar, and antique wood spice dominate the nose. Sweet, full and round on the palate with moderate plus drying tannins that finish with an elegant style. Savory with bing cherry, cocoa and dry herbs on the palate. (16 points)
1997  
Valdicava

"Madonna del Piano"

Brunello

di

Montalcino

Riserva

Dynamic, compact tones and aromas on the nose. The ultra-pretty floral tones and freshness of fruit is a distinct departure from the intense woodsy mushroom aromatics of the normale. Deep and layered flavors of mocha, strawberries, and sweet cassis tones. Ripe, structured and polished style. Very generous with red fruits that are surprisingly fresh! This wine shows no signs of slowing down, in fact, it could stand to have a little more time in the bottle. Super velvety texture with an outstanding, long finish. (19-20 points)
1993  
Gaja

Piave

Santa

Restituta

Rennina

Dried cherries, sun-baked raspberry, spicy cedar on the nose. Dry leaves, compost and antique wood tones suggest a bit of slow down with this wine. The palate is spicy, with mushroom, dried red fruits and a simple freshness. The wine shows a firm tannin profile, and very dry on the finish. This wine should be consumed. It is pleasant, but was perhaps fresher a few years ago. (15 points)
1991  
Soldera
"Casse
Basse"
Brunello
di
Montalcino
Riserva
Wow! A Delicious, focused, wine with gorgeous aromatics that could be smelled for days. This wine shows amazing complexity with multiple layers of fruits, herbs, leather, anise, and cedar. The fruit is amazingly pure with a dense core of red cherry, raspberry, and strawberry fruits. After a night of great wines from the 1997 vintage, this wine was a true step above the rest with fresher aromas, flavors, and a remarkable finish. (20 points)