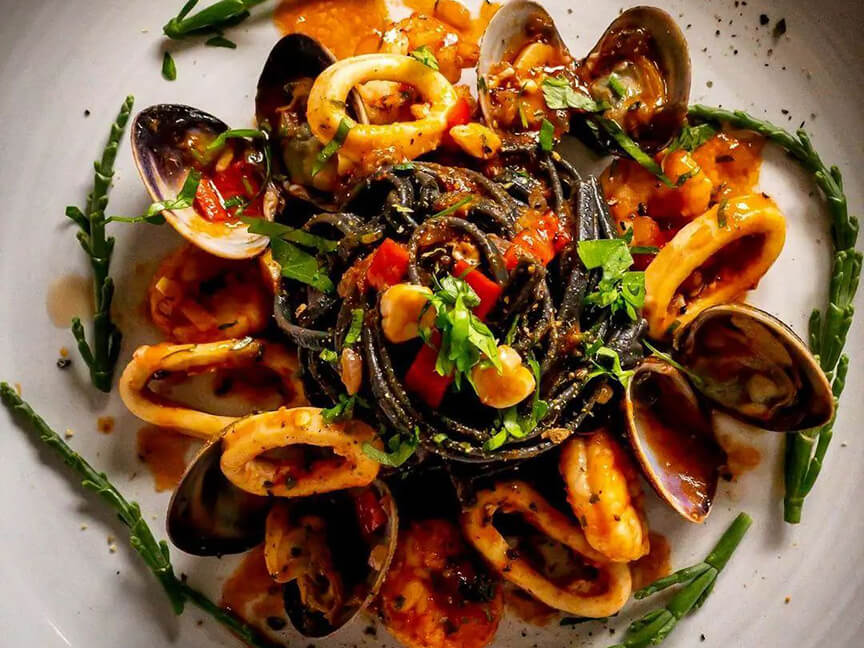 Recipe: Spanish Seafood and Squid Ink Pasta. NEW food products at Boulder Wine Merchant.
In Italy there's a saying: No wine without food and no food without wine. Here at Boulder Wine Merchant, we have always believed that wine is an integral element of the gastronomic experience. And that's the reason we also carry some of our favorite gourmet products at the shop.
We've just added a number of new food items to our offering. And we are especially excited about the Morelli Squid Ink Pasta from Italy.
For the occasion, Brett has shared one of his favorite recipes for squid ink pasta below. See this link for some of the ingredients and a couple of suggested wine pairings. Enjoy! Buon appetito!
In other news…
For our weekly complimentary tasting on Wednesday, April 5, from 5-7 pm, we will be pouring the following wines, all newly arrived!
Zardetto "Private Cuvée " Frizzante NV, Veneto, Italy ($13.99)
La Salita Chardonnay 2020, Langhe, Italy ($14.99)
Cabeza Casa Garnacha 2019, Carineña, Spain ($9.99)
Kilikanoon "Killerman's Run" Cabernet Sauvignon 2019 Clare Valley, Australia ($16.99)
Spanish Seafood and Squid Ink Pasta
Sauté ½ of a medium onion in 2 tablespoons of butter until translucent. Add 2 cloves of garlic, minced and the leaves of 6 thyme sprigs. Cook for two minutes then deglaze with ½ cup of neutral white wine. Allow to reduce by ½.
Boil water for pasta and add 1 package of squid ink pasta to salted water.
Add the Cockles, Mussels, and Octopus with all juices from the cans. If more liquid is needed, you can add fish stock or clam juice. Stir and allow to the oil from the mussels to incorporate.
If you prefer a little added spice, you can add Piment d'Esplette.
After simmering for 5 minutes, add butter. Three 1-tablespoon cubes total, one at a time stirring and allowing the butter to fully incorporate. If you need more liquid, you can add a splash of the pasta water to the sauce.
Drain pasta and immediately add it to the sauce. Toss the pasta to cover in the sauce. Plate and finish with Bonamini olive oil (or a relatively fruity style oil) and a squeeze of fresh lemon.