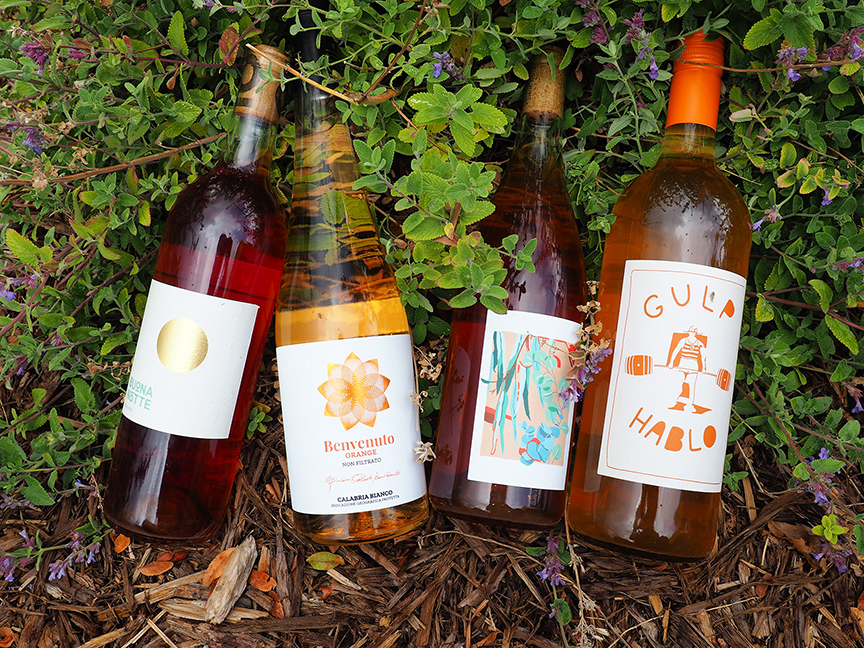 Orange wine is certainly having a moment, as a part of the popularity of natural wines. Yet this 4th color of wine is not a new fad; it has been around for centuries. Winemakers in Georgia (the country, not the Peach State) historically vinified their white grapes with extended skin contact, and the resulting wine picked up quite a bit of color. This method travelled over to northeastern Italy, where winemakers produced "ramato," meaning "auburn," hued Pinot Grigio.
Today many winemakers and wine drinkers (that's us!) are intrigued by Orange wines. The simplest explanation is that Orange wine is produced from white grapes using the same process used to make red wine. It's all about skin contact and extended maceration: the fermenting grape juice remains in contact with its skin and seeds for anywhere between four days to up to a year. This method yields wine with significant orange hue and noticeable texture from tannins. In contrast, to make a regular white wine, the grape juice is pressed off of its flesh prior to fermentation. This results in a "white" wine with a pale yellow color and no tannin.
Orange wines range in hue from onion skin to amber and can be clear or remain unfiltered and hazy. Though some "white" grapes such as Pinot Grigio and Gewürztraminer have a rosy skin that contributes color to the wine, Orange wines get a good bit of their complexion from exposure to oxygen during their extended skin maceration process.
The flavor of a particular Orange wine will depend on the grape varieties used and length of skin contact, but you can expect them to be concentrated and have some tannic grip on the palate. You may find aromas and flavors of stone fruit, orange marmalade, bruised apple, honey, sourdough, and nuts. Orange wines tend to be vinified dry, with no residual sugar. Expect to find a medium to full body.
Orange wines can be sipped on their own, or you can have fun trying different food pairings such as salted avocado and baked salmon. They have the backbone to stand up to pork dishes and are delicious with extra aged gouda.
Please join us next Wednesday, 9/20, 5-7pm, when we'll be pouring the following Orange wines at our weekly complimentary tasting. We hope to see you then!
Hablo "Gulp" 2022, Spain 1L ($24.98)
Division Winemaking Company "L'Orange" 2022, America ($35.98)
Benvenuto Orange Zibibbo 2021, Calabria ($40.98)
Glinavos "Paleokerisio" 2021, Ioannina, Greece 500mL ($16.98)