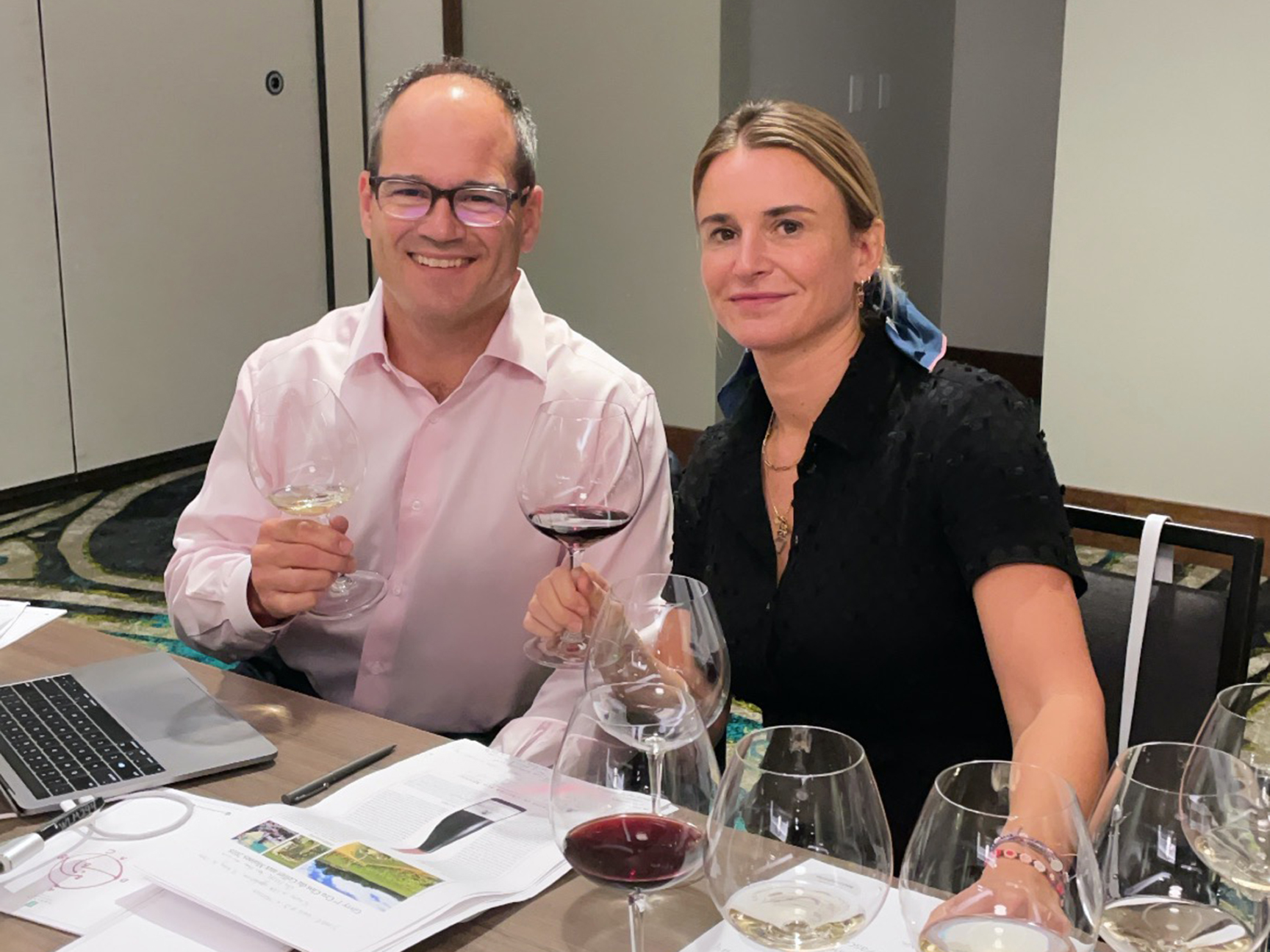 Exclusive offering: Cellier aux Moines (Burgundy).
Ray Isle, executive wine editor for Food & Wine magazine and one of our favorite American wine writers, recently visited the Cellier aux Moines winery in Burgundy. He was as thrilled by the wine (and the people) as we are.
Some of you will remember that Margot Pascal and her family's wines were featured at the Boulder Burgundy Festival last year. That's Brett with Margot in the photo above.
This week, we are pleased to be sharing a highly allocated, exclusive offering of Margot's family's wines:
Domaine du Cellier aux Moines Montagny Blanc 1er Cru 'Les Combes' 2019 ($45.98)
Domaine du Cellier aux Moines Santenay 'Beauregard' 1er Cru 2019 ($65.98)
Domaine du Cellier aux Moines Givry 1er Cru 2019 ($65.98)
Domaine du Cellier aux Moines Givry 1er Cru 2019 1.5L ($132)
Domaine du Cellier aux Moines Givry 1er Cru 2019 3L ($312)
Domaine du Cellier aux Moines Givry 'Les Dessus' 2019 ($128)
Click here to view the entire offering on the site. Cellier aux Moines is one of Burgundy's oldest estates. But it's also one of its newest: Only in recent years, has the Pascal family begun to release wines from this historic property after years of working to restore the vineyards. Collectors and wine writers like Ray have been delighted. And so have we! We know you'll enjoy these extremely hard-to-find wines.
Please don't forget to save the date: Boulder Burgundy Festival will be held November 11-13, 2022. Stay tuned for details.
In other news…
Our Wine Wednesday complimentary tasting on July 27 from 5-7 p.m. will feature the following wines:
Gateway Vinho Verde 2021, Portugal ($10.99)
Simply Chardonnay 2019, Washington ($9.99)
Alto Molino 2019 Cabernet Sauvignon, Salta, Argentina ($8.99)
La Mala Maria Malbec 2020, Mendoza ($14.99)
After a long wait due to the same logistics issues that everyone in the wine industry is dealing with, the Vinho Verde is here!
You can find all these wines and more on our Monthly Features page.
No need to register for the tasting. Just come anytime between 5-7 p.m. next Wednesday and enjoy!
Thank you for your continued support. We wouldn't be here without you!