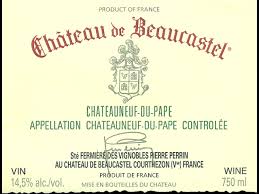 My notes on a once in a lifetime Château de Beaucastel tasting
This past Sunday I was fortunate to be invited to a dinner among friends that featured 21 different wines from the famous Château de Beaucastel in Châteauneuf du Pape. We enjoyed some of the recent releases of the white, red, and their special Hommage à Jacques Perrin bottling with the vertical going back to the 1979 vintage. I must say, in all of my years of working in the business I have not had the opportunity to taste this many Beaucastel wines in one tasting. It was quite a treat and my opinion of these wines has completely changed.
Working in the wine trade and as a sommelier for many years I was exposed to many sommeliers constantly talking about Brettanomyces when discussing the wines from this Château. Brettanomyces is a non-spore forming genus of yeast in the family Saccharomycetaceae, and is often colloquially referred to as "Brett". Its influence can often impact wines with aromas of Band-Aid, leather, sweaty saddle, horse blanket, cheese, or barnyard. In low levels, many producers like the aromatic complexity that Brett provides. Yet, if levels are high the wine is most definitely considered flawed.
Heading into this tasting I was convinced that we would experience more than half of these wines showing a heavy influence of Brett. Instead, what I discovered was that these wines were absolutely brilliant and the large majority were without any flaws whatsoever. The 1990 and the 2001 showed the most Brettanomyces influence, but the concentration and power of both these wines did wonders to integrate the Brett and make the wines harmonious and balanced. There was not a wine in the tasting that made me think this Château was incapable of producing clean, world-class wines.
My favorite of the night was the 1989. The 1979, 1982, 1985, 1998, and 2000 were all at the top of my list, but the 89 had a different level of complexity that was evident on the nose and palate. It was an incredible wine that will not soon be forgotten. Remarkably, there were so many great wines that it is hard to select just a few.
The two Vieilles Vignes whites from the 2012 and 2013 vintages were exotic, rich, and wildly perfumed – a mouthful of complexity that is not often enjoyed. We also had the opportunity to taste the 2011 and 2013 vintages of the Hommage reserve bottling. This is a very rare and expensive wine that is hard to come by in the world of wine. Its power and precision were totally amazing. These wines were unusually concentrated, yet had lift and brightness. The Hommage is a wine with gorgeous balance and plenty of life for decades to come.
My tasting notes for each wine are listed below. I did my best to offer a legitimate analysis of each wine in a few sentences. I can't thank Byron Hewett, Larry and Emily Gold, and Tommy Oldre enough for this wonderful opportunity. I am blessed to call these people my friends and thank them for their generosity. This was a special experience. I hope you enjoy the tasting notes.
Cheers, Brett
Tasting Notes:
2012 Vieilles Vignes white – exotic, honey, macerated peaches, wax, and dry hay. Rich and powerful on the palate with an oily texture. A super long finish with a touch of bitter almond and savory spice.
1994 – light in color with sandalwood and spice on the nose, relatively savory aromatics with more grape spice prevalent as the wine opened up. There was a pronounced floral potpourri on the nose with a hint of meat and smoke that added extra character.
1995 – dark ruby red color, with powerful and earthy elements on the nose. Raw tannin and big texture on the palate with a hint of Brett, but balanced enough to compliment the rest of the complexity in the wine. Herbs de Provence and dark soil linger on the finish.
1996 – is beautiful on the nose with fresh floral notes, wet graphite, and mineral. On the palate, the bright acidity reminds me of Pinot Noir. Bold game and smoked meat notes co-mingle with the tangy, earthy finish. The acidity on this wine was much higher than the rest.
1997 – dark color with hints of orange on the outer rim. Nose offers ripe, round and full-bodied dried strawberry fruit with holiday spice and graham cracker. Sassafras, smoke, meat, and candied stewed red fruit. Classic Châteauneuf on the palate with Herbs de Provence and a pleasant sweet fruit finish.
1998 – gorgeous and fruit forward with bold flavors of wild strawberry, dark cherry, and red plum. Fresh roses and baking spice with very clean fruit. The wine is medium weight, balanced and bright with hints of earth and herb on the finish.
1999 – more advanced on the nose, yet spice driven with mushroom spice and forest floor. Soy, savory meat notes and zippy acidity. Moderate tannin and fresh acidity add to the leaner finish style.
2000 – big and bold with candied red fruits and smoky spice – powerful, dense fruit style. Roasted herbs and stewed red fruit compote, with Asian spice, exotic fruit, smoked meats and a super clean fruit on the finish. Superb.
2001 – first wine to show a little Brett. The wine is dark in color with powerful aromas on the nose of anise, Asian spice, dried herbs and boysenberry fruit. Mourvèdre seems to be a touch more dominant on the palate and the finish is long with ripe, sweet strawberry fruit and game.
2006 – bold and chocolaty, with big dark cherry fruits and a hint of blackberry that adds lift to the fruit style. Dust, smoke, and spice. Delicious and juicy, this wine shows great power and intensity with brilliant balance and style.
2007 – fruit forward and red fruit jam. Stewed strawberries and red cherry drive the aromas and the fruit on the palate. The 2007 offers fabulous concentration and super clean fruit with a slight note of dried herbs and mineral on the finish. Delicious.
1979 – Wow. This wine has unbelievable purity and elegance with the perfect balance of fruit and earth. For a wine of this age it is super clean with vibrant floral tones and fantastically fresh fruit. So lovely and pretty. Rocking!
1982 – very spicy and earth driven with raw red fruits and savory herbs. Mushroom, wood spice, cedar, and dried red fruits contribute to the core of this medium bodied wine. In contrast to the more powerful wines in the flight this 1982 shows finesse and a woodsy spice on the nose and palate.
1985 – tobacco, leather and dried herbs along with mushroom spice and subtle dark scorched earth that linger on the palate. Fresh and floral spice on the nose with round, polished fruit flavors. A remarkable example of older Châteauneuf.
1989 – still amazingly dark and concentrated. Unbelievable power and concentration that puts this wine well ahead of the others in this tasting. The palate is luscious and pretty with cocoa, herb, cedar and profound layers of fruit. There is a touch of licorice and kirsch liqueur that speak to the additional gears that this wine has over the rest. Layers upon layers. Absolutely amazing.
1990- the most Brett evident in any of the wines tonight, but still not off putting. Stunning power and tannic strength, yet vibrant and fresh. Intense aromatic flowers with spice, meat and game on both the nose and palate.
2011 Hommage – brilliant and dense with superb concentration. The wine is super layered with a completely dry finish. Power and punch. Black and blue fruits add to the complexity of the mineral and wood spice. The finish goes on and on…
2013 – very red fruit driven. Subtle and spicy. Moderate body with fresh fruit and vanilla on the finish. Balanced and fresh with plenty of time to develop in the cellar. The 2013 is a good drinking vintage that will reward collectors who keep this wine for 5-10 years.
2013 Hommage- dense and concentrated blackberry and blueberry spice. This wine shows fantastic concentration that translates to kirsch, cassis, and raspberry syrup on the palate. Even with its density, the wine offers balanced layers of earth, mineral, flowers, and spice. It is pleasantly lifted and light considering the depth and power.
2013 white – lees and waxy spice with golden apple, spiced pear and earthy cheese notes. The dried apple, spiced pear, quince and yellow field flowers co-mingle on the nose and palate. Aromas of honey and wax add to the complexity of the nose and translate beautifully to the long finish.
2013 Vieilles Vignes white – wild and exotic with an oily texture and concentrated fruit flavors of peach, cinnamon, and spice tones. It is young, but delicious and dynamic with super powerful vanillin spice and honey. Big, bold, and luscious.