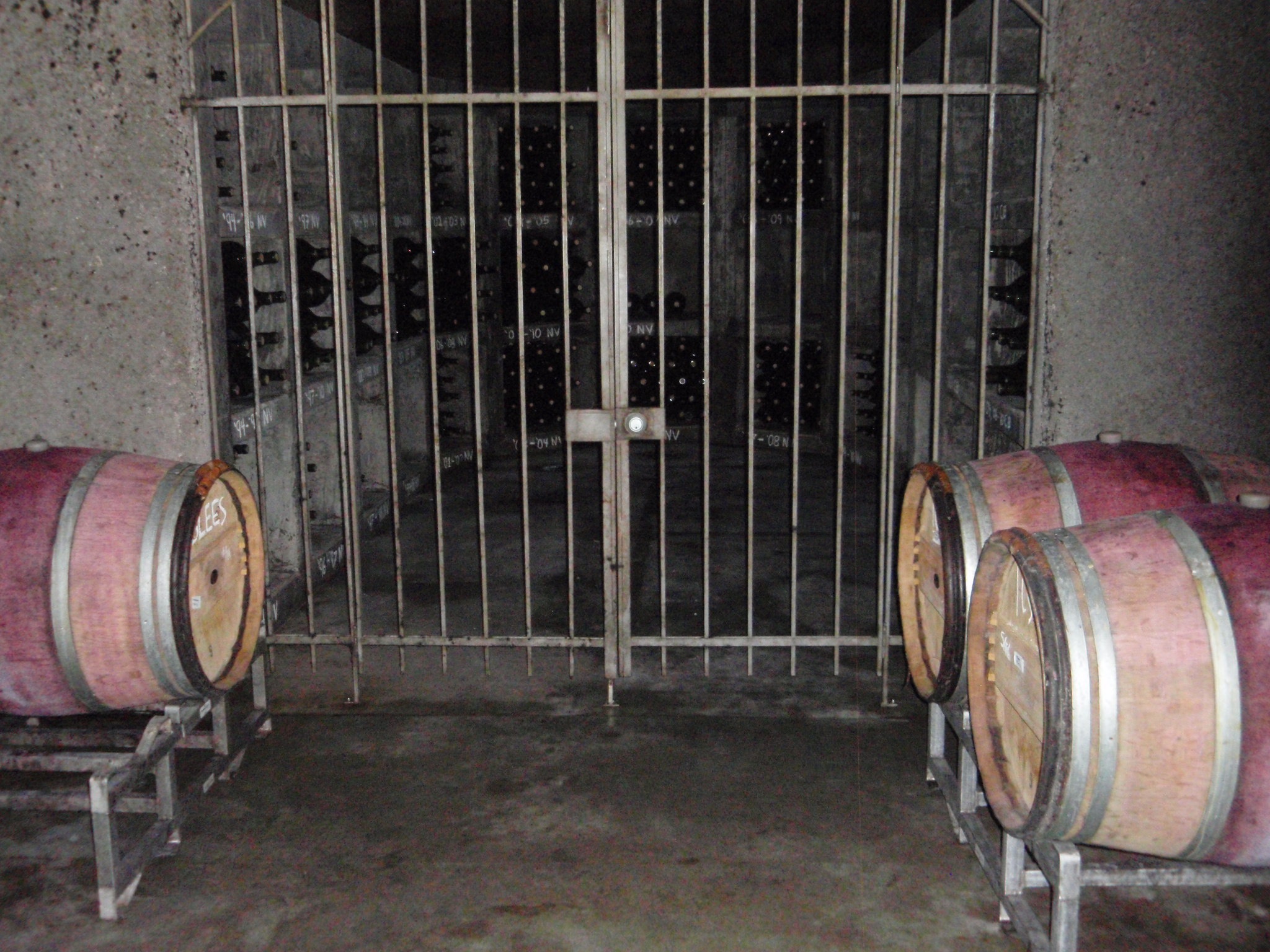 Jeff's First Trip To Napa, August 2012
I had never been to Napa Valley until I was invited by one of our purveyors to accompany him and a few other guests for a "tasting and buying" trip to some of the wineries he represents in Colorado.
Our group was five strong and consisted of two veterans with knowledge of the area and three newbies. The vets were determined to let us experience as much of the flavor of the area as possible.
We flew into SF around 4 PM, went into the city, and proceeded to Boulevard, in the financial district, for beers and ambiance. Located in a building that survived the earthquake and fire of 1906, Boulevard is a cool old bar and white linen restaurant that serves a traditional California menu featuring plenty of seafood.
I wouldn't have minded having a meal there at all. We, however, had reservations in Napa.
We left Boulevard and SF for the hour drive to downtown Napa and made it in time for our dinner reservations at Oenotri, an exceptional Italian restaurant where former Boulderite and new MS Sur Lucero serve as a sommelier. He has assembled a terrific wine list featuring mostly Italian selections.
We had Ca del Bosca sparkling wine, Inama Soave and Antinolo Gattinara. Highlights food-wise were antipasti such as "Goddess Melon", watermelon with prosciutto, basil, and honey, or Crudo of Halibut, shrimp, and Black Prince Tomatoes, or shaved Summer Squash with opal basil and chives.
We sampled a couple of wood oven-fired pizzas. The Napoletana had anchovies, Marzano Tomatoes, olives, and red pepper, it was on the spicy side, but flavorful and delicious. The Pepperoni pizza had Marzano tomatoes, mozzarella, and arugula, it was my favorite, the pepperoni was homemade, hearty and while spicy it balanced with the other ingredients for surprisingly flavorful but not heavy pizza.
Sur was celebrating passing the final level of the MS on the first try and invited us to stay after our dinner and we enjoyed several wines that had been opened for the event, too many to list.
After dinner, we went to our base for the weekend, the Bunkhouse at Long Meadow Ranch Winery. The Bunkhouse is a bit better than a rustic ranch house, it has been featured in Sunset Magazine and was very comfortable. LMR is an operating ranch with cattle, chickens, olive trees, and a winery.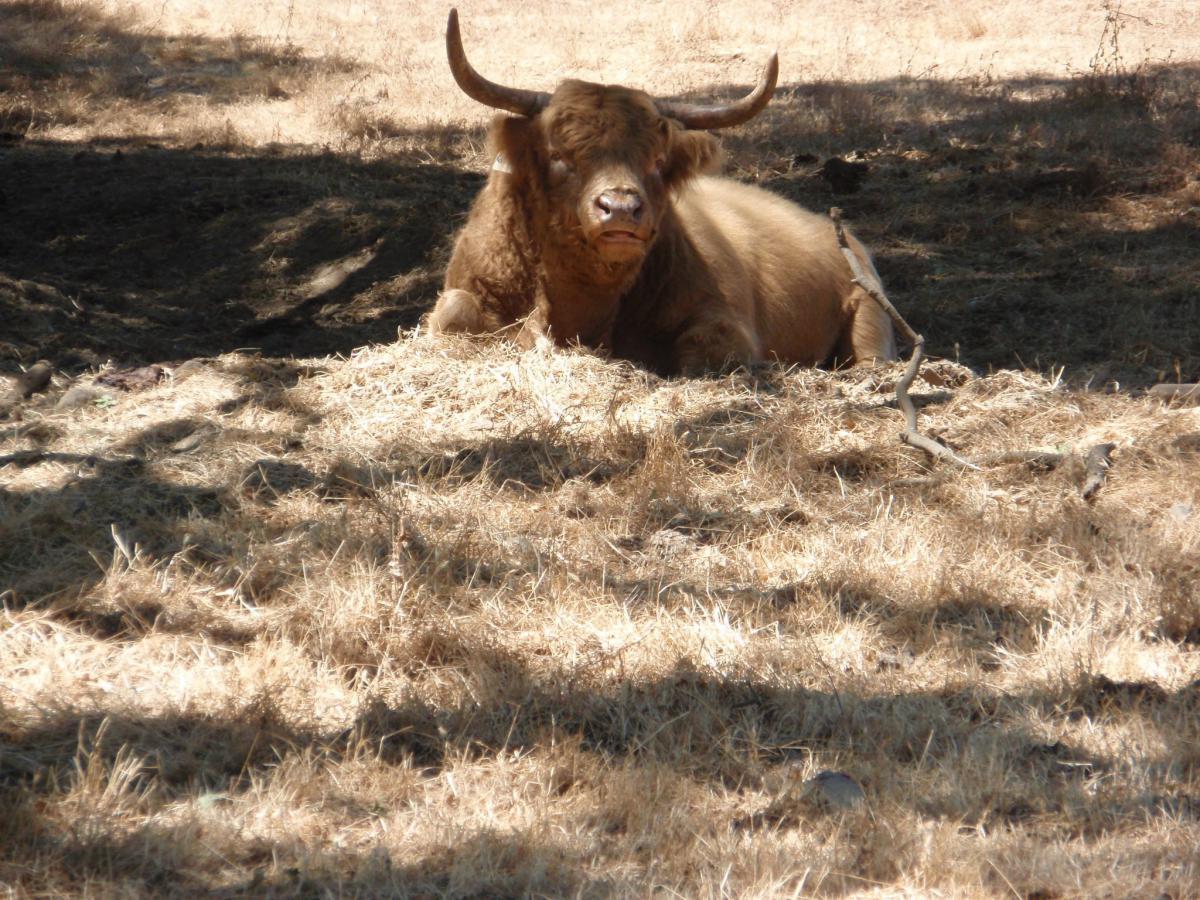 Our first full day at Long Meadow started in the morning with a chilly fog rolling over the mountains of Napa lending a cool start to our visit. Friday's visits were to the Long Meadow Ranch and Anderson's Conn Valley wineries.
We visited several vineyards throughout the property located on the Mayacamas Mountain range. Amongst the vineyards, several groves of olive trees also dotted the ranch. The winery's facilities are beautiful and spotless and include artwork in the winery and their own olive press.
After the tour, it was down to St. Helena to their tasting room and restaurant, called Farmstead, to taste their wines and olive oils. They own some of the oldest olive trees in the area and the oil from the mountain groves is more delicate and balanced, while the oil from trees on the valley floor groves is rich, peppery, and powerful.
If ever there was olive oil for steaks, this is it. We tasted an assortment of their wines with lunch.
Our lunch featured Long Meadow Ranch Sauvignon Blanc 2011, crisp and citrusy nice hints of grapefruit, dried herbs, and a hint of lemongrass. It matched the grilled peach with prosciutto and basil salad very nicely.
The Ranch House Red Blend is composed of Cabernet Sauvignon, Sangiovese, Merlot, and a small amount of Petite Syrah and Cabernet Franc. It is rich and flavorful with a slightly juicy berry tone and a touch of spice.
The main dish for lunch was a smoked brisket from Scottish longhaired cattle grown on the Ranch. It balanced the BBQ sauce and smoke nicely. There was an opportunity to taste the 2007 LMR Cabernet Sauvignon, richly flavorful and a bit of minerality, accented by a splash of cassis, it went well with a nice cheese course sourced from a local Creamery. Overall quite a rich rib-sticking lunch sourced completely from the valley.
The afternoon was filled with a tasting at Anderson Conn Valley Vineyards. Their Sauvignon Blanc was a contrast to the earlier in that it was more Bordeaux-esque, more mineral with less fruit, and a balanced, more intense flavor profile. ACVV Chardonnay is high in skin contact, has no secondary malolactic fermentation, and is overall a moderately rich Chard.
There was a light touch of cream, pure Honeycrisp apple, and a hint of slate. The Merlot was lush round and smooth with a little more density than most Merlots of comparable quality. ACVV is known for its Cabernets and the current vintage Cab Sauv is balanced and rich in cassis, mineral, and a touch of underripe black cherry. I like this Cab for its balance and moderate richness for the price.
After the tasting, we had a light dinner in St. Helena at the Goose & Gander, a landmark institution known for its drink list. Overall it was adequate but not remarkable. I didn't see any food or drink that separated it from many other bars but it was full. I think I am spoiled by Boulder's outstanding gathering places.
Saturday involved visits to three wineries the first being a relatively new one called Hourglass, located in the north end of the valley near Arajo and Duckhorn. We met the new winemaker (as of two weeks previous) Tony Giagi formerly of Plumpjack, for a quick taste through of their wines.
All of their wines are made from estate-grown grapes. The Cab Franc was ripe red cherries and touches of cocoa, herbs, and spice. I liked the richness and character. Their Merlot is from 22-year-old vines and was fairly rich and round, black cherry hint of earth and dried herbs with moderate tannins.
Hourglass does two Cabs, the workhorse "Blue Line" was rich cassis and candied cherry with accents of eucalyptus, very light herbs and a hint of stone. The upper tiered Hourglass Estate Cab is grown on four acres across the highway and is richer and more intense with pronounced mineral elements and denser blackberry fruit. They were very good wines and priced to reflect it, but not currently available in Colorado.
After Hourglass we went to a "Napa Style" fast food place, called Gotts Roadside, for a brunch of shakes and burgers. Really good chocolate shakes and flavorful natural beef burgers were almost worth the wait standing in a huge line that wrapped around the front of this very popular dining spot. And of course, they had a wine list!
We were soon off to Scribe Vineyards to the south near Carneros for lunch. A very new winery with young vineyards and young winemakers, they are a very exciting winery full of energy and good vibes. The two brothers are from a five-generation nut and fruit farming family and have struck out to try their hand at vines and wines.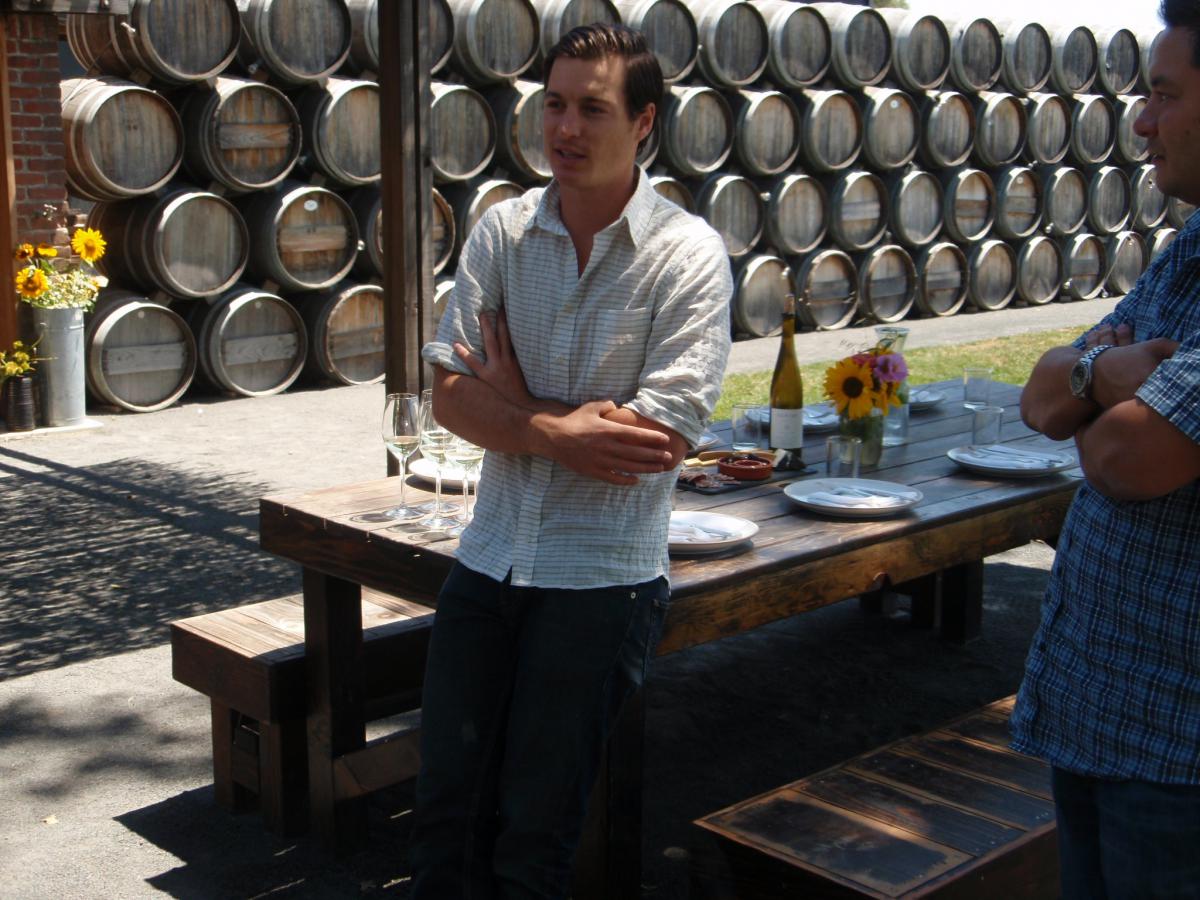 Pre-lunch we tasted a lively dry Riesling. Even though it came from three-year-old vines it had a bright citrus and crisp apple flavor with tangerine elements to the finish.
Lunch was mostly from the onsite organic garden. Beautifully ripe Black Prince Tomatoes drizzled with olive oil and sea salt and A lovely salad of thinly sliced summer squash, English Cucumber, and Lemon Cucumber sprinkled with Nasturtium blossoms, purple basil and goat cheese were followed by pasta with beet pesto and dinosaur kale.
We tasted the lineup during lunch starting with Scribes' Chardonnay, nicely balanced medium-bodied, apples and light cream, pure clean flavors it didn't have the usual Carneros citrus tone. The 2011 Pinot Noir is a little lighter than the '10 , but still was flavorful black and red berries and nicely balanced with the nuance of allspice and framboise.
As the vines mature I think the richness will develop the middle flavors more and more. The 2007 Atlas Peak Cabernet Sauvignon was a stand-out. Instead of deep cassis, it was more Blackberry, Boysenberry and Raspberry flavored with hints of dark chocolate, light French oak, and a touch of stone. It's a different style of Cab,  flavorful but elegant, not super concentrated, just a nice mouthful of wine.
Our last stop of the day was in Healdsburg, at the Hobo Wine Company compound, which is an umbrella for Banyan, Folk Machine, Ghostwriter and Hobo wines all headed by Kenny Likitprakong. Kenny has contracts with a lot of growers and makes a surprising variety of wines in the facilities he contracts to use.
We tasted 15-20 wines with grilled pork fajitas over a few hours, so my tasting notes are incomplete, but both the Folk Machine and Ghostwriter Pinot Noirs from several different areas were tasty along with the Zinfandels and a Mourvedre from Hobo Wine Co. I look forward to adding some of them to our inventory.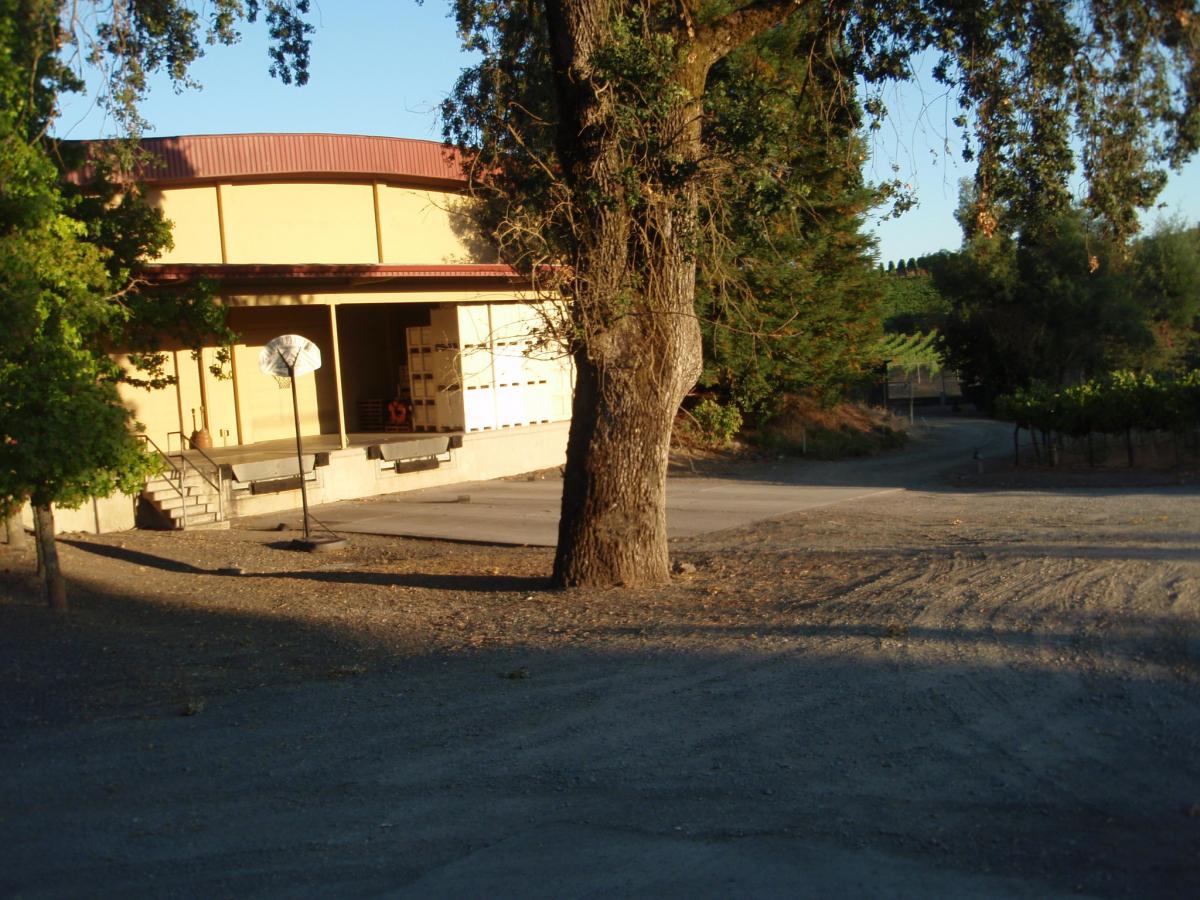 Sunday morning started cool and foggy, but by the time we got to our early appointment at Behrens Family Winery on top of Spring Mountain, it was bright sunny and getting warm. Formerly Behrens-Hitchcock, Behrens makes big rich oaky wines that appeal to the classic California wine drinker. They all have proprietary names.
We started with the "Sainte Fumeé", their Rhone blend with splashes of Tempranillo, Petite Verdot and Cab Sauv. This is a big rich wine with pepper and nutmeg-covered blackberries with a hint of oak.
We had a trio of Cabernet blends next. "Labor of Love" is mostly Cabernet Franc with Cab Sauv and Petit Verdot. Black cherries with splashes of mocha, dark chocolate and grilled herbs. Pretty flavorful with a smoky oak tone it would be pretty good with a grilled T-bone.
"Spare Me" is mostly Cab Sauv with small amounts of Merlot and Cab Franc added. Sort of their basic cab it is earthy with dark currants and dried dark cherries flavors accompanied with dark plum and a hint of cinnamon oak tones. "The Heavyweight" is just that. Lush ripe deep and dark with substance behind it.
Even though all these wines are slightly overdone and certainly this one doesn't hold anything back, it was my favorite of this winery. Dark berries, even a bit of blueberry combine with licorice, cocoa, earth and of course plenty of oak to produce a mouthful of wine that is almost overboard. I've got to try to get this for the store for our fans of over-the-top big rich Cabs.
After Behrens, we took off for San Francisco, down through Sonoma over the Golden Gate Bridge to Fisherman's Wharf. As we left Napa and Sonoma I reflected on how lovely the Valleys were, each in their own way. To me, Napa seemed like one of our Colorado ski areas, very focused on one thing with most the businesses there because of wine.
Sonoma was more rural, farms, winery and small towns and definitely more laid back. I liked both, but mostly liked the wineries that were in the mountains. They had beautiful scenery and views and tended to be less busy than the valley. If you go be prepared for the ridiculous amount of time you will sit in traffic because one highway runs through the valley and towns and traffic moves slowly.
When we got to San Francisco we found we had arrived after the conclusion of the S.F. Marathon. It was around noon so we had to eat! We were at the Ferry Building on the Embarcadero. It is full of cool places to eat and buy food and wine.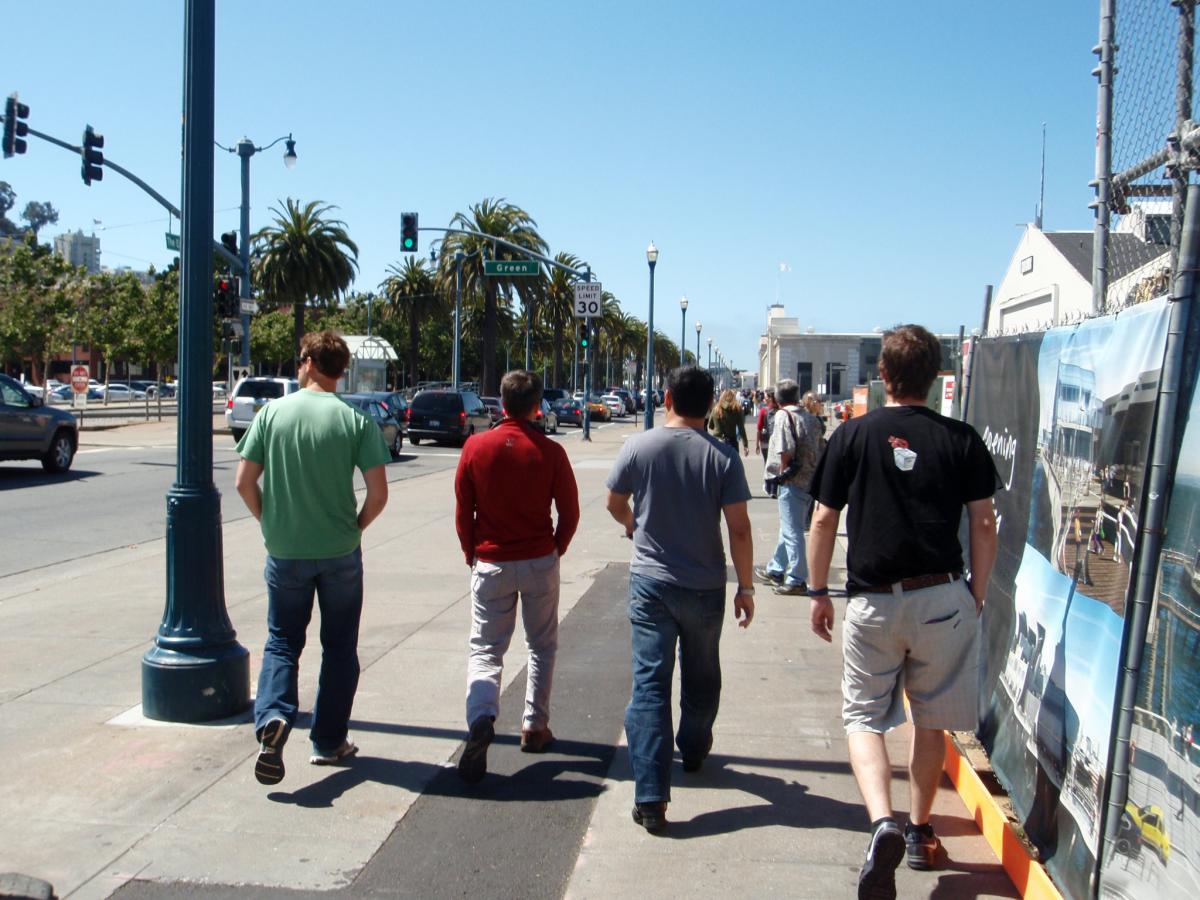 We started with a couple dozen Hog Island Oyster Company oysters and a bottle of Muscadet. Oysters were a great appetizer course, and they we're super fresh, but we went to the Slanted Door next for the main course.  The Slanted Door is a Vietnamese restaurant that has an eclectic wine list that features mostly German and Austrian wines.
The superb food and wine complement each other and the restaurant attracts a lot of the local wine community. We ate and drank a lot this weekend and this meal was an excellent end to our initial venture to Napa.
We all had a terrific time and I am looking to return and explore more wine areas of Northern California in the near future. I can't wait to get back!