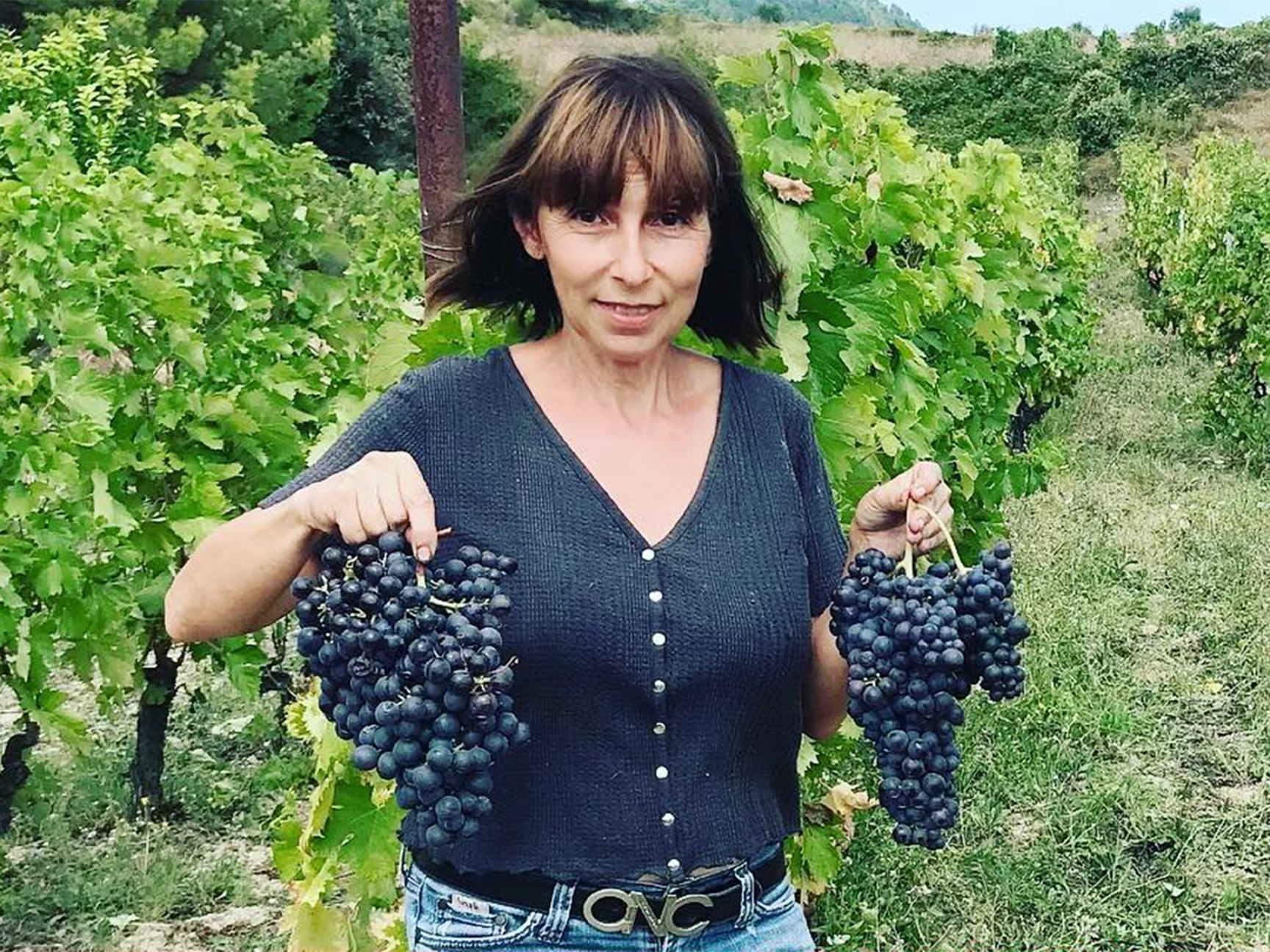 Italian Insiders: Wines from Italy's least known appellations.
Above: Giovanna Maccario grows fine wine grapes in Liguria on the Italian riviera. Her vineyards are among the steepest in the world.
For this week's "new arrivals" offering, we're diving into some of Italy's least known appellations. These are the kind of wines that only Italian insiders will be familiar with. But they are as equally thrilling as their more famous siblings and cousins.
One of the wines that we are the most excited about is the Maccario Dringenberg Rossese di Dolceacqua Luvaira 2018. That's Giovanna Maccario in the image above. She grows grapes in Liguria on the Italian Riviera where the vineyards are so steep that the growers have to literally chain themselves to the ground to avoid falling. All of the vineyard work has to be carried out by hand. It's an example of what we sometimes call "heroic viticulture" in our industry. In other words, these are wines born out of passion and sacrifice.
Rossese is Liguria's quintessential red grape variety. It makes for a wine with rich and vibrant but slightly unripe red fruit flavors. And it's a favorite red wine of Ligurians to pair with seafood. When people taste Rossese for the first time, they'll often remark that they've never tasted anything like it before. Giovanna is one of the appellation's top five producers but her wines are hardly known outside of Italy — until now!
Another wine we're really excited about is a white by a favorite Barolo producer, Cogno 'Anas-Cetta' Nascetta 2015. Anas-Cetta is a white variety that Walter Fissore, the owner and grower at Cogno, began to revive in the early 2000s.
A white wine from Piedmont from the 2015 vintage, you ask? Great question! Most whites from Barolo country are intended to be drunk in their youth. But as Walter has discovered over the course of his experimentation with this grape variety, it can be aged with spectacular results.
A friend of the Boulder Wine Merchant told us that they opened a 2010 Anas-Cetta by Walter last fall and it was simply stunning. This is another grape that Italian insiders need to know.
Got Freisa? We couldn't be more thrilled to be posting about the G.D. Vajra 'Kyè' Freisa 2017. Giuseppe Vaira and his family are among the top growers in Barolo right now. But where other producers have grubbed up native grape varieties to replant to the more lucrative Nebbiolo, Giuseppe has never abandoned the traditional grapes of his appellation. He makes his Freisa in a rich and tannic style, an homage to the wines of his grandparents' generation.
This wine is delicious right now but will also age with great results. The name "Kyè" is pronounced kee-EH. It's an alternative spelling of the Italian chi è meaning who is. Want to find out who Freisa is? This is the benchmark wine to check out.
Click here for all our "Lesser-Known Northern Italy" wines, including some wonderful labels from the Valle d'Aosta and a Friulian icon from a top producer.
Image via Giovanni Maccario's Facebook.