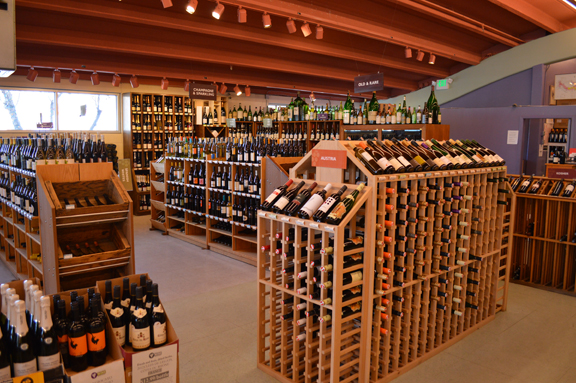 Wine shopping can be a daunting experience for a lot of people. Especially for folks who don't regularly drink wine, the thought of walking into a wine store and picking out a bottle — from literally hundreds on the shelf — can be overwhelming.
And then you have to add the "wine snob" factor to the mix. Even though the majority of people who work in the wine trade are super nice and down-to-earth, many shoppers who are unfamiliar with the experience can feel intimidated: Will my salesperson think less of me because I don't know much about wine? Will she/her try to sell me a bad bottle because I seem like someone who won't know the difference?
The number one thing to remember is that most all people who work in wine shops are there because they love food and wine and they like to be around other people who love food and wine.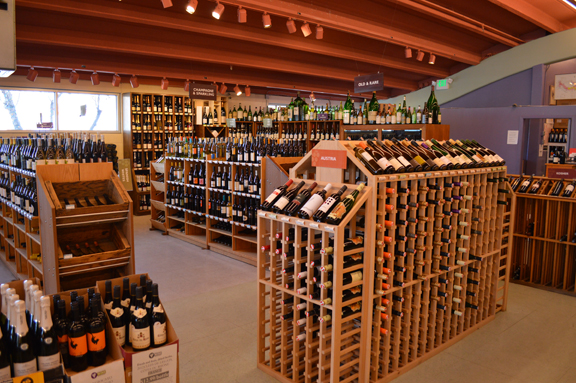 Above: The "floor" of the Boulder Wine Merchant. The shop gives you a discount of 15 percent on mixed cases.
And people who love food and wine and people who love people who love food wine are generally nice people. Conviviality is at the heart of what "wine people" do for a living. And that's just one of the reasons that your wine salesperson wants you to get the right bottle.
And because they love food and wine, people who work in wine shops spend a lot of time tasting a lot of wines. Not only are they extremely informed about the wines they sell, they also know what the wines taste like.
Unless you already have a clearcut vision of what you want to buy and drink, putting your trust in your wine salesperson is always going to be the best route to finding that perfect bottle.
Your salesperson has every reason in the world to pair you with that wine. And professional pride is just one of them.
The number two thing to keep in mind is how you plan to apply the wine and how much you want to spend on it.
To give you an example, I'm a middle-class dude in his mid-forties with a stay-at-home wife and two little kids (3 and 1 and 1/2 years old). Money is tight and because we drink a lot of wine at our house, nearly five nights a week, I divide my wine purchases into three categories.
1) everyday wines for mealtimes, $15-25 per bottle;
2) "Saturday night" wines for weekend meals, $25-45 per bottle;
3) special occasion/gift wines, $45-65 per bottle.
This helps me to forecast what my quarterly wine budget is going to be and the system nudges me to put away higher end bottles for birthdays, anniversaries, and gifts etc. when I find my favorites at discounted pricing.
My personal interest in wine is Italian wine. So, say I feel like drinking a dry Riesling from Austria — not my strongest suit.
I'll go to my local wine shop and say, "I'm looking for a dry Austrian Riesling to go with my lime marinade chicken breast on a Wednesday night. And I'll like to spend no more than $20."
This gives my salesperson a lot of information: My interest in dry Riesling from Austria; the dish I plan to pair it with; and my price ceiling. Once I convey these data, the salesperson is more likely than not going to connect me with that bottle. Or, if the shop doesn't have something that meets those criteria, she/her can point me to something analogous.
Again, if you already know what you want, go for it. But if you don't, this is a really good approach to interacting with your sales person no matter where you shop.
Like a lot of independently owned wine shops, the Boulder Wine Merchant offers a 15 percent discount on a mixed case (this is super great, by the way; most offer a 10 percent discount at most).
So I'll probably ask them to give me that Riesling and then fill out that case mostly with everyday wines, a handful of Saturday night wines, and one special occasion wine.
This is my personal strategy for my wine purchase budgeting and by looking ahead to our consumption over a given time period, I'm able to get the best deal from my wine merchant.
What are you drinking tomorrow night, Saturday, with your dinner? Figure out how much you want to spend, ask your friendly salesperson at the Boulder Wine Merchant and enjoy!
Jeremy Parzen
follow Jeremy @DoBianchi