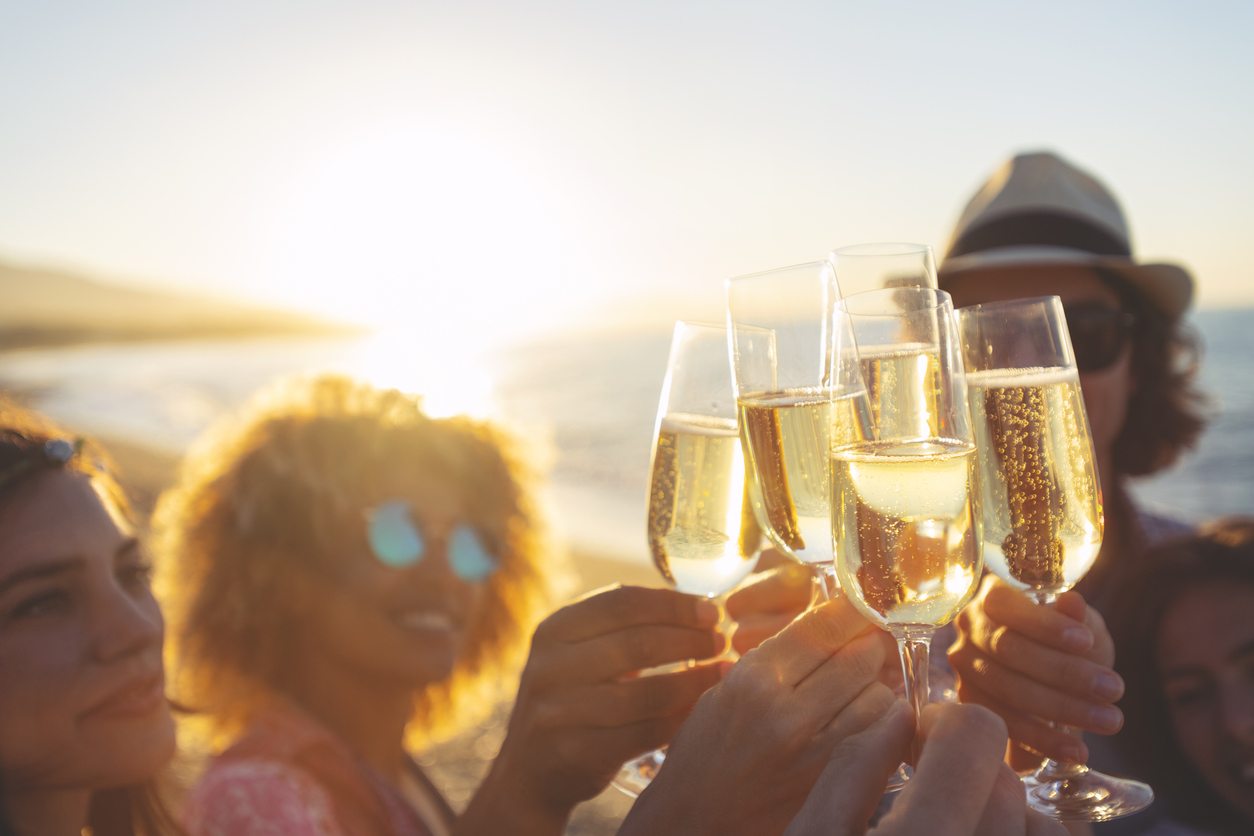 How to Enjoy Sparkling Wine For Any Occasion (Or None at All!)
We're of the opinion that any time is the right time for some bubbly.
Yet, the typical American consumer tends to rely on holidays and specific celebrations to consider drinking a glass of sparkling wine.
While the "Champagne Culture" exists in places like Las Vegas, Aspen, San Francisco, and New York City, the idea that Champagne and other sparkling wines can be an everyday indulgence has not quite reached most Americans.
But many cultures, including the English, Australians, Italians, and French regularly indulge in a glass of Champagne or sparkling wine for no reason at all.
Perhaps a little insight and perspective will inspire more of us to enjoy one of life's greatest pleasures more frequently.
What Are the Benefits of Drinking Champagne and Sparkling Wine?
Most sommeliers and wine professionals are familiar with the benefits of drinking Champagne and sparkling wine and take every opportunity to suggest drinking it.
The Champagne and sparkling wine selections are located on the first page of a wine list at most restaurants, with the hopes of inspiring customers to order a glass or bottle of sparking wine before the more common white and red wines are selected.
The beginning of the meal is the ideal time to set a festive tone for the evening while simultaneously serving as an aperitif. Furthermore, sommeliers rely on Champagne and sparkling wines to help bridge the gap with difficult food pairings.
For example, Asian-inspired cuisine encompasses a host of intense flavors including spice, sugar, and salt. This juxtaposition of flavors can be difficult to match with most still wine. So it's the perfect opportunity to use the refreshing effervescence of sparkling wine to marry the spices and enhance the overall flavor of the meal.
The structure and complexity of Champagne in particular has the capability of complimenting everything from roasted meats to delicate fish courses.
How Do You Pair Food with Sparkling Wine?
It's important to understand the different styles of sparkling wines in order to know what might go well with dinner.
For instance, a light Prosecco serves a very different function than a prestige cuvee rosé Champagne. Both are delicious, but the Prosecco will not have the structure required to work with fuller dishes on the menu.
A sommelier or wine professional at your favorite restaurant or wine shop can help you select the right wine for your event or meal.
When Should You Serve Champagne at Home?
Once consumers begin to understand and appreciate sparkling wines at restaurants, the next logical step is to become more comfortable serving Champagne and sparkling wine at home.
A good place to begin is with non-Champagne sparkling wines which, in addition to being easier on the wallet, often serve a specific purpose.
For example, the simplicity and freshness of Prosecco lends itself to a more casual events, whereas Champagne's fuller style might better suit an intimate dinner party where food and wine combinations have a greater focus.
So, a fresh, vibrant, and simple Prosecco might serve as the perfect addition to a brunch event, while a fuller bodied Champagne may pair well with a complex appetizer.
Regardless of the meal being served, sparkling wine is the perfect way to energize anything from a simple dinner to a holiday party.
What Are the Best Kinds of Sparkling Wine?
Listed below are some of our suggestions to help you select the right style of sparkling wine for your next function:
Prosecco and Cava
Prosecco is a reasonably priced all-purpose sparkling wine. It's made in a tank using the Charmat method, and is designed to taste delicious and fresh without the overall complexity of other sparkling wines.
As a result, it's a great compliment to light first courses or hors d'oeuvres, and can be enjoyed on its own for a cocktail party.
Cava, on the other hand, is made in the traditional method Champagnois, but uses Macabeo, Paralleda, and Xarello as the grape combination rather than Chardonnay, Pinot Meunier, and Pinot Noir.
Cava has a lighter, more playful style and the price is a fraction of what someone might pay for Champagne. This is a great alternative to Champagne and works beautifully in sparkling wine cocktails.
Franciacorta and American Sparkling
Produced in the Northern part of Italy in the Lombardy region, Franciacorta is another wine that is made in the traditional method, yet uses Chardonnay and Pinot Blanc as its base grapes.
From top producers, this can be a delicious alternative to Champagne and something fun to turn guests onto at a party. The body of Franciacorta wines will stand up to richer food preparations such as fin fish, fowl, and pork.
Try them with Northern Italian dishes, or perhaps "fritto misto" — fried food with sparkling wine is a beautiful match. The effervescence and acidity of sparkling wines keep the palate fresh while complimenting the cuisine.
American sparkling wines can also serve as an affordable alternative to Champagne. Most of the quality wines are made in the traditional method and offer a similar texture and flavor profile to Champagne.
Look for the producers who are the pioneers in Napa and Sonoma to find the best examples.
Champagne
If the goal is decadence, there is no substitute for Champagne. Although more expensive than other sparkling wines, the flavor, complexity and ultimate reward cannot be matched.
The styles of Champagne vary greatly depending on the producer and whether or not the wine is non-vintage, vintage, or a prestige cuvee. Typically, each Champagne house will produce a consistent non-vintage style as a symbol of their tradition.
The use of different grapes, oak, and vinification techniques provide styles that range from fresh and fruity to toasty, rich, and nutty.
Vintage Champagnes come from a single year and truly have a personality associated with that growing season. The Blanc de Blancs style, made from exclusively Chardonnay has a firm back bone of acidity, with flavors of apple, brioche, and toasted nuts.
Blanc de Noirs, is a style made from the "black grapes" of Pinot Noir and Pinot Menuier, and offers a rich, broad style with finesse.
Sparkling Rosé
The production of rosé wines is a result of skin contact during maceration, or the addition of still red juice. Rosé Champagne tends to have a full body and rich fruit style that can be perfect to enjoy either on their own or matched with savory meat dishes.
Prestige Cuvee
Prestige cuvee wines are usually the best wine from each property and will only be produced in top vintages. These wines are designed to have structure, finesse, and polish. While they can be very expensive, the price is usually well worth the enjoyment.
Prestige cuvee wines can best be enjoyed with delicate or rich food preparations. Caviar is always a perfect compliment, light fish preparations, and even mushroom influenced dishes can be ideal with this style of Champagne.
Reserve these wines for more special occasions as you will most like want a little more for yourself.
When Will You Be Enjoying a Sparkling Wine or Champagne?
The applications of sparkling wines are endless, and you don't need to wait for a wedding or retirement party to break out a great bottle of bubbly.
Sparkling wine and champagne varieties can also be enjoyed throughout the course of a meal, to celebrate life, or simply to pass the time.
We love to see more people drinking sparkling wines as an everyday indulgence. They're delicious, decadent, and compliment a diverse palate of food.