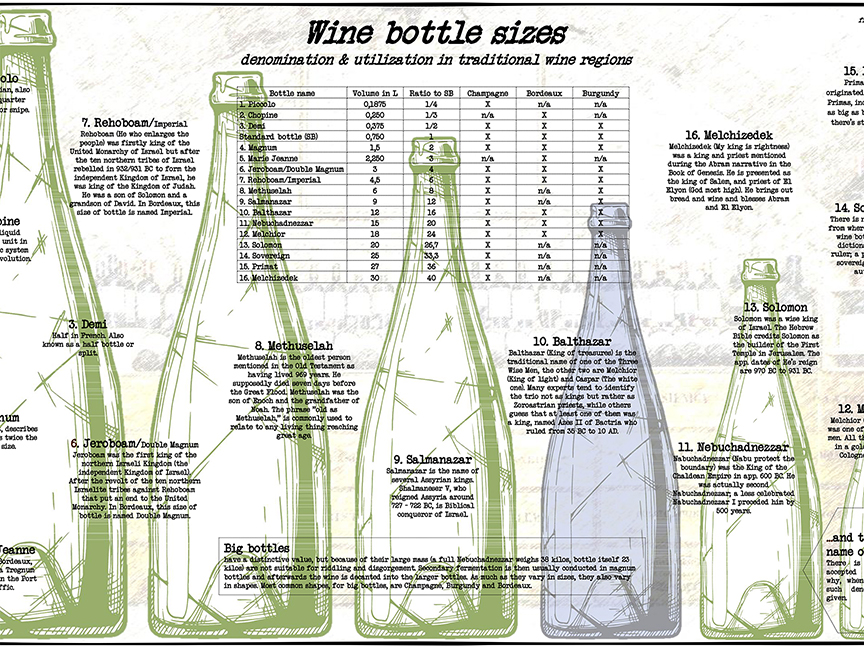 Is bigger better? Unlock the mystery of large-format wines.
Even though experts have yet to figure out exactly why large-format bottles are better for aging wines, most collectors and wine professionals agree that bigger is better.
Generations of wine lovers have found that big bottles can deliver fantastic results when handled and stored properly.
The conventional wisdom is that the ratio of liquid to glass is higher than in smaller formats. This means that the process of micro-oxygenation moves much more slowly than with the classic 750ml bottle. (Remember: corks are porous and part of the magic of aging fine wines is the gentle aeration that happens as small amounts of oxygen pass through the seal.)
No one knows for certain. But nearly all agree that large formats are better for long-term aging.
One thing that everyone can agree on is that large formats make for a wonderful conversation piece. Because of their rarity, they also add panache to any occasion or celebration. And, as any floor sommelier will tell you, they are ideal for large parties because they are so… well, spectacularly large!
For this week's offering, we have put together more than two dozen large-format wines, including wines for collecting like the Chateau Musar Rouge, Bekaa Valley 2013 1.5L ($259) and wines for opening right away like the Domaine du Bagnol Cassis Rosé 2020 1.5L ($97).
Click here to see our complete offering of large formats. We are confident that you will find something for everyone.
In other news…
Here are the wines that we will pouring at next Wednesday's complimentary in-store tasting, 5-7 p.m., August 17:
La Cappuccina Soave 2020, Veneto, Italy ($13.99)
GianCarlo Prosecco NV, Veneto, Italy ($11.99)
Pavette Pinot Noir 2020, Central Coast, California ($15.99)
Lagarde Malbec 2021 Mendoza, Argentina ($13.98)
Please stop by anytime between 5-7 p.m. to taste all four.
We look forward to seeing you. And we thank you for your continued support.