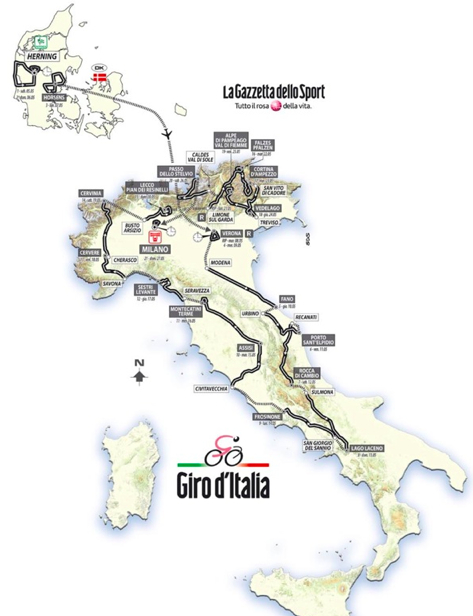 Giro d'Italia: Cycling and Wine
There are few better marriages in the world than having the right beverage paired with the right food and your favorite sporting event.  And if it's May, that sporting event has to be the Giro d'Italia.
Throughout the month the team at the Boulder Wine Merchant will be selecting a few great examples of wines from each region the Giro passes through.  We will also be providing detailed information for what to look for during each stage and for what food to pair with the perfect wine.
Let us do the legwork, while you enjoy the race.
You say you're not a crazed cycling fan?  Well, we're all winners with the Giro d'Italia promotion, as the selected wines will come with a 15% discount!
"The fight for pink," as it's known, is not to be missed, so please follow us along as we are creating the ultimate experience for enjoying each and every dramatic stage.
What — The Giro d'Italia.  A twenty-one-stage race that covers the majority of one of the most beautiful countries on Earth.
When — It's currently underway and will wrap up in Milan on the 27th of May.
Why — There is no other sport in the world that showcases a country as well as cycling.  And when the race is passing through some of the best wine regions in the world, it deserves our attention.  We hope you enjoy our small guide to each stage and the 15% discount for the featured wines.
Where — Along with our Twitter feed, you can find all of the up-to-date information here >