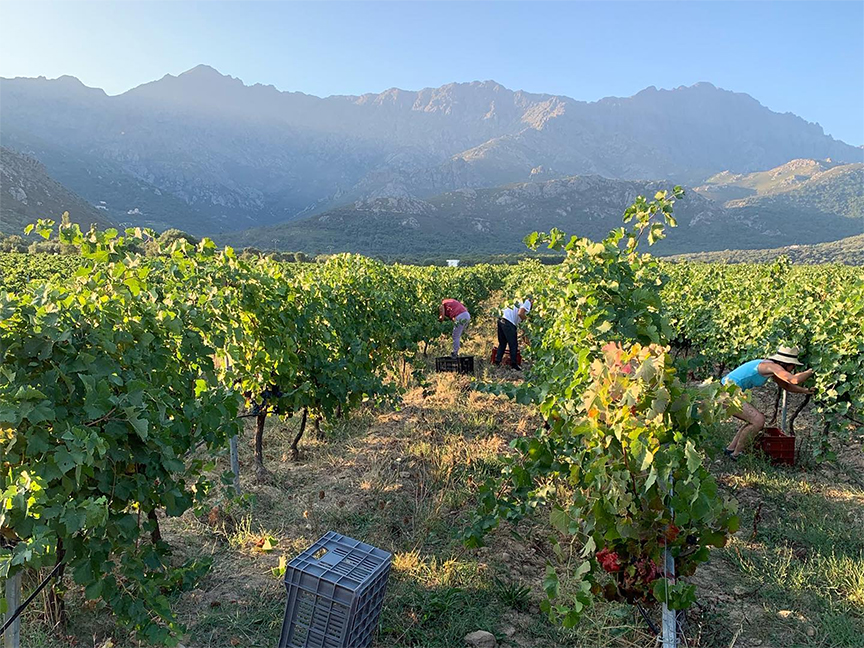 Ever tasted Nielluccio? Corsican and rare Italian this week at Boulder Wine Merchant.
Above: The vineyards at Domaine Maestracci in Corsica, producer of one of this week's featured wines.
Ever tasted Nielluccio? It's not a question that you get everyday!
Nielluccio is a red grape widely planted in Corsica, thought to be related to the Italian Sangiovese, although top ampelographers (people who geek out on grape varieties) still don't agree on its origins.
The one thing that is 100% certain is that Nielluccio makes for juicy, easy-to-drink, fresh red wines that pair well with a wide range of dishes and international cuisines.
One of this week's featured wines is the Domaine Maestracci 'Clos Reginu' Rouge (Corsica, France) 2019, a delicious blend of 35% Nielluccio, 30% Grenache, 15% Sciaccarellu, 15% Syrah, and 5% Mourvèdre.
High in the foothills of Monte Grossu mountain, inland from Calvi, lies the granite plateau of Reginu. During the first half of the 20th century the plateau was dominated by a large olive oil producer, but eventually they packed up and went to Algeria in hopes of larger profits. They left behind an olive oil producing facility with walls so thick the air inside stayed cool year round. Roger Maestracci seized this golden opportunity and started replanting the area to grape vines and converted the facility to a winery.
Pretty cool, right? It's one of those wines that not only tastes great but also makes for a great bottle to share with wine geeks (like us at the Boulder Wine Merchant).
And this week's featured wines include another off-the-beaten track wine from Italy. Ever tasted a wine from Molise?
Molise, sometimes called "Italy's forgotten region," is located on the Adriatic western coast nestled between Abruzzo and Puglia and bordered to its west by Latium (where Rome is the regional capital).
The Rinomata Tombacco Biferno Riserva (Molise, Italy) 2016 is a traditional blend of Montepulciano and Aglianico. Because it is classified as a Riserva, the wine must be legally aged for at least 3 years before release. For Rinomata Tombacco this means the wine is in oak for 24-36 months depending on each barrel's need, plus another year in bottle. Aromas of cherry, plums and spice are wrapped in vanilla and cinnamon from the barrels. Great with roasted meats or hard cheeses.
It's another example of the endless mosaic of Italian viticulture and another great wine to stump your wine geek friends.
Thanks for all your support. We wouldn't be here without you. Buon weekend, as the Italians say, to all!
CLICK HERE TO VIEW ALL OF THIS WEEK'S FEATURED WINES.