An Interview with George Berg
I met a lot of fantastic people at the Boulder Burgundy Festival this year: winemakers, wine tradespeople, collectors, and bon vivants.
But one of the most fun conversations I had was with George Berg (above, left), whose law firm Berg, Hill, Greenleaf & Ruscitti, underwrites the festival each year.
When I asked George, whose generous conviviality is rivaled only by his Texas charm, why he and his firm sponsor the gathering, his answer was a simple as it was brilliant.
"I've always found that sharing food and wine is a great way to do business," he said. "Sitting down and drinking a bottle of wine together is a very attractive way to get to know someone."
"People like Brett [Zimmerman, festival founder and owner of the Boulder Wine Merchant] and Bobby [Stuckey, wine director and owner of Frasca Food & Wine] have helped me in my business," he explained, "and so this is a way for me to give back to them."
Please click here to continue reading.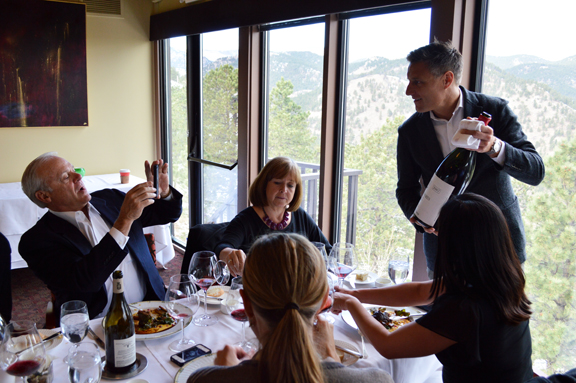 Above: George Berg (seated, far left) takes a photo of a bottle being poured by Master Sommelier Bobby Stuckey at the Boulder Burgundy Festival's "Paulée-Inspired Lunch" at Flagstaff House.