A German Masterclass with Matt Stamp, MS
Guild of Sommeliers 2013 Trocken German Masterclass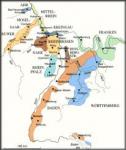 As an introduction I would like to say that anytime you have the opportunity to see Matt Stamp, MS make a presentation you should do whatever needs to be done to attend and learn.  Matt is the director of education for the Guild of Sommeliers and happens to be one of the sharpest wine minds in the country right now.
It was amazing to watch and listen as Matt delivered one of the most informative, interesting, and useful seminars on German wine I have ever attended.  The lecture was given to a group of 45 Guild members on Thursday morning at Frasca Food and Wine in Boulder, Colorado.
I would be willing to bet there were a ton of inspired sommeliers racing out to learn more about Franken Silvaner and Pfalz Pinot Blanc after participating in this presentation.
The general regions, classifications, and laws of German wines discussed, but it was the amazing depth of knowledge associated with producers, villages, soils, vintages, and the minutia of specific visits that made Matt's presentation so impressive.
As a German wine lover and someone who has been to the German wine country on a handful of occasions, I learned a bunch myself.
In addition to the thrilling lecture, Matt selected some of the finest German wines available as the vinous context for his Masterclass.  With generous help from Wines of Germany Matt assembled an absolutely stunning lineup of wines, including a few that were not even imported to the U.S.  The $50 tariff for the seminar was the best value in wine I have seen in years.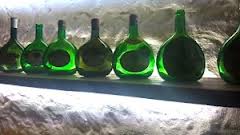 The First Flight started with four different Franken Silvaner wines.  As Matt discussed the nuances of the region and climate, the importance of these top producers became very clear to the audience.  All four showed a savory saline aromatic tone and an herbaceous character that we compared to the great Grüner Veltliner.
The texture and complexity varied with the first two showing a refreshing simplicity in contrast to the density and layers of the two GG wines.  All four were amazing and a treat to enjoy.
First Flight: Franken Silvaner
2011 Wirsching Silvaner Estate, Iphofen (Steigerwald) 12% abv
2012 Juliusspital Iphöfer Silvaner Kabinett  trocken (Bocksbeutel), Iphofen 13.4% abv
2011 Castell SCHLOSSBERG Silvaner trocken GG, Franken
2009 Bürgerspital Würzburger Stein Silvaner Großes Gewächs, Franken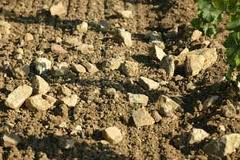 Moving to another fantastic, yet underappreciated region of Germany was a selection of wines from the Pfalz.  Instead of a flight consisting of nothing but Riesling, Matt chose three brilliant examples of Pinot Blanc (Weissburgunder) and only one Riesling from a special Limestone parcel called "Idig" that sits in the village of Königsbach.  The 2006 Rebholz was enough of a testimony for the entire room to start loving German Pinot Blanc if they don't already.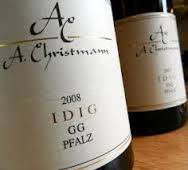 Second Flight: Pfalz Pinot Blanc and Riesling
2006 Rebholz GG Im Sonnenschein Weissburgunder, Pfalz
2008 Messmer GG Weissburgunder, Pfalz
2007 Becker Kalkgestein Pinot Blanc, Pfalz
2010 Christmann Idig Riesling, Pfalz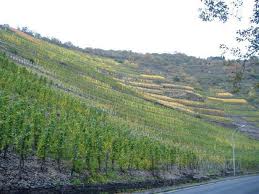 Moving along to the Rheinhessen, Matt explained how this is one of the hottest regions of Germany with young, inspired winemakers making some of the finest dry Riesling in Germany right now, and some fetching prices higher than their Mosel and Rheingau counterparts.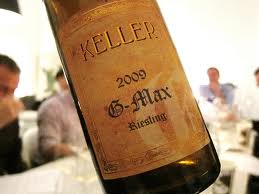 Third Flight: Rheinhessen Riesling
2012 Keller Abts E®.de Riesling GG, Rheinhessen
2011 Wittman "Morstein" Trocken Grosses Gewächs, Rheinhessen
2010 Kühling Gillot GG Pettenthal Riesling, Rheinhessen
2011 Thörle Saulheimer Kalkstein Riesling, Rheinhessen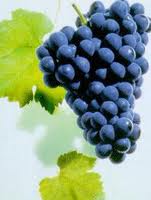 The final flight was Pinot Noir or Spätburgunder, which happens to be a category of German wine that is still finding its way.  Many producers differ in their approach to viticulture with some favoring the traditional German and Swiss clones, while others are focused on Djon vine material.
The use of new oak is a hot topic of conversation as well and relatively new in the production of most German wines.  That said, the acreage under vine continues to grow and the Germans are intent on making Pinot Noir a success in the global market.
Fourth Flight: German Pinot Noir
2011 Meyer-Näkel Blue Slate Pinot Noir, Ahr
2010 Huber GG Sommerhalde, Baden
2008er Lingenfelder Ganymed Pinot Noir, Pfalz
In closing, Matt hosted a brilliant tasting and educational seminar for an eager group of Guild members.  My fellow panel member, Bobby Stuckey, MS, and I both agreed that we need more of these Guild tastings to come to Colorado in the future – we are going to do our best to make this happen.
It was a treat to be included as a panel member and certainly a learning experience for everyone who attended.  We owe a special thanks to Matt Stamp, MS for his time and presentation.  Additionally, I would like to thank the Guild of Sommeliers for organizing this tasting and to the Wines of Germany for their generous donation and participation with the wines.
Be on the lookout for the next Guild tasting, you will not be disappointed.