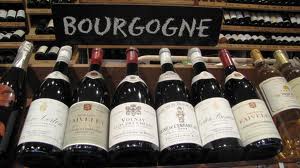 Burgundy – Too Good Not to Drink…
Written by Neyah Margolis of Boulder Wine Merchant
Burgundy is too good. It's not a bad problem to have, but if all you really want is a great glass of wine, you'll find that the more compelling the wine is, the more hesitant people are to open it. You're more likely to find a delicious Burgundy entombed in a cellar than glistening in your glass. And that's not right. Great wine deserves our respect and even our reverence, but it also deserves to be drunk, to be drunk simply and with joy.
So when my good friend arrived bearing bottles of Burgundy on a golden autumn evening, yellow leaves a fluttering, table freshly laid, and a roasted chicken waiting to be carved, there was no hesitation: those corks were being pulled.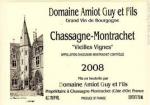 First up was Guy Amiot's 2011 Chassagne-Montrachet "Vieilles Vignes" $80. With the first swirl in the glass, we were hooked. It's a wine that grabs you with layered flavors of honey, minerals, spice, and a glistening core of citrus and lime. A subliminal accent of fresh green herbs gives loft and contrast to the wine's riper notes.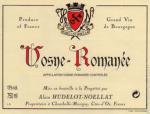 Hudelot-Noellat's deft 2011 Vosne-Romanee $78 was next in the lineup. Pinot Noir's finesse is often obscured beneath a swath of fruit or wood, or it might taste thin, under-ripe, and vegetal, but when you are Hudelot-Noellat, you're making wines other vignerons can only marvel at.
The wine rests between intense and airy, with a tight bandwidth of bright wild red berries, fresh, clean, direct, and pulsing with energy, a wine that seems as much a liquid as it is a shimmering of light.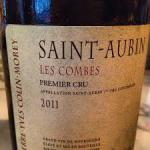 And then came the star of the night, the 2011 Pierre-Yves Colin-Morey Saint-Aubin Les Combes $72, a Premier Cru Chardonnay. Monolithic. . . that's the best way to describe it. While it's not a huge wine, it is a hugely beautiful wine. Some wines encourage you to peel away the layers and sound their depths – they are studies in sonic location: you extend your perceptions, detect a ping, and put a verbal tack in it: "here's some apple" – PING!  "a hint of orange peel" – PING!  "some citrus" –PING!  "spice" – PING! – PING! – PING! until you tack up all the flavors and textures into a perfect diagram of the wine. But the Colin-Morey doesn't let you do that.
Sure, you can quantify it if you want to, but what you'll really want to do—once you try the wine—is to keep smelling it and tasting it until it sweeps you away. It's monolithic because it's perfection itself—undeniably delicious, perfectly balanced, and fluidly moving through a range of flavors. It's monolithic because it holds all of your attention, whether you want it to or not. The best way to drink it is to shut yourself in a closet with the bottle and a glass so you won't be interrupted. You don't need it with food, and you don't need it with friends or family. You don't need to have it with anything. You just need to have it. All by itself. Perfect.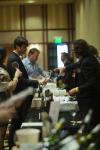 Wines like these are too good not to drink, but they're not easy to find. If you don't have a cellar stocked with Burgundy or a friend with a cellar stocked with Burgundy, you're going to have to hunt for it. The Wine Merchant has a stellar selection to choose from, ranging from humble bottles of Bourgogne to the best wines the region has to offer.
And from October 18th to the 20th the Merchant is launching the third iteration of its Boulder Burgundy Festival, with hundreds of amazing Burgundies to taste. The dinners and lunches are already sold out, but for the best chance to try the broadest selection, Sunday's Grand Tasting at the Hotel Boulderado is your best bet.
There's no better way to try a comprehensive selection. And if you want to try something special right now, stop by the store this week (10/14-10/20), mention this blog post, and get our 15% case discount off any Burgundy, whether you buy one bottle or twenty bottles.