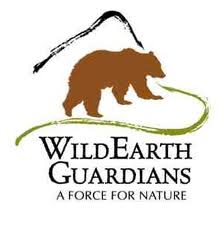 Boulder Wine Merchant Sommeliers Pour Older Burgundy for the Wild Earth Guardians Charity ~ Jan. 30th
Join Sommeliers Matt Mitton and Brett Zimmerman, MS from Boulder Wine Merchant as we open and offer tastes of these amazing older Burgundy wines from the 1983 vintage.
The evening is geared to benefit the Wild Earth Guardians Foundation.  Make a charitable donation and drink some rare Burgundies.  Sign up by calling (505) 988-9126 x 0.
See a list of featured wines below: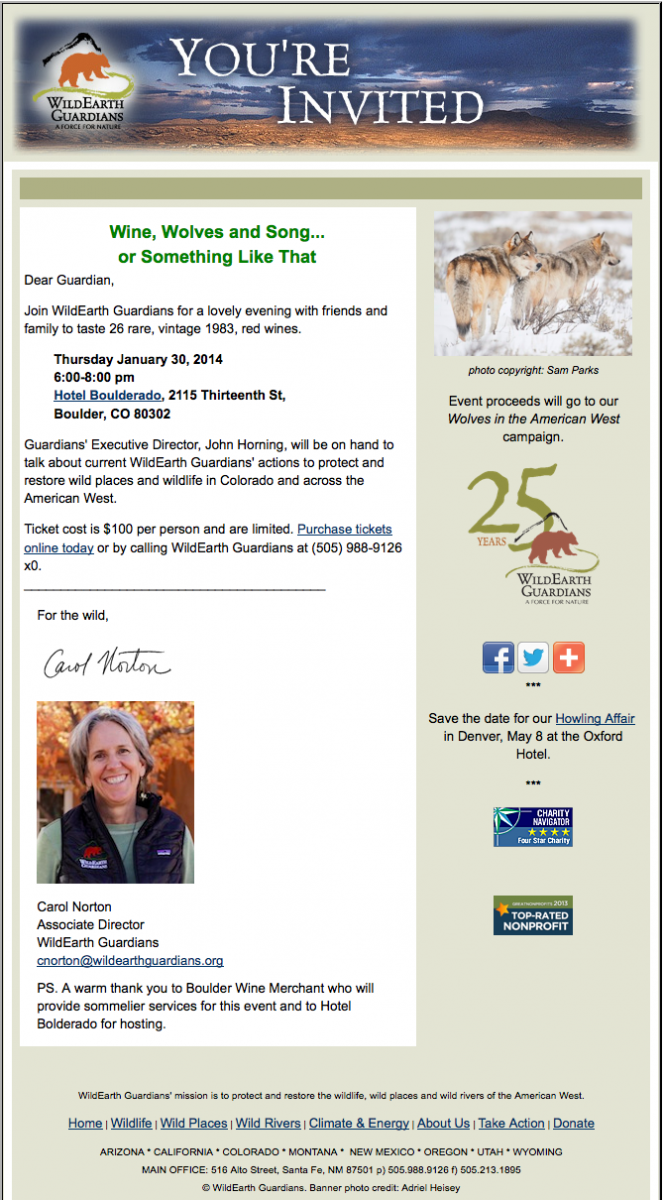 List of wines to be featured:
Corton (Bonneau du Martray)Corton (Domaine du Clos-Frantin)
Corton (Edouard Delaunay)
Corton (Régis Pavelot)
Corton-Clos des Cortons (Faiveley)
Corton- Hospices de Beaune – cuvée Charlotte-Dumay (Louis Jadot)
Corton- Hospices de Beaune – cuvée Charlotte-Dumay (Naigeon-Chauveau)
Corton-Bressandes (Dubreuil-Fontaine)
Corton-Clos du Roi (Dubreuil-Fontaine)
Corton-Clos du Roi (Michel Voarick)
Corton-Rognet (Chevalier Père et Fils)
Beaune 1er cru "Bressandes" (Albert Morot)
Beaune 1er cru "Cent-Vignes" (Albert Morot)
Beaune- Hospices de Beaune – cuvée Nicolas-Rolin (Bichot)
Beaune- Hospices de Beaune – cuvée Guigone-de-Salins (Patriarche Père et
Fils)
Pommard 1er cru "Clos de Verger" (Pothier-Rieusset)
Nuits-St.-Georges 1er cru "Les Cailles" (Alain Michelot)
Gevrey-Chambertin 1er cru "Cazetiers" (Dupont-Tisserandot)
Gevrey-Chambertin 1er cru "Cazetiers" (Faiveley)
Gevrey-Chambertin 1er cru "Cazetiers" (Philippe Leclerc)
Gevrey-Chambertin 1er cru "Combottes" (Pierre Amiot et Fils)
Gevrey-Chambertin 1er cru "Combe aux Moines" (Faiveley)
Gevrey-Chambertin 1er cru "Combe aux Moines" (Philippe Leclerc)
Gevrey-Chambertin 1er cru "Combe aux Moines" (René Leclerc)
Gevrey-Chambertin 1er cru "Lavaux St.-Jacques" (René Leclerc)
Gevrey-Chambertin 1er cru "Lavaux St.-Jacques" (Bernard Maume)