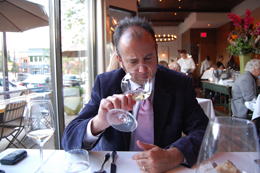 Boulder Wine Merchant has a new blog contributor!
The Boulder Wine Mechant has a new contributor to its blog!
My name is Jeremy Parzen and you may have noticed that I started posting here a few weeks ago.
I already know a lot of you through wine and food social media.
But for those of you whom I've never had the pleasure to meet (virtually or in real-time), please allow me to introduce myself.
I first became interested in European wine while a graduate student in Italy where I lived and worked for many years (I received my doctorate in Italian at U.C.L.A. in 1997).
In 1998, I began working as an editor at La Cucina Italiana in New York and have written about wine and food every since.
In 2007, around the time that I started my blog, DoBianchi.com, I met the now owner of the Boulder Wine Merchant, Master Sommelier Brett Zimmerman. Since that time, I've followed his career and we've become good friends: he's one of the leading wine authorities in the country and I've enjoyed the seminars that he leads when comes down to Texas (where I've lived for the last five years) for TexSom, the annual gathering of leading U.S. and international wine professionals.
When he approached me about contributing to the blog, I was thrilled. I couldn't be more geeked to work with someone like Brett and his team. And, of course, Brett and I share a passion for Italian wine and Italy's gastronomy in general.
Here on the Boulder Wine Merchant blog, I'll be posting about featured wines, wine education, and all kinds of topics that I hope will interest wine lovers from all walks of life.
It goes without saying that Brett and I would love to hear your comments and suggestions for topics.
Whether it's proper wine service or how to extract a crumbly cork, whether it's the grape varieties allowed in Chianti or the difference between Left and Right Bank Bordeaux, Brett is a leading resource in wine education and connoisseurship in the U.S.
I'm the lucky one who's been tapped to be his "wine scribbler." And I have to pinch myself everytime that I think to myself, you mean, I get paid to do this?
Have a comment, quesiton, or suggestion?
Please email me by clicking here. I'll look forward to hearing from you and engaging…
Thanks for reading!
—Jeremy Parzen
follow Jeremy and his blog on Twitter @DoBianchi