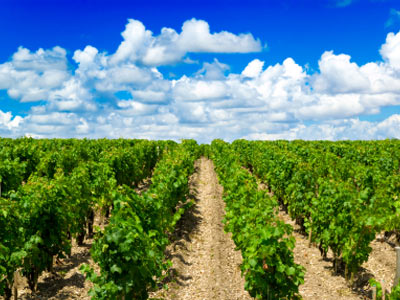 Exploring Bordeaux Wines with Boulder Wine Merchant
Since Italy was my first love with wine, it is where I often retreat when asked for a delicious red. Over the past year, Burgundy has found a new place in my heart.
How could it not, when I have the great fortune of working with such a phenomenal selection?
But Bordeaux…that is where you literally could find me speechless (and to those who know me, this is sometimes a bit difficult). I find myself asking whether it's because I don't enjoy the wines, or because I don't know anything about Bordeaux. But it remained a mystery to me for a long time.
When Mr. Brett Zimmerman, Master Sommelier and owner of the Boulder Wine Merchant, held a Bordeaux Tasting down at Morton's Steakhouse in Denver the other week, I felt a "duty" to get myself down to Denver. if not only to drink some great wine (Brett never seems to falter in this area), but to learn about a place that has found a special spot in many wine aficionado's hearts.
As I walked into the tasting room at Morton's, I got giddy. If one could have captured the aroma permeating the room, it could be the next million-dollar idea.
…berries of all kinds, black currants, violets, black pepper, earth, plums, oak, cherries…
I remember Mr. Jay Fletcher, Master Sommelier and Chairman of the Court of Master Sommeliers, saying to my Level One Sommelier class that Bordeaux is and will always be his favorite wine. As he told the story of his last visit to Bordeaux, rattling off the producers and vintages he drank, the hands he shook, and the grapes he saw, I couldn't help but think: "Yeah, but why would someone ever pay so much for Cabernet and Merlot-based wines?"
That question is one I have continued to ask since that day, until a week ago, when Brett brought the pieces of the puzzle together.
As the tasting began, Brett explained why he decided to hold this tasting. In conjunction with Guild of Master Sommeliers, Brett thought it important to teach, explore, and reinvigorate the palates of wine buyers and Sommeliers, in regards to Bordeaux.
Although a highly overrated wine at times, there are Bordeaux's on the market that are not only phenomenal to drink, but priced accordingly for the everyday buyer. As the Asian market has driven up the prices of Bordeaux in the past years, Mr. Zimmerman believes that Bordeaux is beginning to restructure itself.
Pairing top producers with Chateau's that are struggling to make in a world of fame and fortune, he believes that we, as the everyday consumers, will begin to see why Bordeaux has been and should continue to be a reference for all wine lovers.
So one asks, but what is so special about Bordeaux?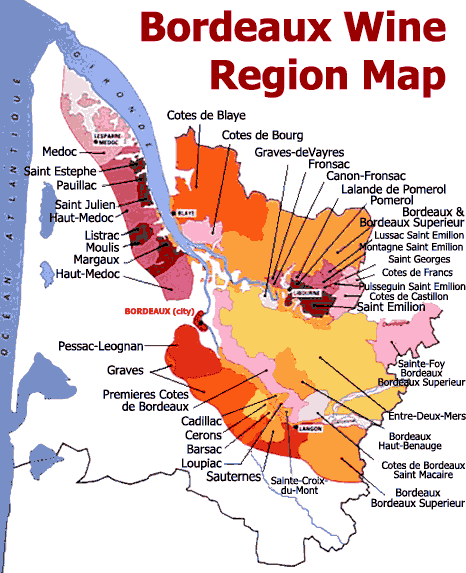 As with most anything in life, we start with the basics in answering these questions. Bordeaux's exceptional location, on the 45th parallel, leads to an ideal climate for growing wine grapes.
On the left bank, the Garonne and Gironde estuary provide excellent soil for natural filter, and retention of warmth for the grapes to grow. On the right bank, the Dordogne displays much different soil of clay, limestone and sand, allowing for great drainage.
The two major rivers in Bordeaux, the Garonne and the Dordogne, along with the many tributaries, are what supply the vineyards with water throughout the year. As you glance at a map of Bordeaux, you begin to understand that the complex process needed to grow and harvest quality grapes has always existed since day one here.
In a sense, it was created just for wine. Bordeaux encompasses 120,000 hectares of AOC (appellation d'origine contrôlée) and composed mainly of Cabernet Sauvignon, Merlot, and Cabernet Franc for the red and rosé wines, and Sauvignon Blanc and Sémillion for dry and sweet white and sparkling wines.
Okay…I am beginning to understand…so all wine is great out of Bordeaux?
As with anything, it is of preference. Bordeaux has more than 50 appellations, each with unique terroir. Yet each will fit whatever mood, taste, or experience you are in search of for that particular moment or day.
There are fruity reds, full-bodied red, and graceful reds…Simple, fruity whites to elegant, classified whites…fresh and light rosés to dark, rich rosés…and finally, the sweet nectar known to many as Sauternes.
Tasting from North to South left bank to right bank, the picture became clearer…my palate enticed with each sip, analyzing the different textures, layers, flavors, and aromas of each wine.
Needless to say, it was a worthwhile trip. Opening my eyes, introducing me to Bordeaux in a way that it had never been presented, and leaving me with a newfound appreciation. The best part that I took away is that Bordeaux can be both affordable and delicious; you just have to know what you are looking for.
Rather than bias the reader with what I enjoyed most, I implore you to discover the world of Bordeaux. Because the only way one learns, it to taste, try, and explore…
Santé.
Meghan
Boulder Wine Merchant
"The discovery of wine is of greater moment than the discovery of a constellation. The universe is too full of stars." –Benjamin Franklin
GUILD OF SOMMELIERS BORDEAUX TASTING
2006 Château Cantemerle, Haut Médoc
(50% Cabernet Sauvignon, 40% Merlot, 5% Cabernet Franc, 5% Petite Verdot)
2005 Château Lafon-Rochet
(55% Cabernet Sauvignon, 40% Merlot, 5% Cabernet Franc)
2006 Château Haut Batailley
(65% Cabernet Sauvignon, 25% Merlot, 10% Cabernet Franc)
2004 Château Gruaud-Larose
(57% Cabernet Sauvignon, 30% Merlot, 7% Cabernet Franc, 4% Petite Verdot, 2% Malbec)
2003 Château Marquis-de-Terme
(60% Cabernet Sauvignon, 30% Merlot, 7% Petit Verdot, 3% Cabernet Franc)
2004 Château Les Carmes-Haut-Brion
(100% Merlot)
2005 Clos Canon
(75% Merlot, 25% Cabernet Franc)
2006 ChâteauBeauregard
(48% Merlot, 44% Cabernet Franc, 6% Cabernet Sauvignon, 2% Malbec)