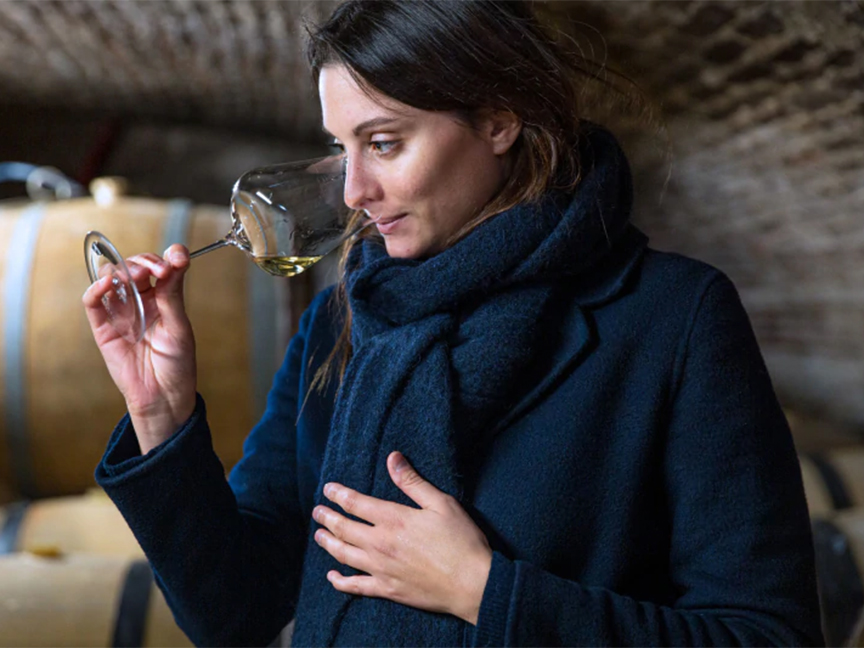 A star is born in Puligny-Montrachet: Alvina Pernot.
When it comes to the wines of Puligny-Montrachet, the name that keeps coming up again and again is that of Paul Pernot, one of the village's top growers and one of its most esteemed winemakers. Most of the vines on their estate were planted by Paul, grandfather to the current generation, in the late 1950s and 1960s. And the winery was among the first in Burgundy to adopt organic and sustainable farming practices, including the elimination of herbicides.
But it's the genetic legacy of the vines, as Michel Pernot, the current winemaker, likes to point out, that make these wines so distinctive and collectible. There were no "clones" back when Paul was planting. And all the current plants are the result of massal selection (whereby the best plants are grafted onto new plants) carried out by the last two generations of the Pernot family.
To this day, roughly 80 percent of their fruit is sold to négociants and only the best grapes are used to make wines with the Paul Pernot label.
We couldn't be more thrilled to be sharing this extraordinary allocation.
But there's even better news: We have also secured a small allocation of Alvina Pernot (above) who started her own label in 2018. She uses mostly fruit grown by her family in their historic, celebrated parcels. But she has also begun to purchase her own vineyards as her wines continue to wow critics and Burgundy collectors.
Where Paul Pernot remains a classic expression of white Burgundy, Alvina, one of Paul's grandchildren, makes wines with a more contemporary style, farming at higher altitudes and picking earlier than most. The resulting wines are bright and vibrant in the glass with, as many critics note, wonderful approachability in their youth.
It's the best of both worlds and you really can't go wrong no matter which way you decide to go on these. The Alvina Pernot Saint-Romain is one of the greatest values we've found all year. Click the links below to purchase. Click here for the complete offering.
Paul Pernot Bourgogne Côte d'Or Chardonnay 2020 ($43.98)
Paul Pernot Puligny-Montrachet "Les Pucelles" 1er Cru 2020 ($208)

Alvina Pernot Saint-Romain 2020 ($62.98)
Alvina Pernot Meursault 'Les Charmes' 1er Cru 2020 ($148)