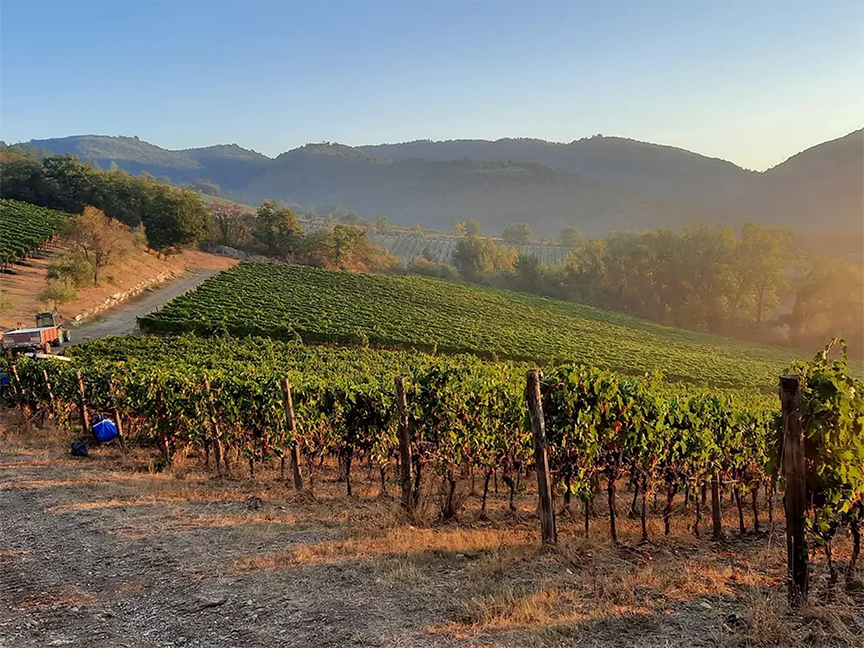 Rock star Chianti: Istine, "mountain grown" Sangiovese.
Nearly everyone who made it out to this week's in-store tasting with our friend, Italian wine writer Jeremy Parzen, was as blown away by the Istine Chianti Classico as he was.
The Fronti family and their Istine estate in Radda in Chianti village have been producing some of Chianti Classico's best fruit literally for generations. But it wasn't until the current generation, led by Angela, that the farm began release its wines under its own label.
Today, Angela's "mountain grown" Sangiovese is in high demand among the glitterati. Just last year, Wine Spectator devoted a feature article to Angela and her wines, "New-Generation Chianti Classico: Istine."
The thing that sets these wines apart is their freshness, vibrance, and classic Sangiovese character. Angela will be the first to tell you that she's able to make such spectacular expressions of Tuscan viticulture thanks to the fact that her family's vineyards are among the highest-altitude parcels in the appellation (above).
The wines also have a classic "forest floor" note that makes them quintessentially chiantigiani.
These wines are so sought after that we were fortunate to receive a modest allocation.
Check out all the wines here, including the top-scoring single-vineyard bottlings.
TASTING NEXT WEDNESDAY
July 7, 2022
5:00 – 7:00 p.m.
complimentary
At next Wednesday's tasting, we'll be pouring the following wines:
Pierre et Papa Colombard, 2020 France $12.98
Domaine de la Viaudi​​ère "Prima Vera" Sauvignon Blanc 2019, France $15.99
Casas del Bosque Pinot Noir 2019, Casablanca Valley, Chile $14.98
Ciconia Touriga Nacional 2019, Alentejano, Portugal $14.98
Please join us as we share some of our favorite labels. We appreciate your support. Have a great weekend!