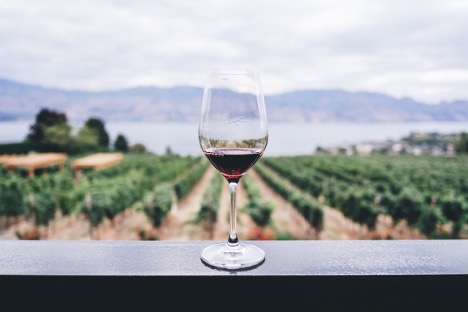 Best New Colorado Winery: Aquila Cellars Has Energy and Vision
There's an auspicious excitement when you find a local artisan on the brink of revolutionizing an industry. This is how we feel about the promise shown by the new winery, Aquila Cellars, where uncommon grape varietals, organic and biodynamic farming, and a focus on Colorado terroir are the future.
Aquila Cellars founders Courtney Gayer and Brandt Thibodeaux are on a mission to make the best Colorado wines. Although the nascent winery is only on its second vintage, Aquila is already creating an entirely new and exciting expression of Colorado wines.
The name Aquila refers to the genus of golden eagles that roost throughout the Western Slope and represents the respect that Courtney and Brandt have for the land around them. As with the name of their new Colorado winery, the wines they produce are both an homage to their natural setting as well as a hope for the future of Colorado winemaking.
The Vineyards
Courtney and Brandt work with 4 different vineyard sites being converted to biodynamic farming practices. They manage the Terror Creek vineyard directly, where Gewürztraminer vines planted in the 1920s still thrive at 6400 feet of elevation.
Of the other sites, 2 had been abandoned for a few years before this up-and-coming duo began to revitalize them. During the 2020 harvest, it felt more like foraging wild fruit than picking grapes from vines! Luckily, it was well worth the effort to seek out, tend, and vinify these old vineyards of Blaüfrankisch.
Winemaking at Aquila Cellars
In their rustic, hillside cellar, the wine is moved only with gravity at every stage, never with a pump. They ferment with 100% native yeasts and never inoculate with commercial yeast. They don't fine or filter their wines, which, as we like to say, leaves more wine in the wine. They only add sulfur to a few of their wines, and only in minuscule amounts at bottling.
If these techniques sound familiar to you, you must know about or be a fan of natural wines. But at Aquila, these methods are not the primary dogma. Rather, the goal is to showcase the potential of Colorado vineyards and to let the high-quality fruit shine cleanly and clearly.
Using their small, traditional basket press, they press most of their wines whole cluster (with stems). For their Pinot Noirs, they stagger the stem inclusion depending on the vineyard site and stem ripeness.
What to Drink
We're happy to offer several wines from Aquila Cellars this season, available by clicking here. Check out these descriptions to see which might be your favorite – or try them all!
2020 'Pale Blue Star'
A co-fermented blend of Riesling, Gamay, Pinot Noir, and Chardonnay put in a Charmat tank over the winter made 'Pale Blue Star' a fizzy, chalky, tannic, and bone dry wine. The red-fruited nose and intense structure make this wine a perfect pairing for charcuterie or other savory pork dishes, much like a pale Lambrusco.
2020 'Rocinanté' Blaüfrankisch Rosé
This balanced, crisp, floral, and textured rosé is full of aromas of watermelon, tart cherry, and strawberry. Named for Don Quixote's horse, this wine is the lovable underdog that showcases pristine fruit and high acidity despite its ragged vines and the heat of 2020.
2018 'Deux Rats' Barbera
Barbera in Colorado? These vines ripen about once every 5 years. Aquila Cellars was lucky enough to scoop up these grapes from the Evening Grace vineyard in 2018 when they were harvesting their top-of-the-line Pinot Noir. This wine's soft tannins and prickly red fruit make it a true representation of the grape and a must-try.
2019 'Herald' Pinot Noir
A showcase of 3 vineyards of Pinot Noir, the 2019 'Herald' showcases the terroir of the valley. This wine is fruity, approachable, and has a compelling density of fruit.
2019 'Evening Grace' Pinot Noir
The Evening Grace vineyard produces this Pinot Noir that is pale, savory, and elegant. This light, ethereal wine is the ideal pairing for a perfectly roasted chicken or a poolside BLT.
2020 '¿Me Quieres?' Blaüfrankisch & Riesling Piquette
This low alcohol, easy-drinking libation is made by rehydrating the post-press grape skins and stems (pomace) and fermenting the remaining sugars. This dry expression is vermouth-like in its texture and is perfect with an ice cube and an orange slice on a hot, summer evening.
The Future of Colorado Wineries
Aquila Cellars aims to rehabilitate abandoned, own-rooted vineyards, promote sustainable agriculture and produce uniquely Coloradan wines. But there are challenges – not only from the high elevation and powerful sunshine but also from the uncertainty of each growing season.
2020 was long, hot, and dry. Following a year of drought and the continued scarcity of water rights, there were also early winter storms that led to severe bud damage and low yields. Luckily for Courtney and Brandt, some of their sites were spared and they were able to take advantage of the warm days and cool nights to bring you these pure and delightful expressions of Colorado wines.
By supporting our local wineries, you can help small businesses like Aquila Cellars to pivot and thrive as each year brings unknowable conditions. But for now, the important thing is that you taste these impressive wines that will fill you with passion and optimism for the potential of Colorado vineyards.
Time to Taste the Best
If you want to try the best that Colorado wineries have to offer, you've come to the right place. Whether you're organizing a tasting at home, looking for the right wine to pair with dinner, or planning a visit to the Western Slope, we have you covered.
We are thrilled by what Colorado winemakers are doing. From the vineyard care to the wines to each personal story, our state is rich in wines that make the stunning mountain views feel like a bonus instead of the main attraction.
Before you jump in your car to drive west, learn more about Colorado's viticultural areas and the unique climate of the Western Slope.
Check out our guide to the best Colorado wineries and have a delicious and adventurous weekend >