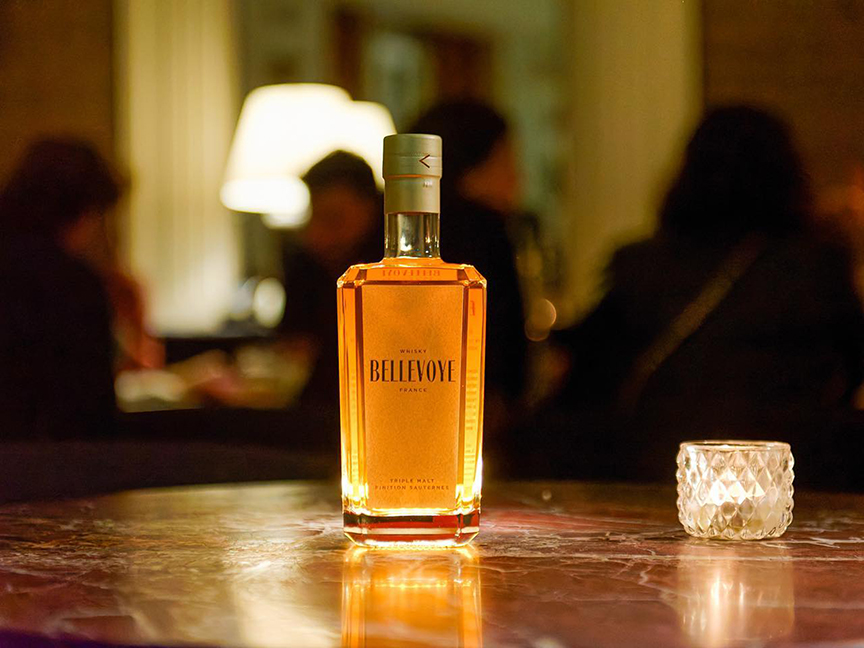 French whisky by two Bordeaux greats!
What happens when two titans of Bordeaux decide to create a benchmark French whisky? They age it in barrels previously used to make Premier Cru Sauternes and Grand Cru Saint-Émilion, of course!
That's exactly what happened when Alexandre Sirech (owner of the eponymous winery) and Jean Moueix (owner of Pétrus) set about to make a blend of France's top three single-malt whiskies.
The result is Bellevoye.
We are pleased to be offering two bottlings by Sirech and Moueix: The "Sauternes Finish" and the "Grand Cru Finish."
Both are light in body and are perfect for summer and early autumn sipping.
In the "Sauternes Finish," look for "long-lasting notes of candied oranges, ginger, vanilla, honey, almonds, and hazelnuts" (staff tasting note).
In the "Grand Cru," you find notes of "dates, crème brûlée, and roasted nuts" (staff tasting note).
We know that you'll enjoy these unique spirits as much as we do. Thanks to their smooth, elegant style, they're ideal for warm weather months.
*****
For next Wednesday's complimentary tasting, August 16, 5-7pm, we'll be pouring the following featured wines. We hope to see you then! Thank you for your support.
Sartarelli Bianco "Spiaggia" 2021, Marche, Italy ($14.99)
Giocato Pinot Grigio 2021, Slovenia ($9.99)
Peyrassol "La Croix" Rosé 2021, Mediteranée, France ($13.99)
Shannon Ridge "Wrangler Red" 2020, Lake County, California ($13.99)