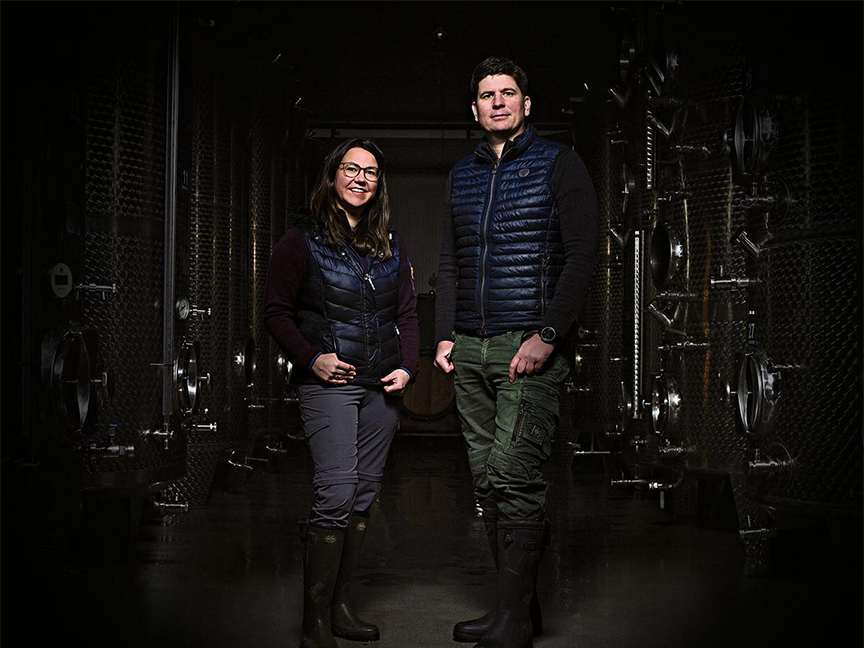 Eco-Friendly Austrian Grüner Veltliner from Ecker is price-friendly too.
Above: Winemaker Bernhard Ecker (right) and his partner Alexandra. His family has been making wine in Austria for more than 400 years.
The Ecker Eckhof Grüner Veltliner Weinland Austria 2020 comes in an eco-friendly (and price-friendly) one-liter bottle. By shipping the wine in a larger format, winemaker Bernhard Ecker reduces its carbon footprint by maximizing the ratio of wine to glass. This traditional Austrian format is ideal for parties and also makes for a great conversation piece.
The screw cap closure also mitigates its impact on the environment (no need for cork or capsule, thus reducing waste).
Bernhard's wines are known as benchmarks for Austrian Grüner Veltliner.
Look for extreme freshness and approachability in this wine, with rich aromatics and pronounced but balanced minerality. A classic expression of the grape variety.
Bernhard's family has been making wine in Wagram for more than 400 years. Sustainable farming practices, limited yields, and minimal intervention in the cellar have made Ecker Eckhof a go-to estate for generations of Austrian wine lovers.
We are geeked to be able to offer this delicious wine to our clients for just $14.99. Pretty nifty, right? Thanks for your support.
CLICK HERE TO ORDER (INCLUDES IMAGE OF BOTTLE).