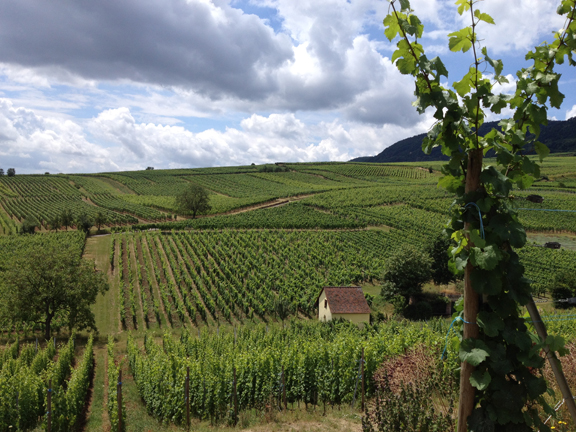 Alsace: The Shimmering Jewel of Northeast France
Happy 2015, everyone! Today's blog post and travelogue entry on Alsace comes from Boulder Wine Merchant team member Christopher Davis.
Alsace: The Shimmering Jewel of Northeast France
by Christopher Davis
There's a pretty good chance you haven't been to Alsace, the enchanting wine region slicing through northeast France, 300 miles east of Paris and a stones throw from the German border. There's an even better chance you'd fall in love with Alsace if you made the trip.
Whatever Alsace lacks in familiarity it vastly makes up for in wines of exceptional refinement and elegance, and medieval scenic charm.
These wines simultaneously pulse with pure and unrestrained ripe fruit, bracing minerality, and layer after layer of mysterious flavorful depth. Not to mention a vine planting history that dates well back to the Romans, a couple thousand years of wrangling dukes and fiefdoms, and an overlapping cultural melange with neighboring Germany. It's time to pull back the veil and discover this region of rich delights!
Alsace is neatly tucked between the Vosges Mountains to the west and the Rhine Valley, and the Black Forest of Germany beyond, to the east. The Vosges Mountains are a gentle spinous ridge that shelters the foothills from prevailing continental weather, and this significantly contributes to Alsace enjoying one of the driest and sunniest climates outside of Languedoc – perfect for growing grapes.
On the foothills between this protective ridge and the adorable medieval villages that make up Alsace is an endless sea of sun-splashed vineyards that deliver some of the most unique white wines of France.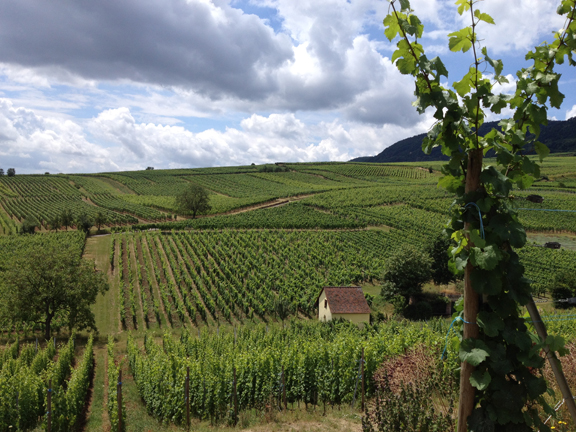 The Route des Vins of Alsace is sprinkled with an endless string of charming medieval villages, sparkling with half-timbered homes and dainty flower boxes, and cobbled streets of pure storybook charm. Culturally and politically Alsace has been a contested strategic crossroads for millennia, and though it shares a Germanic influence, it is undeniably French.
You can see this influence in the local language, the architecture, the wine and cuisine. And the cuisine includes varieties of choucroute (sauerkraut), foie gras, crudite, chicken poached in Riesling, duck and veal – all hearty, flavorful and robust regional specialties that will have you begging for mercy after only a few days.
The unique identity of Alsace though shines in wines of tremendous distinction that will delight your senses. With white wine the focus, there are five principal grapes: riesling, pinot blanc, pinot gris, muscat, and gewurtztraminer, with a few lesser known but highly enjoyable local varieties such as sylvaner and auxxerois.
Pinot noir is the sole red wine produced, claiming only 9.6% of planted vine, and yet their pinots are not to be discounted – a style of exceptional, seering clarity of fruit and light delicacy that you will only find elsewhere perhaps in Austria or Germany. Alsatian wines are recognizable by the gracefully tall fluted bottle shape, and unlike the rest of France, wines are labeled by variety.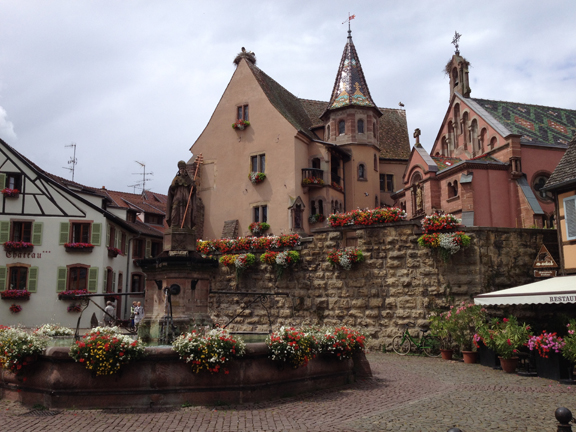 The three signature components of Alsatian wine that will stop you in your tracks are laser guided fruit intensity, an array of mineral characteristics brought on by a diverse geologic make up, and a dance of other interwoven flavors and aromas. Rieslings are the king of Alsace – chiseled, steely and majestic, and a force to be reckoned with. Pinot Gris can be full bodied yet dry, smoky and romantic.
Muscat is delicate, and often actually a blend of the local Muscat Ottonel and Muscat Blanc à Petits Grains. Gewurtztraminers are often dry and pack floral, honey and spice notes. They express a delicacy and earnest distinction that will have you sit back in a wondrous, wide ranging exploration of fruit, mineral, and floral sensations: peaches, nectarines, wet stone, honey, lavender, lychees, or a warm musk and spicy goodness that coats all your senses. Alsace also produces two late harvest classifications, a vendange tardive (late harvest), and a sélection a grains nobles.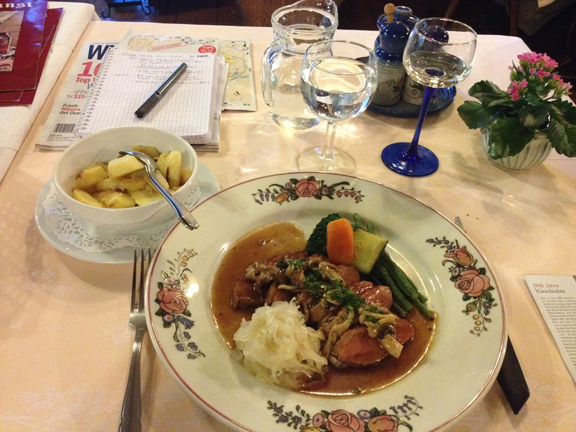 Colmar, as the bustling heartbeat of southern Alsace, makes a perfect home base to fan out among the charming little nearby villages. There are many high quality wine producers in clos proximity, and here I'll share my experience visiting a few of them – Domaine Emile Beyer of Eguisheim, Domaine Weinbach of Kaysersberg, and Domaine Josmeyer of Wintzenheim.
Domaine Emile Beyer is a mere fifteen minute hop west of Colmar in the impeccable and adorable hamlet of Eguisheim. Beyer is a family operation that has occupied a dignified place in Eguisheim for some four hundred years. The tasting room and offices are located amid cobbled streets with local specialty shops – cheeses, souffles, confections, wine, beer.
Christian Beyer, the current winemaker and 14th generation of the family presence in Eguisheim, oversees the direction of the Domaine. He has a vibrant presence in the community and is a contributing organizer for the annual "Fete des Vignerons" wine festival in Eguisheim, which takes place just before harvest each year to showcase numerous local wine producers and other local delights.
Like most Alsatian producers, Beyer produces a dizzying lineup of wines to suit almost any palate or occasion. Christian greeted me with open arms at his domaine in the center of town. He had in fact visited the Boulder Wine Merchant a couple of years earlier, and recounted his fond memories of our town. We kicked things off with a little drive up the slopes to his vineyards just outside of the village.
Christian was most proud of their Rieslings – austere yet solid, with a piercing backbone of refreshing acid. Among my favorites was the Pinot Gris Hohrain 2012, with a tantalizing hint of sweetness that vaguely conjures a variety of fruit – banana, mango melon, honey, spice.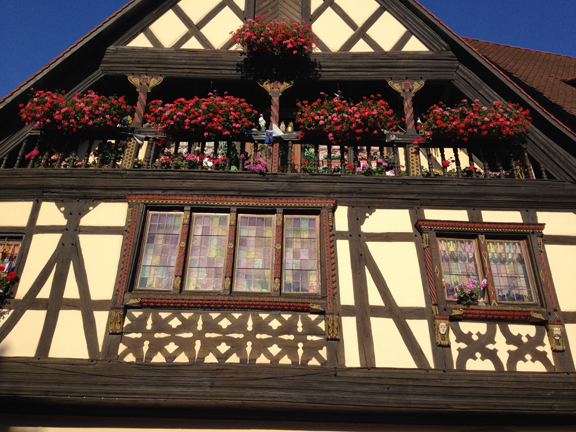 Domaine Weinbach in Kaysersberg is the well regarded operation of the Faller family. In the Colmar region of southern Alsace, you simply cannot reach a more inner sanctum than to visit their Clos du Capucins, a converted monsatery dating back to 1612. The surroundings are quiet and tranquil, the approach lined with a babbling brook and rose bushes. The estate is nestled beneath such prestigious vineyards as Schlossberg, Furstentum and Mambourg. Weinbach occupies a former monastery surrounded by a sun drenched open plain of vineyards called the Clos du Capucins.
All of the Weinbach wines are produced from estate grown fruit, and reflect the enduring commitment to purity and minimal intervention. They combine traditional practices and innovative equipment to achieve a balance of old and new. Their Rieslings are of particular pride to the Faller family – racy and pervasive, with delicate fruit and a bouquet of great finesse.
Domaine Josmeyer is a uniquely stylish and well respected estate going back five generations in the town of Wintzenheim, ten minutes outside of Colmar. Wintzenheim is a sleepy little town; so quiet in fact you could hear birds chirping on the main road through town. The estate consists of twenty eight hectares of vines of all the principle grapes of Alsace, and is known for the crystalline and diamond engraved purity of their wines.
This purity begins with a firm rooting in the philosophies of bio-dynamic winemaking. This dedication bears a depth of purity that follows the bread crumbs of winemaking to an almost cellular level, and leading to wines of unshakable balance and unique charisma.
Christophe is the director of the vineyards, in charge of international relations, and a champion of bio-dynamic winemaking. He greeted me with a radiant and welcoming smile, and led me to the tasting room to begin a lengthy conversation and tasting. He inquired about my trip, and how I enjoyed Alsace. I sheepishly mentioned that I knew only a little about Alsace, and about why I came – he cheerfully finished my sentence that I came "to learn a little more!"
It was obvious once we began talking that his passion was the bio-dynamic principle of nurturing a healthy soil environment and working in harmony with nature's rhythms. Bio-dymanic starts with organic farming, and extends these concepts to support a well-balanced and living soil that is essential for plants to flourish in harmony with nature's rhythms. Exceptional wine should be the purest possible expression of the grapes it is made from and the ground from which they come.
The Riesling Grand Cru Brand 2009 is a luscious bright yellow, with aromas of grapefruit peel, white stone fruits, violet and white pepper. This wine was supple and silky and pleasantly dry, with a citrus acidity that elevates the mid palate and extends the finish.
The Josmeyer Gewürztraminer Grand Cru Hengst 2007 is a shimmering gold wine that kicks off with spicy aromas of cinnamon and honeyed tropical fruits. Balance is exquisite, with tropical fruit flavors and a delicate smokiness that lingers endlessly. This is the kind of luxuriant, classic gewürztraminer that no other region can manage to attain.
Summer is probably the best time to visit Alsace, the air is dry and warm, with a sweet honeysuckle quality in every breathe. While train travel from Strasbourg and among the towns is possible, renting a car will be best to enjoy a flexible itinerary. And aimlessly driving along the Route des Vins, a leisurely joy anywhere in France, is also not a bad way to spend the day.
There are several castles and ruins dotting the landscape. Be sure to visit Chateau Haut-Konigsberg in Orschwiller, an imposing and solidly medieval castle environment substantially perched on a promontory peak and visible at great distance from many points along the valley below.
If you visit any producer in Alsace, it is necessary to make an appointment in order to fully appreciate the experience. They all speak English to some degree!
Some links
Accommodations: For my visit, I stayed in the rustic, charming and comfortable Maison Martin Jund. Rooms and breakfast were simple and very affordable, and with the proprietor mother and daughter family team this option offers a casual, homey feel.
http://www.martinjund.com/ANGLAIS/anglaisaccueil.htm
A restaurant: The best meal I had by far in Colmar was at the Bistrot Sezanne. On the ground floor is an excellent shop with a broad varity of cheeses and dried meats from all around France. Simple and without pretension. If you try the escargots, make sure to pair it with a dry gewurtztraminer!
More on bio-dynamic winemaking:
http://www.josmeyer.com/domaine.php?page=vignoble&langue=en