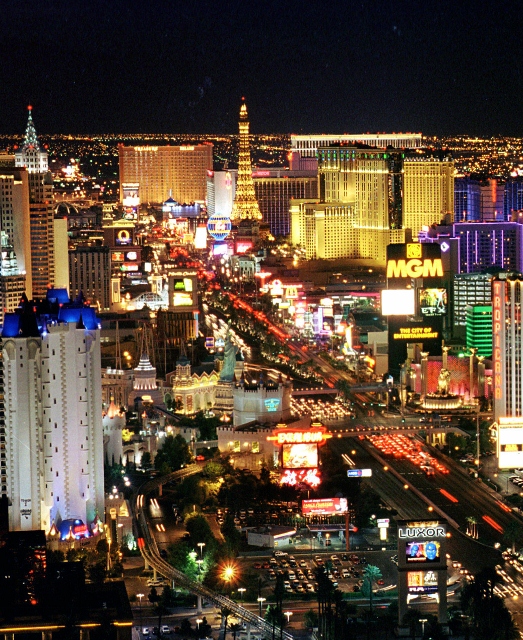 A Food Mecca in the Midst of Gambling Paradise
This past weekend I was able to take a little excursion to what many of us deem "sin city." Las Vegas is certainly not for the faint of heart, but to many of us wine lovers and "foodies," it is an awesome place to explore…because let's be honest, Vegas has some of the best of the best in the world of food and wine. My beau, Mr. Santi Wilkinson (General Manager of The Mediterranean) and I, were there to explore, and that we did. With some assistance from a few great friends – who over the years have enjoyed Vegas like we were about to – we wined and dined at a few of the best…enticing our palates with new flavors, new wine and new sights.
I was on a quest the first day for a sushi lunch, and Sushi Samba lived up to its reputation. We began with roasted shisito peppers, tossed in lemon juice and pink Himalayan Sea Salt…and although I've had these peppers before, the flavors of acid, salt, and spicy are always enough to make me a very happy girl! We continued with Rock Shrimp Tempura – with a tobanjan aioli and black truffle vinaigrette; Anticuchos – Sea Bass skewers with miso glaze and Peruvian corn; Yellowfin tuna roll with aji panca and tempura flake…mouth watering yet?
The true star of the show was the Chokaisan Junmai Daiginjo Sake. One of the more intensely aromatic sakes I have ever experienced. Pear, ripe melon, beautiful lilies and white flowers on the nose, but incredibly balanced, smooth and dry on the palate. The brewery has been established since 1874, and is still run by the Ohi family in the town of Yashima. For sake lovers, it is a must…and for those of you new or unsure of the world of sake, what a great one to introduce your palate to!
Lunch was a perfect introduction to an afternoon nap, which was much needed as we had a night on the town ahead of us. It is interesting how the city changes personality at night – in fact I would call it beautiful. Dressed to the nines, we were headed out, to enjoy a night of Italian dining and Cirque du Soleil acrobatics. First stop, the Venetian – one of my favorite hotels…as I can find small corners within the hotel that bring me back to my days living in Florence. B&B RISTORANTE is one of those corners. They bring authenticity and a unique dining experience to Las Vegas, a city known for glitz and flash. As the owners, Mario Batali and Joe Bastianich, say "the food captures the soul of an Italian grandmother dancing the tango with pop rock hipsters."
We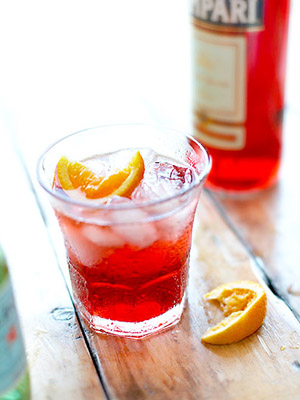 both began with an Italian tradition – Campari & soda – yes, sometimes simple is where it is at- delivered to us by the elegant, mustached bartender, who obviously
loves where he works. It was his description of the food, that lead us to our first food decision – octopus. Not something I would ever order, but I would get on a plane just to have this dish again. Marinated, grilled and finished with spicy limoncello vinaigrette, it simply melted in my mouth. Next…As B&B is known for their delicate delivery of offal meats…I was "forced" to try the salsiccia di bari – a housemade sausage paired with a caperberry vinaigrette and curly endive. Delicious. We paired the beginnings with the Vermentino from Bibi Graetz. Bibi Graetz's wines have a "child-like joy about them," they just make you smile. Indeed it did. Crisp with apples, lemons, and herbal notes, it worked well. Again, simple done well. And before the pasta hit the table, the next star was about to perform.
The 2005 Cigliuti Serraboella Barbaresco is the reason I love Italian wine. One of Santi's favorites…because tested time and time again, he says it just brings a smile to his face, and lights up his palate. Back a few months ago, I had the pleasure of meeting Silvia from the Cigliuti winery, and her presence alone sells the wine…not that the wine needs any help. Intense, impressive, and concentrated with dark fruits. The slogan, "it gets better with age," applies to this Barbaresco. It continues to impress us, and allow us to be transported to Italy, for that brief moment. Needless to say, whatever was to hit the table next, would be great – I had my wine, and I was a happy camper. But the food just got better. B&B understands pasta – a simple sauce, cooked al dente, and you will make bellies happy. We devoured the arrabiatta pasta – bucatini with guanciale, hot pepper and pecorino. We finished with a pan-seared sea bass, finished with capers, tomatoes and a sauce so simple, it delighted my palate. The last sip of Barbaresco hit my palate, and it was off to "O" at the Bellagio…a show that one must see at some point in their lives. Wow.
Our next morning began with an espresso at Illy…yes, I try to escape to Italy whenever I can…and a cab ride to, well, let's say, not the most glamorous part of Las Vegas. Off the strip, in a barren strip mall, 70% unoccupied, lies a hidden gem. Lotus of Siam. Gourmet Magazine deemed it the second best Thai restaurant in America – what the first best is, I don't know, but I do know I want to invest in Saipin Chutima's future. You walk in to a very barren restaurant, white walls, and simple décor…and at the center, an encased glass wine cellar, filled with Riesling's that would make any wine lover's mouth water – I could have spent hours in there. The menu is so large, I could have sat there all day and eaten, so when in Rome…you take the advice of someone who eats the food everyday, the young server who grew up eating this food. People wonder why Riesling is so exciting, it is because when paired with the right cuisine, like Thai, it pops.
Introduced to the Muller-Catoir Gimmeldingen 2009 a few months back, when
we saw the Muller-Catoir Mussbacher Eselshaut 2010 on the menu, the deal was sealed. And for $55, it was a steal. And although we could have stayed with just Riesling, going down the wine list (which is not only impressive but also affordable), drinking and enjoying the afternoon, we were told the food was stunning. We began with what Saipin deems "put her on the map" – Nam Kao Tod – crispy rice with minced sausage, green onion, fresh chili, ginger, peanuts, and lime juice. I could have eaten BOWLS of this. Tom Yum & Tom Kah Kai soup; Crispy Duck with Panang Curry; Chicken with fresh and dry chilies, bell pepper, garlic and Thai basil; Sticky Rice with Mango and Coconut…yeah, you are on the next plane to Vegas aren't you?! To finish, a Geil 2005 Rieslaner Bechtheimer Geyersberg Riesling. A Beerenauslese level Riesling, many deem this a finicky grape to be well done at this level. As a lover of Five-Spice, it certainly came through on the nose, along with caramel apples, sweet peaches, and a hint of butter. Although I am ashamed to admit it was my first Beerenauslese, I certainly think I am now spoiled for ones to come. To sum up, if this restaurant existed in Boulder, I might stop cooking entirely…haha…or at least be eating Asian a bit more…Needless to say, Lotus of Siam is a must. Put this restaurant on your "Bucket List Dining Experience."
As the trip came to an end, it was to the new hotel, Cosmopolitan, for our last outing. Recommend to us by a waiter at B&B, he said it was the best "new" burger in Vegas. Holstein's Shakes & Buns is a mixed atmosphere of cocktail waitresses in red clubbing dresses and bartenders in jeans and button-up shirts – Glamour and sports, all in one.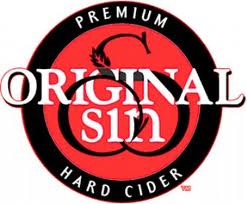 The beer list is awesome, and I am not a beer lover, but it had something for each of us. Santi enjoyed a draft Bodington's, and I tried a new cider (to me) from New York Original Sin Apple Cider. Crisp, delicate, and just enough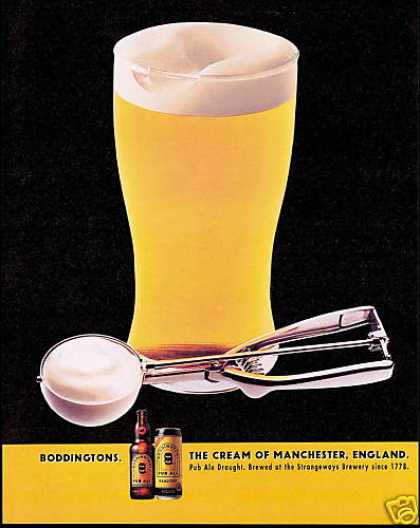 fruit – I'd drink a few of those…no need to twist my arm. We began with a chopped salad, nothing to rave about, but fresh and it was just what I needed. Then came the burger, and albeit $18, was luscious. "Gold Standard" is what they call it. The chef prepares a Dry Aged beef sirloin burger, tops it with smoked bacon, aged goat cheddar cheese, tomato confit, baby Arugula and finishes it with a garlic-chive aioli. Not too much of one ingredient, this burger melted in my mouth…To finish, because I am sucker for shakes, I had to try their "Cocktail Shakes." Oreo's have a soft spot in my heart, so the Oreo shake with Bailey's had to be it. Yes, I'll be making that a new recipe in my house.
One of my favorite quotes is "Life is not measured by how many breaths we take, but by the number of moments that take our breath away." We spoiled ourselves, we indulged, we soaked it all in. Incredible wines, inspiring food. This was indeed one of those moments and a reaffirmation of why we are both so proud to be part of the world of food & wine.
Until the next adventure…Cin Cin!
~Meghan~

Links

Boulder Wine Merchant: 

www.boulderwine.com




Sushi Samba: http://www.palazzo.com/Las-Vegas-Restaurants/Fine-Dining/Sushisamba/ B&B RISTORANTE: http://www.bandbristorante.com/home.cfm Lotus of Siam: http://www.saipinchutima.com/#/HOME-01-00/ Holstein's Buns & Shakes: http://www.cosmopolitanlasvegas.com/taste/restaurant-collection/holsteins.aspx