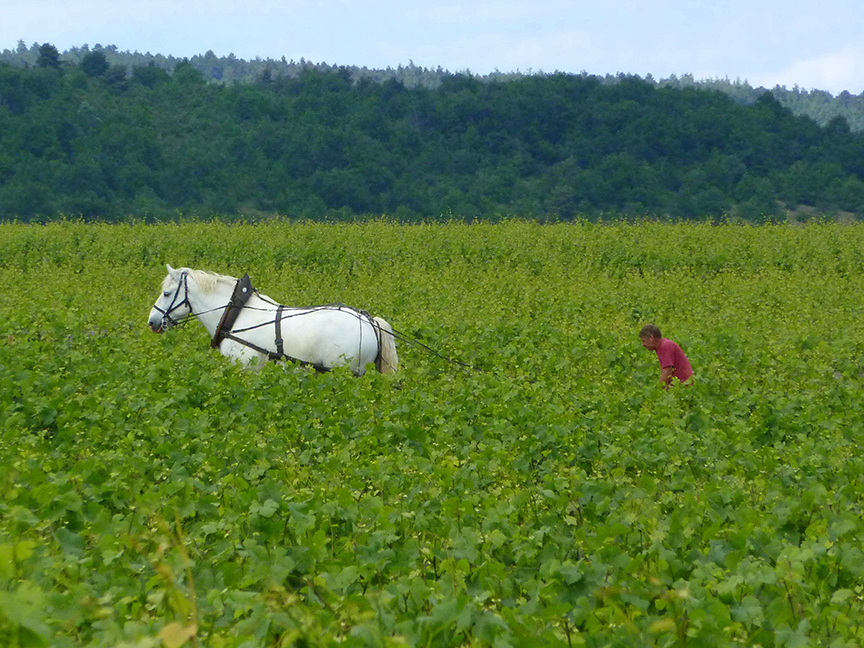 A Burgundy seminar you don't want to miss: Sustainability in Burgundy with Esther Mobley, Elaine Brown, and Carlin Karr.
For this year's opening seminar at Boulder Burgundy Festival (November 11-13), we are excited to welcome two leading U.S. wine writers, Esther Mobley (San Francisco Chronicle) and Elaine Brown (Hawk Wakawaka) for an in-depth discussion of sustainability in Burgundy's viticulture today. They will be joined by sommelier Carlin Karr, wine director for Frasca Food & Wine, as they guide us on a deep dive into a wine region that has reshaped the way we think about sustainability in viticulture and beyond.
For more than a generation, Burgundian winemakers have been pioneers of water conservation, soil health management, and the preservation of local ecosystems and wildlife habitats. These efforts have not only helped to sustain their community and reduced the region's carbon footprint. They have also helped to make for better growing conditions and — some would even say — better winemaking.
Winemakers in Burgundy have also been at the forefront of a growing movement of agricultural employers who provide health and other services to their employees and community. There is no culture without agriculture, as the saying goes. Over the last three decades, Burgundy has also become a model for social sustainability.
For our kick-off panel and tasting, we couldn't be more pleased to host two of the most dynamic wine writers and wine trade observers working in the U.S. today.
As the wine columnist for the San Francisco Chronicle, Esther Mobley has written about sustainability in California's wine community for the last seven years.
She will be joined by Elaine Brown, author of the popular Hawk Wakawaka website, a California-focused blog where she writes about sustainability and equity.
And who better than Boulder's own Carlin Karr, one of the top sommeliers working in the country today, to share her insights into how the Burgundy wine community has evolved in our lifetime.
Here are five of the six wines that attendees will be tasting (one more red will be added as well):
2019 Olivier Merlin Mâcon La Roche Vineuse "Les Cras"
2020 Chanterêves Bourgogne Hautes Côtes de Beaune Blanc "Les Monts de Fussey"
2010 Jean Marc Brocard Chablis Les Preuses Grand Cru
2019 Anne Parent Pommard Les Chanlins 1er Cru
2014 Domaine Dujac Morey St. Denis
Click here for details and registration info.
This is one that you don't want to miss! We hope to see you there.
WEDNESDAY TASTING
Next week's complimentary Wednesday tasting (10/26), 5-7:00 pm, we will be featuring Weldwerks Brewing Company from Greeley, Colorado:
Weldwerks "Juicy Bits" India Pale Ale ($4.05/16oz)
Weldwerks x Little Man "Space Junkie" Sour Ale ($4.10/16oz)
Weldwerks x Distortions Unlimited "Rex's Revenge" Sour Ale ($4.25/16oz)
Weldwerks Strawberry Cheesecake Sour Ale ($3.62/16oz)
Photo by Luca Sbardella via Flickr (Creative Commons).