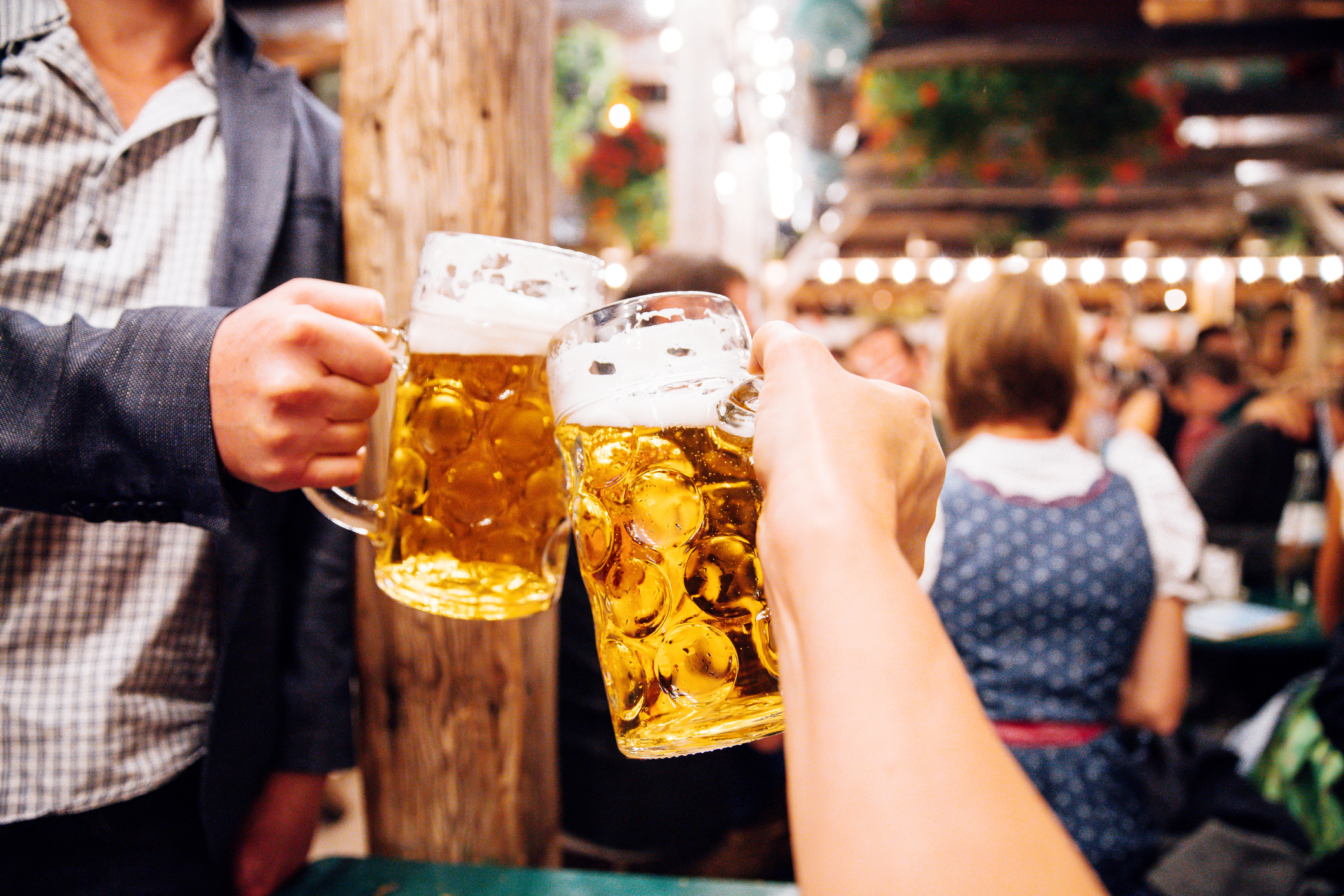 6 Best Oktoberfest Beers to Try This Fall
Oktoberfest is just around the corner! That means it's time to stock up on all the best German beers to celebrate the occasion.
You don't have to head to Germany to experience a true Oktoberfest beer. Here in Colorado, we're known for an endless supply of incredible German-inspired beers, ciders, and other delicious microbrews that'll make you feel like you're at the famous festival without ever having to leave home.
Here's our roundup of the 6 best beers to drink to celebrate Oktoberfest so you can get a taste of some of the world's most famous German beers.
What is Oktoberfest?
Celebrated every fall in Munich, Germany, millions of people make the trek to Oktoberfest's 2-week long festival to enjoy the best German beers from world-famous breweries.
Oktoberfest got its start about 200 years ago as a wedding celebration for Bavaria's Crown Prince Ludwig and his new bride. Today, you'll find it's more about bringing people together.
The annual festival celebrates Bavarian culture — lederhosen, Bavarian pretzels, and big steins of beer — with tents filled with food, music, and activities for all ages.
You know the party's started when Munich's mayor says, "O'zapft is!" or "It's tapped!" from the oldest beer tent in town.
6 Best Oktoberfest Beers
We had a lot of fun picking our favorite German beers for this roundup. From flavorful classics to new microbrews, this beer list goes perfectly with German pretzels, bratwursts, and crisp fall afternoons.
We hope our selection inspires you to do a little yodeling this Oktoberfest season — or at least tip your hat to the Germans for making some great beer for us all to enjoy!
1. Paulaner Oktoberfest
An institution in Munich, this Oktoberfest beer brings the perfect balance of hops and malt to give you the real deal. As Boulder Wine Merchant founder Brett Zimmerman says, this beer is "the OG!"
"Paulaner has been a brewery since 1634 and has been featured at the Munich Oktoberfest since the early 1800's. It doesn't get more authentic than this Bavarian brewer."
It's light enough to drink at a fair and pairs well with any snack you're craving. Plus, the bottom-fermented brewing method will give you earthy flavors only found in this original German beer.
Get your Paulaner Oktoberfest beer in our store >
2. Avery The Kaiser
Packing a punch with bold and brazen flavors, The Kaiser gives you the full Oktoberfest experience. With rich malts from Vienna and Munich, it's not surprising to know that this beer is a seasonal favorite and avid award winner in beer festivals around the world.
Avery Brewing is just a stone's throw away from us, so we knew we had to bring this German classic into the store.
"It's an imperial Oktobefest, cranking up the alcohol to 8% but balancing that with a more intense malty flavor than your average fest beer," Zimmerman says.
For a malt-forward, boozy German beer, it doesn't get any better than this.
Shop The Kaiser in our 6-packs >
3. SKA Oktoberfest
If you're in the mood for a lager to pair with your pretzels, schnitzels, or other Oktoberfest favorites, this is your beer.
"It's bringing us one of the lighter expressions of an Oktoberfest, crushable and fresh," says Zimmerman.
This easy-drinking German beer has undertones of bread and toasty malts, giving you a clean flavor to drink any time of day (or all day if you're in true Oktoberfest spirits).
Get this Oktoberfest beer delivered right to you >
4. 4 Noses Oktoberfest
Just because you're not in Germany for Oktoberfest doesn't mean you can't get a traditional German beer to brag about.
This MärzenStyle Lager brings you deep into the changing seasons with crisp earthy notes, Mittelfruh hops, and a rich color to get you ready for fall.
"This is our favorite of the bunch," says Zimmerman. "Balanced, and very drinkable. This beer has a beautiful fall malty character that is representative of a traditional Oktoberfest beer."
Pick yourself up this classic German beer in our store >
5. Bierstadt Slow Pour
As hectic as life is sometimes, this German-inspired Pils will make you want to slow down and enjoy the fall days with some authentic flavor.
Taking no less than 30 hours to brew, the crisp and aromatic notes come through to give you an incredibly light and drinkable beer.
As the German's say: Prost!
Make Oktoberfest memorable with this slow sipper >
6. Colorado Cider Company Dry Cider
While this pick isn't technically an Oktoberfest beer, we encourage breaking tradition a little bit for this one.
If you feel like mixing it up, go for this ultra-dry cider that packs tart notes and a champagne-like finish. Pair it with some apple picking or a corn maze for the ultimate fall experience.
Plus: it's gluten free.
Grab a 4-pack and settle in for fall >
Oktoberfest Events in Colorado
Colorado is just about the best place to be for Oktoberfest (well, except for Munich, Germany). With all the Colorado brewery festivities, you're bound to find something fun to do this Oktoberfest.
Brecktoberfest
While the festival this fall will look different from year's past, you'll have just as much fun at this Colorado spin on Oktoberfest in the gorgeous mountain town of Breckenridge.
A ticket will get you 1 half-liter stein, 2 drink tokens, and 3-hours in an assigned section with access to performances and German-themed games. There'll be plenty of food trucks around for you to peruse while you sip your beer of choice.
Note: You'll be expected to present proof of a COVID-19 vaccination or a negative test result within 48 hours of entry.
Denver Oktoberfest
This even is newer to the scene, but just as noteworthy! Denver's rendition of Oktoberfest includes live music, traditional German food, and contests that you can't miss.
Want to try hoisting a heavy stein? How about participating in a costume contest with your lederhosen and Bavarian garb? You've got 2 weekends to participate!
Tickets range from general admission wrist bands to full VIP access with all you can eat and drink privileges and an elevated culinary experience.
Do yourself a favor and don't miss this Oktoberfest this year >
Highlands Ranch Oktoberfest and 5K
Maybe you want to earn your beer and pretzel this year with a good workout first.
You can run to the festivities in your lederhosen and cross the finish line to delicious German food and flowing steins of local beers.
The race is on September 18th and is family-friendly and includes activities like balloon artists and a dachshund race.
Slide into your lederhosen for his Oktoberfest 5K and festival >
Official Oktoberfest Virtual Offerings
While the 2021 festival has been canceled in Munich this year, there's plenty to see and taste virtually from the comfort of your home.
You can host your own Oktoberfest at home with their Oktoberfest gift boxes and party sets available on their website. For added ambiance, you can watch Oktoberfests from previous years caught on webcam.
Make your own Oktoberfest from home >
Shop Our Best Oktoberfest Beers
While wine is certainly our specialty, nobody can ignore the rich culture of Oktoberfest.
That's why we stock our shelves with the best German Oktoberfest beers to give you an authentic experience and original taste, no matter where you are.