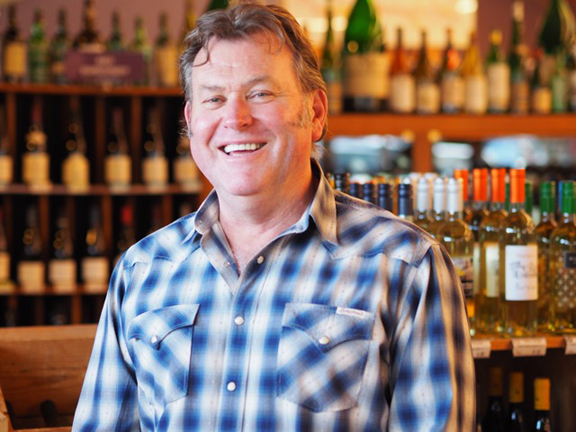 30 Years of Boulder Wine Merchant with Jeff Mathews
In this day and age, it's hard to believe that there are still a handful of independently owned wine stores scattered around the U.S.
Between the "big box" outfits and major retail chains that dominate the wine sales world, mom-and-pop operations are a sadly endangered species.
But the good news is that after thirty five years in business, the Boulder Wine Merchant is still going strong and enjoys a fiercely loyal following among its clientele in Colorado and beyond.
And the even better news is that this year, beloved store manager Jeff Mathews marks his thirtieth year working at the store.
Not only is Jeff one of the most respected persons in the Colorado wine scene today but his work as a wine educator has been invaluable in maintaining the health of the vibrant and ever evolving Boulder wine community. A lot has changed in the wine world since he came on board in 1985. But Jeff's never lost an iota of his passion for learning and teaching and his unbridled enthusiasm for the great wines of the world.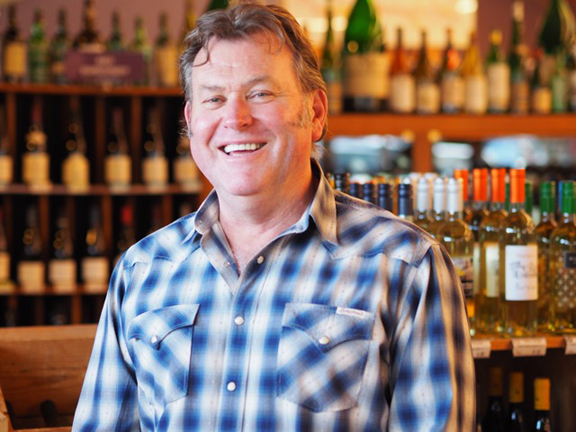 He and his family came to Boulder from California in 1961 when he was still a youngster. His interest in wine and food was sparked by Graham Kerr's popular "Galloping Gourmet" television series and by the thimbles of wine his father would share with him for special meals he had prepared.
By the 1970s, Jeff had "cut his teeth" in retail at the now legendary Fashion Bar clothing store. His time there was followed by his wildly successful career as a Boulder-based DJ playing "all disco" at the "3.2%", 18-years-and-older clubs that were so popular at the time in the state.
And then in 1985, he joined the team at the original shop.
"Back then, the shop was modeled after the British style wine store," he says, "and so the focus was German and French wines."
Just a year after Jeff came on board, the shop was sold to Wayne Belding and Sally Mohr, both of whom would later become Master Sommeliers — he, the thirteenth person in America to achieve the title, and she, the second woman in America to do so.
It was a time when now impossible-to-get wines like Domaine de la Romanée-Conti from Burgundy and first-growth Bordeaux weren't "obscenely expensive," remembers Jeff.
And while he never chose to pursue a Master Sommelier title, he worked side-by-side with Belding and Mohr as they studied and prepared for the rigorous examination process.
"I estimate that I've tasted more than 50,000 wines over the years" working at the shop, he says. "Whether it was Domaine de la Romanée-Conti or the $3-4 stuff, we had to taste it all!"
In the three decades that he's worked there, he's had the opportunity to taste and work with some of the biggest names in the business, like Serge Hochar, the celebrated Lebanese winemaker who sadly lost his life earlier this year in a swimming accident in Mexico.
"Serge visited the shop long before anyone knew his wine here," says Jeff. "He wanted to meet everyone who sold his wines and he was just a great guy."
Gaia Gaja, the daughter of legendary Italian winemaker Angelo Gaja, has been another highlight, as have Étienne de Montille from Burgundy and Anne Trimbach from Alsace.
"The education process is one of the coolest trends in the wine business" in recent years, says Jeff. "We have so many long-term employees here who have worked at Frasca and who are going through sommelier training. It used to be such a staid thing. But now there are all these young people who are so excited."
And when it comes to the clientele, "we are educating a broader and broader group of people who are exposed the broader range of wines that have become available," he notes.
After three decades at the store, Jeff has seen many new trends emerge, including the rise and fall of Austrlian wines and the growing interest in Italian wines.
"Today," he jokes, "if you don't have a great Italian selection, then what do you have at all?"
What's up next?
"I'm kind of rooting for Macedonia wines, which I really tasted for the first time. Such great value and so many great wines."
When it comes to the wine trade, you can truly say that Jeff has seen it all. And that's a good thing: His work at the Boulder Wine Merchant as a manager and educators makes it a better wine world for all of us.