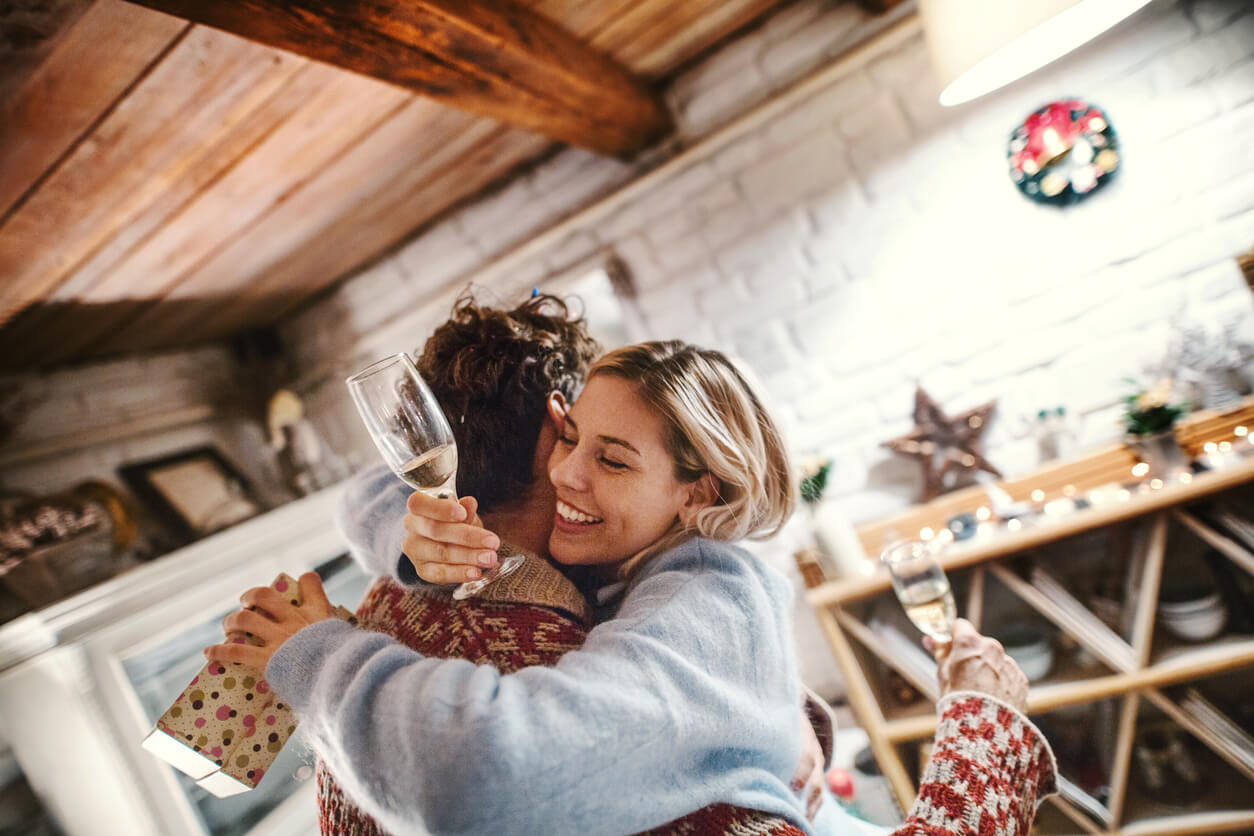 10 Unique Christmas Gifts for Wine Lovers
If you have a wine lover on your holiday gift-giving list this year, don't stress! There are thousands of unique and memorable gifts for the imbibers in your life.
And you don't have to be a sommelier to get the best wine gift or settle for a run-of-the-mill wine gift basket.
Show your wine-loving friends and family how much you care with cool new decanting technology, funky wine classes, DIY cork-crafts, recipes, and more.
With these amazing and unique gifts for wine lovers, you might just get a toast dedicated to your thoughtful gift-giving skills. We raise our wine glasses to you, Holiday Cheermeister!
1. Coravin Wine Preservation Systems
Looking for a wine gift that really wows?
Coravin is one of the most notorious wine accessory makers in the world. Their brilliant wine preservation system lets you pour a glass then seal off the bottle from oxygen so that you can save the rest for later, without losing any of the taste or richness.
Any wine lover will be thrilled to preserve their favorite wines up to 4 weeks!
Miss their Black Friday deals? No problem. The Boulder Wine Merchant is excited to offer new limited edition models at 50% off.
You can even learn the ins and outs of this innovative system in our exclusive interview with founder Greg Lambrect. Hurry while they're still in stock!
2. Portae Wine Cradles
A big part of wine appreciation comes with the display. Give the gift of class with a stylish Portae wine cradle to show off beautiful bottles of wine.
Hand-crafted in the USA, these cradles use a chic leather sling to hold wine at the perfect angle to maintain taste and prevent spills.
These cradles come in a variety of colors, so you can be sure to match them with your friends' kitchen or dining room furniture.
With this gift, the wine lover on your list will definitely feel like a professional wine collector — and will have the equipment to prove it.
3. Zalto Glassware
There's nothing more impressive than pouring your favorite wine into a beautiful wine glass. The best wine gift is an upgrade in the glassware department.
Straight from New York's four-star restaurants, these glasses are expertly crafted and incredibly functional. You can give a wine experience like none other with a glass for every type of wine under the sun.
More importantly, these unique glasses curve in accordance to the tilt of the earth, with different angles for different wines. Hailed by the ancient Romans, this crafting method supposedly provides improved taste, and longer freshness.
How's that for a cosmically-cool wine glass?
4. The Perfect Meat Pairing
If you do your homework, you might just find that no wine gift basket is complete without an expertly-paired meat.
Impress your wine lover with the healthiest red meat on the market: A pound of Yak!
This fat-free, yet juicy cut of meat is low in cholesterol, and packed with protein and vitamins. Even better, you'll be getting local and grass-fed Yak from the Raddog Ranch in Clark, Colorado.
You can provide the perfect dinner experience with delicious meats that elevate any wine drinking experience. Check out more specialty meat selections on our website >
5. Wood Marble Wine Cooler
Have a rosé fan on your list this season? Who doesn't?
Keep their favorite wine chilled all year long with a beautifully crafted wine cooler that's worthy of any Instagram photoshoot.
This sleek combination of mango wood and white marble will keep their wine cool and brighten up any spread. Crate & Barrel also offers an entire collection of kitchen apparel like coasters and cutting boards to complete the look.
When not in use, the cooler also looks stunning holding flowers or small plants.
6. Brümate Insulated Tumbler Set
If your wine lover has a case of wanderlust, get them the perfect wine gift for being on the go.
The insulated wine holder can keep a full bottle of wine at the perfect temperature for over 24 hours while the glass-free tumbler comes with a lid. This provides a mess-free combination for a day at the beach or campsite.
This gift is a huge hit with wine lovers on the road, and comes in a variety of customizable colors.
The best part? Their technology provides the perfect pour without the metallic aftertaste of other stainless steel products.
7. Books for the Expert Wine Drinker
To complete the perfect wine gift set, throw in a book that's just as fun as it is educational.
Our favorite is The Essential Scratch & Sniff Guide to Becoming a Wine Expert. This book is perfect for wine lovers who want to learn more about the basic components of wine, without the snobbery or wine-speak.
In this playful and interactive book, readers can scratch and sniff their way across the globe, and learn the difference between a Syrah and a Sangiovese while enjoying entertaining illustrations and fun facts.
Pretty soon, they'll be bragging about their new wine knowledge at parties!
8. Personalized Wine Picnic Table
What's cuter than a miniature picnic table?
You can personalize this portable (and adorable) table with a name or saying of your choice for a unique wine date anywhere.
Made of beautiful cherry wood, the design transforms from utility basket to picnic table in a snap. Now all you need is some delectable cheese and your favorite bottle of wine, and you've got yourself a romantic getaway in your own backyard.
9. DIY Make Your Own Wine Kit
Perhaps your wine lover considers themselves an expert sommelier. Why not give them the chance to test their chops?
Craft-a-Brew offers excellent wine-making kits with high quality ingredients from some of the world's top vineyards. Your friends can mix, ferment, and bottle their way to their very own glass of wine.
Who knows, maybe it will become their new favorite quarantine hobby!
10. Unique Bottle Stoppers
Reminiscing on childhood days of discovery?
Be sure to include some unique wine stoppers in a fine wine gift basket, like these handmade dinosaurs from Uncommon Goods.
Your friends will love sealing up their favorite bottles with these tiny Sauropods, T-rex, and Stegosaurus wine stoppers.
One of a kind and made with colorful torched glass, these little guys will surely start a conversation at their next gathering.
No matter what gift you choose for your wine lover, you can make sure it is a gift they will never forget.
Don't settle for the ordinary this season — get your wine lover the perfect wine accessory, glassware, or innovative preservation system. Learn more about the Coravin Wine Preservation System in our recent interview with the founder >